Cecilia Makiwane Hospital (CMH) is a large government-funded hospital located in the Mdantsane township near East London, Eastern Cape in South Africa.
The hospital is named after Cecilia Makiwane, the first African woman to become a professional nurse in South Africa
It is a tertiary teaching hospital affiliated with Walter Sisulu University and forms part of the East London Hospital Complex with Frere Hospital.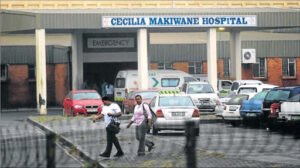 Departments and services
The hospital's departments include Trauma and Emergency, Paediatrics, Obstetrics/Gynecology, Surgery, Internal Medicine, ARV clinic for HIV/AIDS in adults and children, Anaesthetics, Paediatric Surgery, Family Medicine, Psychiatry, Dermatology, Otolaryngology (ENT), Ophthalmology and burns unit. The Orthopaedic department runs a weekly clinic.
Contact Details
Address: Billie Rd, Mdantsane Unit 4, Mdantsane, 5219, South Africa
Hours: Open 24 hours
Phone: +27 43 708 2111
Affiliated University: Walter Sisulu University
Care system: Public