Advertisements
Though viewed by many Europeans as a dirty, poverty-stricken, corruption-laden continent, Africa has beautiful and serene places that would leave anyone's mouth ajar in wonderment of their attractiveness. Many Africans cannot hide their admiration for snowy cities abroad. They talk about desperation and desire to visit cities abroad.
They prefer to live outside the shores of the continent in cities like London, Paris, etc., for different reasons ranging from good electricity to availability of other social amenities, many of which are unfortunately unavailable in Africa. While the desire cannot be condemned, a desire of mine is that they see that there are uniquely attractive cities in Africa as well.
By the end of this article, you would have a knowledge of cities that you could visit and would undoubtedly be left with no choice but to ditch your preconceived notion that all African cities are no better than European nations' slums.
These African cities are not only beautiful, but they also have good security; they are replete with beautiful infrastructures as well as top recreation facilities, and on top of all, the residents of the cities are hospitable.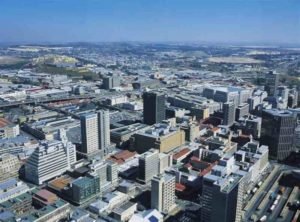 Advertisements
Most Beautiful Cities in Africa
1. Johannesburg, South Africa
Where else? Johannesburg is the most beautiful city in South Africa and, arguably, the entire continent. Little wonder many expensive-budget African movies are preferably filmed in South Africa.
Despite Cape Town taking most of its shine, it remains the most beautiful city in Africa that anyone would wish to visit. Stunning skyscrapers, the Apartheid Museum and the Lion Park are but a few of the features that make the beautiful scenery of Johannesburg.
2. Tunis, Tunisia
Remember Arab Spring? The country where it all started, Tunisia, has the second most modern city in Africa, second only to Johannesburg. It is the most well-organised city in Northern Africa.
It's believed that the government of Tunisia developed Tunis with the sole aim of making it one of the most developed, if not the most developed, cities in Africa. The beautiful city is the centre of the country's economic and commercial activities – the country's commercial hub.
3. Dar es Salaam, Tanzania
Dar es Salaam, the largest city in eastern Africa and the former capital of Tanzania, is one of the best places in Africa. It is a city of peace just as its name rightly suggests.
Dar es Salaam is home to many foreigners from Asian countries including India, the US, and many other European nations. Dar es Salaam's Kariakoo shopping district is considered the busiest and largest in East Africa.
4. Abuja, Nigeria
After Lagos was stripped of the title "capital city of Nigeria" in 1991, General Ibrahim Badamosi Babangida, the then Head-of-state chose Abuja as the new capital city of Nigeria. The city has very many expensive structures, which is no surprise as it serves as the base of many of the top politicians in Nigeria.
It is by consequences of the aforesaid that it is considered worthy to be listed among of richest cities in Africa by both GDP and cash flow. The capital city of the "Giant of Africa" is arguably the most developed city in Western Africa.
Advertisements
5. Addis Ababa, Ethiopia
The fifth most beautiful place in Africa is Addis Ababa. It is the best-developed city in Eastern Africa to specific standards. It has world-class edifices, good road networks, and other social amenities that make existence pleasurable it an ideal place to establish a business in the region.
Though Ethiopia is bordered by Somalia, an Al Shabaab territory, Addis Ababa is peaceful and devoid of terrorist attacks. The Entoto hills and the Red Terror Martyrs Memorial Museum are some of the beautiful places in Addis Ababa.
6. Lagos, Nigeria
The dethroned capital city of Nigeria itself. The commercial hub of the nation, a true centre of trade and commerce. Lagos, despite its relatively small landmass, prides itself on being the most populated city in the continent.
Despite its notoriety and nightmares in the streets, it is the most exciting city you can visit today. The city is always buzzing with activities. Want to spend a night in Nigeria? Do so in Lagos, if Abuja is not considered an option.
7. Nairobi, Kenya
Nairobi is an awesome tourist destination in Africa as it has a game park that has the big four animals. Considered to be a prominent city in Africa politically and financially by many, it plays host to the headquarters of over 100 major international organisations.
Some of which are the United Nations (UN and the United Nations Environment Programme (UNEP). The city is an established hub for culture and business, especially with the new Standard Gauge Railway connecting it to the port of Mombasa.
8. Abidjan, Ivory Coast
Abidjan, a city on the southern Atlantic coast of Côte d'Ivoire, is up next on the list. Though, Ivory Coast has been plagued by civil wars for many years forcing its citizens to undergo an untold hardship. Nevertheless, it's a capital city is very developed and has post-modern social amenities.
Abidjan is one of the most beautiful cities in Africa – it won't make this list if it wasn't beautiful anyway. Skylines found in Abidjan are one of the nicest ones that can never be found in any other city. Abidjan is a major transport and export centre.
9. Windhoek, Namibia
Relatively unpopular, nonetheless beautiful, Windhoek is one of the most beautiful cities in Africa. It served as the administrative, social, economic, and cultural centre of Namibia. Despite being relatively small, the city has a bubbling CBD (Central Business District).
Modern and trendy shopping malls, supermarkets, world-class bars, five-star hotels, and restaurants can easily be spotted in the area. The country's best schools and health care facilities can be found in this town.
10. Kigali, Rwanda
Kigali rounds up our list of beautiful cities in Africa. It has numerous modern architecture skyscrapers like Kigali tower which serves as a home to many companies and stores. The city serves as a tourist attraction centre.
Excellent housing facilities, recreation centres, moderate weather, and good infrastructure are some of the reasons to pay Kigali a visit. And just like all of the aforementioned cities, the people residing in Kigali are likewise friendly and hospitable.
Africa is not only home to beautiful savannas, stunning deserts, and wildlife animals. It is also home to some astonishing cities, rich in fantastic infrastructure, housing facilities, phenomenal recreation centres, and best social amenities. Cities in Africa like Nairobi and Kigali are known for the presence of wildlife animals anyone would love to behold.
Advertisements