Advertisements
Many South Africans do not know the South African postal code. You need to know that postal code is different from your dialing code. Many South Africans have a way of mixing the dialing code with the postal code.
While some countries use the postal code, some other countries, like the United States, use a postal code. You cannot interchange the Zip code with a postal code in the United States of America, but the case is not so in several other countries. This is the case in several other countries across the world.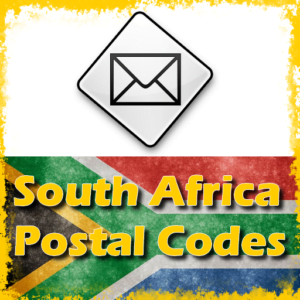 The South African postal code can be required of you when you are filing a form online; this is one of the several reasons why it is very important to have the postal code handy. Even if you cannot memorize the entire postal codes for all the provinces in South Africa, make sure you know as many of them as possible, like the South Africa postal code for your city, Cape Town or Johannesburg.
This post lists all the postal codes used in the provinces of South Africa and clearly, accurately answers the question: What is the Postal code for South Africa?
The ZIP Code is originally an official code used to specify locations in the United States. The acronym "ZIP" actually means Zone Improvement Plan. Although ZIP code is meant to be solely used for states in the US, some websites and online forms may still prefer that you input your country's ZIP code.
The reason for this is not far-fetched. The United States Postal Service (USPS) has a database of ZIP codes specifically for all countries so as to simplify delivery handling services.
Therefore, as a South African, you won't be wrong to specify a South African ZIP code assigned by the US — if asked offline or when filling forms online or sending goods to South Africa from the US. So, what is South Africa's Postal Code? Is it really +27? You wonder!
Is South Africa Postal Code Really +27?
Well, the answer is a capital "NO!" Actually, "+27"  is South Africa's official international dialing code for all phone numbers used in the country. So, if +27 is not correct, what is the actual postal code?
What Is South Africa Zip Code
All South African zip codes have four digits from 0001 to 9999. A few postcode examples include: Pretoria/Tshwane 0001 / 0002, Johannesburg 2000 / 2001, Port Elizbaeth is 6000 / 6001 and ape Town is 8000 / 8001
South Africa's Postal Codes vs ZIP Codes
Postal codes are quite different from ZIP codes. Postal codes are used to map out and specify the different regions within a country. Therefore, there are different codes for all areas in South Africa. In other words, South African postal codes vary from city and locality within the country.
When sending or receiving a parcel, letters or other goods, you must specify the right postal code for your destination to avoid sad stories of missing parcels. Goods won't be delivered to their right destinations if you use a wrong postal code.
The South African Postal Service has a collection of all the postcodes used in South Africa based on city, town area, street address and locality. This is the most reliable way to get the postal codes for different areas and provinces in South Africa.
South Africa postal code had been the in thing since the inception of post services in South Africa. Do not forget that the original purpose is to make mailing very easy for people. While you may not need to add the South Africa postal code when sending a mail to someone residing in South Africa like you, you are mostly required to include the South Africa postal code when sending emails to individuals residing outside South Africa.
Check below for the correct South Africa postal code and postal codes.
Postal Codes for South Africa Provinces
Here are the postal codes for all South African Provinces:
Advertisements
Postal Code Range
Area

Northern Region

Postal Code

(Gauteng, Mpumalanga, most of North West, Limpopo)

0001–0299
Gauteng—Pretoria/Tshwane
0300–0499
North West—northern part
0500–0698
Limpopo—south and west
0699–0999
Limpopo—north and east
1000–1399
Mpumalanga—Northern half
1400–1699
Gauteng—East Rand / Ekurhuleni Metro
1700–1799
Gauteng—West Rand, Mogale City/Krugersdorp, Roodepoort (now part of Johannesburg)
1800–1999
Gauteng—Soweto and Vereeniging/Vanderbijlpark Region (Motsweding)
2000–2199
Gauteng—Johannesburg (original Johannesburg, Randburg, Sandton)
2200–2499
Mpumalanga—southern half
2500–2899
Northwest Province—southern and central

Eastern Region

Postal Code

(KwaZulu-Natal, the eastern part of Eastern Cape)

2900–3199
KwaZulu-Natal—Northern KwaZulu-Natal
3200–3299
KwaZulu-Natal—Pietermaritzburg and surrounds
3300–3599
KwaZulu-Natal—Midlands
3600–3799
KwaZulu-Natal—Region between Durban and Pietermaritzburg, including satellite towns, such as Westville.
3800–3999
KwaZulu-Natal—Zululand Region (including Richards Bay)
4000–4099
KwaZulu-Natal—Durban / Ethekwini (original area)
4100–4299
KwaZulu-Natal—South Coast
4300–4499
KwaZulu-Natal—North Coast
4500–4730
KwaZulu-Natal—Griqualand East and Umzimkulu

Southern Region

Postal Code

(Eastern Cape, eastern parts of Western Cape)

4731–5199
Eastern Cape—Former Transkei
5200–5299
Eastern Cape—East London
5300–5499
Eastern Cape—historical "Border" region
5500–5999
Eastern Cape—Northern part
6000–6099
Eastern Cape—Port Elizabeth
6100–6499
Eastern Cape—Western part

Western Region Postal Code (Western Cape and western part of Northern Cape)

6500–6699
Western Cape—Garden Route and Oudtshoorn area
6700–6899
Western Cape—Klein Karoo
6900–7099
Western Cape—Great Karoo
7100–7299
Western Cape—Area south-east of Cape Town
7300–7399
Western Cape—West Coast
7400–7599
Western Cape—Northern parts of Cape Metropole
7600–7699
Western Cape—Areas East of Cape Town, such as Stellenbosch
7700–8099
Western Cape—Cape Town and Cape Peninsula
8100–8299
Northern Cape—Namaqualand Region

Central Region Postal Code (Northern Cape and Free State)

8300–8799
Northern Cape—Eastern Part
8800–8999
Northern Cape—Gordonia Region
9000–9299
formerly assigned to South West Africa[6]
9300–9399
Free State—Bloemfontein and surrounds
9400–9699
Free State—Northern Free State
9700–9899
Free State—Eastern Free State
9900–9999
Free State—Southern Free State
Advertisements