Advertisements
Diepe Waters follows the story of two sisters, Karla and Meghan, both competitive swimmers. The sisters are forced to confront their secrets and hidden desires when they return to their hometown after their mother's death.
Premiere episodes of Diepe Waters air on kykNET from Mondays to Thursdays at 18h30.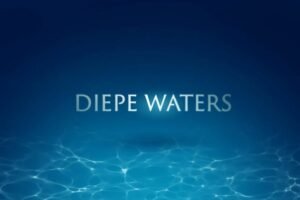 Advertisements
Monday 4 September 2023
Episode 193
Wim and Sanet have to admit an inconvenient threat, but their plans are awkwardly interrupted. Rossouw has to inform Gys of Charity's reality.
Tuesday 5 September 2023
Episode 194
Gys' surprise leads to unhappiness. Charity chooses a scapegoat to blame for her reactions. A strange character keeps an eye on the community.
Wednesday 6 September 2023
Episode 195
Wim tries to do something about his guilty feelings. Charity's relationships start making Karla jealous. Pam is confronted by Rossouw. Bybie shares bad news.
Thursday 7 September 2023
Episode 196
Wim and Sanet have to speak about forbidden fruit – and it isn't an easy discussion. Karla realises she has to express her emotions. Zelda and Bybie are living in fear.
Monday 11 September 2023
Episode 197
Jaco makes a good impression on Pam. Karla feels even more excluded, while Sanet reaches out to Meghan. Gys reminds Arno of their understanding.
Tuesday 12 September 2023
Episode 198
Karla feels she is ready for a big step, but has her own conditions. Jaco puts Pam under his spell, and Charity starts opening up towards Johan.
Wednesday 13 September 2023
Episode 199
Bybie fears for Meghan's life. Johan takes his chance with Charity. Gys is hard on Karla, and Valencia upsets Lettie. Gys wants to meet Jaco. Riaan threatens Zelda.
Thursday 14 September 2023
Episode 200
Anja is anxious about her exam, Henry shares his plans with Tshepo. Pam introduces Jaco to her family, and Rian makes an upsetting discovery.
Monday 18 September 2023
Episode 201
Meghan is confronted with her past, and Sanet gains insight into what her future plans might be. Tshepo is concerned about Henry's plans.
Tuesday 19 September 2023
Episode 202
Henry meets Valencia. Rose offers a guilty Sanet an olive branch. Jacques wants to leave town with Meghan, but she has other plans.
Wednesday 20 September 2023
Episode 203
The right words can charm a heart – or lead to shock. Arno surprises Karla, and Valencia has plans for Lettie. The matric dance leads to uncomfortableness.
Thursday 21 September 2023
Episode 204
Zelda tries to warn Gys and Pam against danger. Henry is determined to win over Valencia, while Wim and Sanet make a decision about their friendship.
Monday 25 September 2023
Episode 205
Jacques and Gys question Riaan's dark past. Henry takes a brave step to win in his plan with Valencia. A dangerous patron puts Tshepo in a difficult position.
Tuesday 26 September 2023
Episode 206
Valencia has a surprise for Lettie. Karla is jealous of Charity. Gys gets news about the HPC. Bybie tries to patch things up with Meghan. Riaan tries to impress Gys.
Wednesday 27 September 2023
Episode 207
Pam makes a decision regarding her relationship. Valencia and Merwyn go on their first date. Charity tells Johan about her new goal.
Thursday 28 September 2023
Episode 208
Sanet has advice for Valencia, and Anja hears about Charity's plan. Riaan's dark side comes to the fore, while Karla becomes even more competitive with Charity.
Advertisements