Advertisements
Ramo is a Turkish crime drama television series that follows Ramo, a mafia boss in Istanbul trying to protect his family and territory from his enemies. Ramo is a complex and conflicted character. He is a ruthless criminal but also a loving husband and father. He is willing to do whatever it takes to protect his loved ones, even if it means breaking the law.
Premiere episodes of Ramo air on eExtra from Mondays to Fridays at 21h00.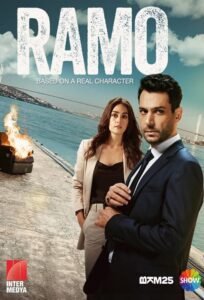 Monday 2 October 2023
Episode 23
Ramo sets his plan in motion and visits an old ally. Cavidan confronts Sibel about her relationship with Ramo. Will Neco push Fatos too far this time?
Advertisements
Tuesday 3 October 2023
Episode 24
Dogan and Sahin face an interesting proposition from Suleyman. Ramo's plan is put into motion, and Alpay pays for what he has done.
Wednesday 4 October 2023
Episode 25
There's chaos in Adana after Ramo's attacks. Sibel is caught in the middle. Neriman tells Sebos the truth about Sibel and who she is. There's a lot on Dogan's mind.
Thursday 5 October 2023
Episode 26
Everything leads up to the swap. Dogan puts Suleyman in his place and tells Sahin what he's done.
Friday 6 October 2023
Episode 27
The big swap is underway. Fidan begs Yavuz not to punish Ramo. Neco tells Fatos that they will be together again.
---
Monday 9 October 2023
Episode 28
Things are chaotic in the Pumper's world. Yavuz lets Ramo in on a little secret and Alpay goes on a rampage of his own, while Halef tries to figure out who he is, from Suleyman.
Tuesday 10 October 2023
Episode 29
Yavuz suggests that while there are seats to fill on the commission, Ramo should be the one to step up. Alpay does not appreciate Ramo's presence on the commission, and some of the hostages get injured.
Wednesday 11 October 2023
Episode 30
The community pulls together to fix their neighbourhood after the attack. Everybody is on edge to find out where Alpay took the hostages. Sibel shows bravery in dire circumstances.
Thursday 12 October 2030
Episode 31
Alpay starts to take out some of the hostages but Ramo and Yavuz arrive before he can go any further. Hasan and Sibel end up in hospital while Boz and Fatos reunite.
Friday 13 October 2030
Episode 32
Advertisements
Ramo seizes Alpay's business ventures with the help of Halef. Neco visits Fatos and declares his love for her. Will Suleyman get Yavuz to accept Alpay's offer?
---
Monday 16 October 2030
Episode 33
Hasan is convinced that Ramo and his family made a mistake. Meanwhile Halef takes a trip down memory lane and Fatos finally shares her secret.
Tuesday 17 October 2030
Episode 34
Alpay runs away and makes a very important decision. Fatos has important news to tell Boz, but will have to convince Neco to divorce her first.
Wednesday 18 October 2030
Episode 35
Meryem has plans to get close to Ramo. While Ramo and Sibel plan their new life together, the two families have different views regarding the situation.
Thursday 19 October 2030
Episode 36
Alpay receives assistance from an ally. Ramo finally figures out who the spy is. Boz says something devastating to Fatos which leaves her angry and sad.
Friday 20 October 2030
Episode 37
Ramo enlists the help of Halef and Kirby to track down Alpay's lawyer. Meryam informs her handler of the family's plans, which leads to an early morning raid on the Pumpers' area.
---
Monday 23 October 2030
Episode 38
The police invade the Pumpers' neighbourhood. Chaos ensues, but Ramo manages to escape. Sibel has to make a very difficult decision in order to save Ramo's life.
Tuesday 24 October 2030
Episode 39
Ramo makes a plan to get out of prison. Sibel finds herself in a very difficult position. Yavuz is forced to help Ramo.
Wednesday 25 October 2030
Episode 40
Ramo is released from prison. Taner wants to kill Ramo before he returns. Sibel has an important conversation with Sabahat.
Thursday 26 October 2030
Episode 41
Ramo discovers Alpay's hideout. Yavuz has a stern warning for Sibel before the wedding and an uninvited guest turns up to make Cihangir an offer he can't refuse.
Friday 27 October 2030
Episode 42
Ramo finally pays off his debt and Cihangir is very happy with his new gift. In the meantime, Sibel fears for her ex-husband's life.
---
Monday 30 October 2030
Episode 43
Ramo is slowly starting to establish himself. Tanner's proposal is met with doubt. Sibel has a heated exchange with Mahir.
Tuesday 31 October 2030
Episode 44
Taner is set on killing Ramo, but Sibel has a plan up her sleeve. Ramo faces a very tricky situation.
Advertisements