Advertisements
Ramo is a Turkish crime drama television series that follows Ramo, a mafia boss in Istanbul trying to protect his family and territory from his enemies. Ramo is a complex and conflicted character. He is a ruthless criminal but also a loving husband and father. He is willing to do whatever it takes to protect his loved ones, even if it means breaking the law.
Premiere episodes of Ramo air on eExtra from Mondays to Fridays at 21h00.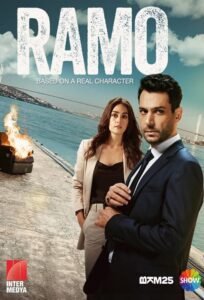 Wednesday 1 November 2023
Episode 45
Yavuz, Ramo and Sibel work together in order to get rid of a mutual threat. Cihangir loses something precious to him and tries every which way to figure out who the culprit was.
Advertisements
Thursday 2 November 2023
Episode 46
After the death of Taner, Ramo gets invited to a final meal with Cihangir. Meanwhile Ahsen is convinced that Sibel is the cause of her son's death.
Friday 3 November 2023
Episode 47
Dogu questions Sibel about Taner's death. Vahap forces Ramo and Yavuz to make a difficult decision. Fidan meets someone from her past.
---
Monday 6 November 2023
Episode 48
Ramo and Yavuz's master plan comes into play, but Sibel has plans of her own. Fidan tries to protect Ramo, but realises she was wrong all along.
Tuesday 7 November 2023
Episode 49
Suspicions run high in Cihangir's head and he is set to find out what really happened. Meanwhile Ramo tries to stay ahead of the game.
Wednesday 8 November 2023
Episode 50
Ramo is getting ready for the attack on Kursat while Sibel is put in an unfortunate position. Meanwhile, Afet makes sure that the homeless boys from the neighbourhood are taken care of.
Thursday 9 November 2023
Episode 51
Ahsen wants to get rid of Sibel. Sibel is faced with a difficult decision. Ramo and his men go on a mission to confuse Cihangir.
Friday 10 November 2023
Episode 52
Cihangir tests Dogu's devotion, but Ramo's family's safety is put at risk. Kursat tries everything to get his money back, but Ramo thinks on his feet.
---
Monday 13 November 2023
Episode 53
Ramo keeps the family safe from Kursat in the most unexpected place, while Sibel makes moves of her own.
Advertisements
Tuesday 14 November 2023
Episode 54
Cihangir wants Nehir to marry someone close to him. Ramo has a plan to convince Kursat that Cihangir was behind the money heist.
Wednesday 15 November 2023
Episode 55
Kursat gets what's coming to him, but this places Hasan in a difficult spot. Ramo is trying to fit the puzzle pieces together.
Thursday 16 November 2023
Episode 56
Nehir is adamant to stop her father's decision. Fidan and Ramo try to figure out what the 'Kaman-secret' is. Hasan tries to adjust to life in prison.
Friday 17 November 2023
Episode 57
Ramo has a plan to figure out who killed Kursat. Sibel tries to find important information from Cihangir's computer. Hasan has a difficult time in jail.
---
Monday 20 November 2023
Episode 58
Yavuz's true colours begin to show. Sibel helps Ramo without him knowing and almost get herself in trouble, while the 'Kaman-secret' slowly sees the light of day.
Tuesday 21 November 2023
Episode 59
Cihangir tries to get to the bottom of Erkan's intentions. Little does he know that Nuri is about to expose the truth.
Wednesday 22 November 2023
Episode 60
Niyazi finally reveals the truth about Levent Kaman and Ramo comes up with a cunning plan in order to fool Cihangir.
Thursday 23 November 2023
Episode 61
Ramo helps Yavuz, but this has dire consequences. While Yavuz gets exactly what he wants.
Friday 24 November 2023
Episode 62
Yavuz finds himself in a tricky situation. Cihangir wants to teach Nehir a lesson. Sabahat has an emotional breakdown.
---
Monday 27 November 2023
Episode 63
Yavuz gets a pleasant surprise from his family. However, tensions are still high and he gets an unexpected visitor the next day.
Tuesday 28 November 2023
Episode 64
Ramo finally manages to bring Yavuz and Cihangir together for a final showdown. Little do they know that he is one step ahead of them.
Wednesday 29 November 2023
Episode 65
Ramo, once again, finds himself and his family in a difficult situation. Sibel wants to tell Ramo everything, but things do not go according to plan.
Thursday 30 November 2023
Episode 66
Ramo reveals his plans to his family and there are mixed reactions. Cihangir gets a surprising phone call. Sibel goes to find where Hamdi lives.
Advertisements