Advertisements
Night of Doom tells the story of Gauri (Tanna), a young woman cursed by the evil Kalasur (Wadhwa). Kalasur is a powerful demon who has been reborn in every generation of Gauri's family. He is determined to destroy Gauri and her loved ones.
Gauri is joined by Raj (Dahiya), a young man also cursed by Kalasur. Raj and Gauri must work together to break the curse and save their families.
Premiere episodes of Night ofDoom air on Star Life from Mondays to Fridays at 22h00.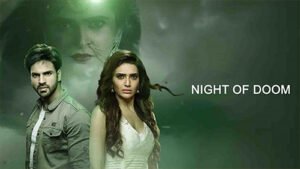 Wednesday 1 November 2023
Episode 59
Advertisements
Vaidehi and Raghav are in danger at a haveli, while Sanjana plans against Vaidehi.
Thursday 2 November 2023
Episode 60
A witch deceives a village girl and casts a spell on Raaghav; villagers, including Guruji and the police, warn Vaidehi and Raaghav about the situation.
Friday 3 November 2023
Episode 61
Sanjana hypnotises Raghav; Vaidehi's life falls into peril as Sanjana's aide plans to kill her.
Saturday 4 November 2023
Episode 62
Sanjana deceives Raghav with a doctored photo, while Karan defends Gauri from an assailant.
Sunday 5 November 2023
Episode 63
Advertisements
Sanjana attempts to deceive Raghav with a spell, while Vaidehi makes efforts to convince him of her true identity as Gauri.
---
Monday 6 November 2023
Episode 64
Raghav's decision, influenced by Sanjana, leaves Vaidehi shattered; she confronts him about it.
Tuesday 7 November 2023
Episode 65
Vaidehi is upset by Sanjana's accusations. A disguised aide of Sanjana helps her trap Raghav by pretending to be Karan.
Wednesday 8 November 2023
Episode 66
Vaidehi uncovers Sanjana's true intentions, saves Raghav, and joins forces with him in their quest to find Karan.
Thursday 9 November 2023
Episode 67
Sanjana manipulates Karan into obeying her commands, while Vaidehi becomes suspicious of his unusual behaviour.
Friday 10 November 2023
Episode 68
Pandit battles with Sanjana and her allies to protect Raghav's family, but later assists Kalasur to regain his life.
Saturday 11 November 2023
Episode 69
Sanjana blackmails Raghav to remove his sacred thread by threatening his sister's life. She later performs a strange ritual to carry out her malicious plan.
Sunday 12 November 2023
Episode 70
Series finale!
Guruji advises Vaidehi to perform a ritual and enter the spirit realm in order to save Raghav from danger.
Advertisements