Advertisements
Night of Doom tells the story of Gauri (Tanna), a young woman cursed by the evil Kalasur (Wadhwa). Kalasur is a powerful demon who has been reborn in every generation of Gauri's family. He is determined to destroy Gauri and her loved ones.
Gauri is joined by Raj (Dahiya), a young man also cursed by Kalasur. Raj and Gauri must work together to break the curse and save their families.
Premiere episodes of Night ofDoom air on Star Life from Mondays to Fridays at 22h00.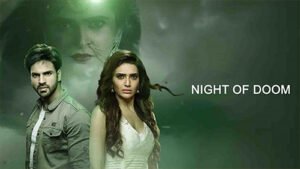 Monday 4 September 2023
Episode 1
Advertisements
A newly-wed couple, Suhasini and her husband, Mahendar Thakur, are on the receiving end of a tantrik and his evil ways. As the tantrik forces himself on her, she chops off his head and an arm.
Tuesday 5 September 2023
Episode 2
Gauri and the others enter the forbidden temple to take shelter. The villagers try to kill Birju, the tantrik's associate. Gauri and the others visit the haveli, while the tantrik's severed hand is desperate to find out Lakha's whereabouts.
Wednesday 6 September 2023
Episode 3
Raj informs Dharam that someone tried to kill Meenakshi chachi and demanded that she reveal Lakha's whereabouts. Later, Lakha gets frightened when the tantrik's severed hand visits him.
Thursday 7 September 2023
Episode 4
Gauri spots Lakha talking to the tantrik's severed hand. As Aman and Karuna get engaged, the evil hand tries to kill Gauri. Will she breathe her last?
Friday 8 September 2023
Episode 5
Vidyut threatens Lakha to reveal the location of the tantrik's body. Later, he pushes Lakha off a cliff while Gauri witnesses it!
Saturday 9 September 2023
Episode 6
Gauri and Dharam expose Vidyut's true colours in front of everyone. Vidyut plans to kill Raj and pushes him off a cliff. The tantrik threatens Vidyut and demands that he free him from the abandoned chest.
Sunday 10 September 2023
Episode 7
Tantrik's head gets free from the chest and declares he's going to slaughter everybody. Vidyut loses his life but warns his father about the outcomes ahead. The family tries to make Bade Thakur realise the seriousness of the situation.
---
Monday 11 September 2023
Episode 8
Kalasur haunts Prithvi's house using his dark powers. Gauri is terrified after finding a severed hand next to an unconscious Nishta. Dadi reveals the spine-chilling truth behind Suhasini's death to Gauri!
Tuesday 12 September 2023
Episode 9
The tantrik gets his body back after Gauri and Dharam open the doors of the old mansion. Aman and Karuna elope from the mansion and get married at a temple against their family's wishes!
Wednesday 13 September 2023
Episode 10
Aman and Karuna are tricked into getting into a car driven by a disguised tantrik. The car later falls off a cliff, leaving Gauri shattered and consoled by Raj.
Thursday 14 September 2023
Episode 11
Advertisements
Kalasur instructs Karuna to kill Raj; Gauri suspects Karuna; the pandit learns a shocking truth about Karuna and asks Gauri to meet him to share the information.
Friday 15 September 2023
Episode 12
The pandit counters Kalasur's black magic by using the spiritual tools presented to him by Guruma; Gauri remains petrified as a possessed Karuna plays mind games with her.
Saturday 16 September 2023
Episode 13
Karuna gets the Kalash containing Tantrik's last remains; while Guruma stops Karuna from using the ashes to bring Kalasur back to life, Gauri takes the kalash from Karuna and gives it to Guruma.
Sunday 17 September 2023
Episode 14
A stranger intervenes in Guruma's ritual and stabs her to death; Kalasur rejoices as the stranger frees him. Later Karuna uses her powers and tries to kill Raj.
---
Monday 18 September 2023
Episode 15
Dharam confession of love to Gauri shocks her. Kalasur uses his dark powers to stop Gauri from reaching the purani haveli.
Tuesday 19 September 2023
Episode 16
Gauri is shocked as Raj decides to marry Karuna. Gauri tries to change Raj's mind and Dharam tries to expose Karuna, while Gauri gets kidnapped.
Wednesday 20 September 2023
Episode 17
Gauri tries to free herself and runs into a cave where an Aghori fights her abductors. Gauri conditionally agrees to go with Kalasur when Karuna taunts her.
Thursday 21 September 2023
Episode 18
Gauri seeks Dharam's help to stop Karuna and Raj's marriage. Everyone in the house remains shocked as Gauri disguises herself as the bride and marries Raj.
Friday 22 September 2023
Episode 19
Raj changes his mind and decides to get married to Gauri. Karuna warns Gauri about the danger looming over Raj and his family members after the marriage rituals.
Saturday 23 September 2023
Episode 20
Kalasur tries to separate Raj and Gauri with the help of a monstrous lizard; Ananya eavesdrops on Kalasur and Karuna's conversation.
Sunday 24 September 2023
Episode 21
Gauri suspects that Karuna might harm Raj when he leaves for work. Kalasur kills Mahendar and misleads Raj into believing that he is the murderer. Gauri agonizes over Mahendar's demise.
---
Monday 25 September 2023
Episode 22
Gauri detests Raj after learning of his involvement in her father's accident. Rajvardhan Singh slaps Raj and has him arrested for committing the crime.
Tuesday 26 September 2023
Episode 23
Teaser unavailable.
Wednesday 27 September 2023
Episode 24
As per Kalasur's plan, Dharam confronts Gauri and condemns Vikas' misbehavior with Anjali. Karuna corners Ananya for ruining her plans and decides to do the unthinkable.
Thursday 28 September 2023
Episode 25
Gauri kidnaps Karuna and forces her to disclose Raj's location. Kalasur and Mishka use dark magic on an unconscious Raj.
Friday 29 September 2023
Episode 26
Kalasur kills Mahendar and frames Raj for the murder. Ananya informs Gauri of Kalasur and Karuna's misdeed. Kalasur decides to kill Raj. Gauri rushes to rescue Raj.
Advertisements