Advertisements
Naagin is a series of Indian fantasy television series that follows the story of naagins, or female serpents, who are said to be able to shapeshift into humans.
Premiere episodes of Naagin air on eExtra from Monday to Friday at 15h00.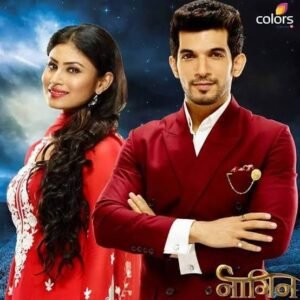 Friday 1 September 2023
Episode 48
Pratha prepares a plan to kill Rishabh by arranging a fake marriage with Mr.Singh. Reem tricks Urvashi and manages to escape Shakti.
Advertisements
---
Monday 4 September 2023
Episode 49
Rishabh realises that he did wrong with Pratha and he just wishes to die so that he can be with her in the other world. Mahek poses as Pratha and manages to make Shakti unconscious.
Tuesday 5 September 2023
Episode 50
Mr Singh is affected by Pratha's love for Rishabh. Divya makes Mr Singh remember that their marriage is fake.
Wednesday 6 September 2023
Episode 51
Pratha opens the door for Takshak and asks for Rishabh's life back, but Takshak refuses to grant her this wish. Pratha gets furious and leaves the Naag Mansion.
Thursday 7 September 2023
Episode 52
Rishabh's lawyers come to the house to discuss his will, but Mahek seizes everything for herself by showing fake evidence created using Shakti's help.
Friday 8 September 2023
Episode 53
Mahek seeks to teach Pratha a lesson and she locks her in Shakti's room, but soon she realises that Kiara is actually Pratha.
---
Monday 11 September 2023
Episode 54
A love story revolves around the 9th Princess of Western Liang as she journeys to the Central Plains to fulfill a marriage alliance with the Crown Prince.
Tuesday 12 September 2023
Episode 55
Pratha saves herself from the cave and meets Professor. She learns that Mahek and Urvashi are planning an attack on India on Independence Day.
Wednesday 13 September 2023
Episode 56
Mahek is shocked to hear from Urvashi that Pratha is alive. Mahek tries to turn Pratha and Rishabh against each other. She threatens Rishabh with Pratha and their daughter.
Thursday 14 September 2023
Episode 57
Advertisements
Mahek has to appear in front of Sheshnaagrani as she is bound by the Naag rules. Mahek refuses to tell Pratha about her daughter and chooses to give her life.
Friday 15 September 2023
Episode 58
Professor refuses to give Pratha her daughter back. But promises Pratha to get her for one day on Krishna Janamashtmi.
---
Monday 18 September 2023
Episode 59
Pratha is ecstatic when the Professor allows her to keep her daughter. Pratha takes her daughter to seek her grandmother's blessings and wishes that she never becomes a Naagin.
Tuesday 19 September 2023
Episode 60
Pratha asks Suhasini to stay at her place. Suhasini meets Mr Singh at the prison and it is revealed that it was actually Suhasini who killed his wife. Suhasini tells Mr Singh that she came for Pratha.
Wednesday 20 September 2023
Episode 61
Pratha is overjoyed as she celebrates the birthday of her daughter Anmol. When Angel tells Pratha about Anmol's fate as a Sheshnaagin, she refuses to accept Anmol's destiny
Thursday 21 September 2023
Episode 62
Rudra Raichand, the owner of the news channel with an amazing personality and Anmol's childhood friend, is smitten by Prathana as he sees her from across the road.
Friday 22 September 2023
Episode 63
Prathana wants to work in Rudra's News Channel and goes for an interview. Reporter Vivek convinces Rudra to interview the Snake Charmer.
---
Monday 25 September 2023
Episode 64
Rudra refuses to get married to Anmol. Pratha gets a call from the Professor for help to save the nation but Pratha refuses saying that she doesn't want to walk on that path again.
Tuesday 26 September 2023
Episode 65
Pratha gets transformed into Sheshnaagin and escapes from Maha Sapera, but doesn't remember anything after she becomes unconscious.
Wednesday 27 September 2023
Episode 66
Pratha transforms into a Naagin and saves Anmol. Rudra agrees to marry Anmol because of her unconditional love for him.
Thursday 28 September 2023
Episode 67
Pratha saves Rudra and his parents by preventing the elevator from falling. Professor warns Suhasini that he will not let her ill ideas succeed and that he will marry Pratha.
Friday 29 September 2023
Episode 68
Zang returns and plans to destroy the country by sending Jangasur to assassinate Sheshnaagin.
Advertisements