Advertisements
Elif is a Turkish novela dubbed into Afrikaans and tells the story of a six-year-old girl who, like so many small girls, finds herself thrust into circumstances she didn't ask for, at the mercy of self-involved adults.
Premiere episodes of Elif air on eExtra from Mondays to Fridays at 18h30.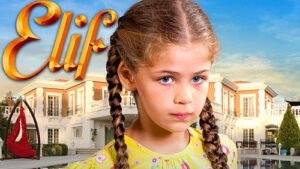 Monday 2 October 2023
Episode 125
Osman threatens Leman in the street by telling a white lie about a vagrant attempting to mug her – she spreads panic amongst concerned Tulay and Julide about their kids' safety.
Advertisements
Tuesday 3 October 2023
Episode 126
Tarik attempts to mend things with Rana. Kerem figures out Tariks secret, and vows to catch him in the act. But will he succeed?
Wednesday 4 October 2023
Episode 127
Tarik and Humeyra are away for the weekend, this news infuriates Rana. Julide leaves Emmi alone with Melek – are we getting closer to her secret being revealed?
Thursday 5 October 2023
Episode 128
Inci convinces Tulay to take her to visit Emirhan. Elif suddenly experiences chest pains and runs a fever. Inci and Tulay make a shocking discovery when they arrive at Julide's house.
Friday 6 October 2023
Episode 129
Elif tells Sureyya a big secret, but will she believe her? Veysel and Tulay try to figure out what happend after the accident as they discover Melek is still alive.
---
Monday 9 October 2023
Episode 130
Melek remembers a detail from her past and Veysel decides to investigate. Macide doesn't understand why she's taking so long to adjust to the new medication. Elif learns about the Internet.
Tuesday 10 October 2023
Episode 131
Tulay is worried that Veysel is taking so long to return. Kerem and Elif try and convince Sureyya to stay. Tarik is furious that Rana is ignoring him.
Wednesday 11 October 2023
Episode 132
Kerem develops a nasty cough out of the blue. Tulay and Julide encourage Melek to leave the house a little. Macide is convinced her medicine is making her ill but nobody seems to believe her. Will they wake up before it's too late?
Thursday 12 October 2023
Episode 133
Kerem has man flu. Parla and Sureyya battle it out to show how much they care for him, but Parla takes all the credit. Tulay and Julide are hoping that Veysel can find out from Yahya what really happened to Melek.
Friday 13 October 2023
Episode 134
Advertisements
Safak finally meets Julide's guest. Parla enjoys the praises she receives after taking care of Kerem. The entire Haktanir household is in emotional turmoil after a shocking incident.
---
Monday 16 October 2023
Episode 135
Safak catches Leman continuing to gossip about Julide and he decides to set her straight with his newfound knowledge.Tulay fondly recalls the past, much to Melek's dismay.
Tuesday 17 October 2023
Episode 136
Vildan enlightens Tarik about her brilliant plan. Tarik receives shocking news at the Company. Tulay and Veysel decides it's time that Melek seeks professional help.
Wednesday 18 October 2023
Episode 137
The whole family is concerned as Macide is in hospital. Will she recover from being posioned? Melek gets lost searching for Elif in the streets.
Thursday 19 October 2023
Episode 138
Tulay and Veysel continue trying to jog Melek's memory about her past life and family. Macide's doctor has news for the family regarding her health – is it what they hoped to hear?
Friday 20 October 2023
Episode 139
The family anxiously awaits Macide's final lab results. Tarik is very nervous they might find out the truth. Kerem and Sureyya find themselves in an awkwarrd situation.
---
Monday 23 October 2023
Episode 140
Macide is recovering well and Tarik is not happy. Kerem and Sureyya experiences some car trouble. Safak steps in and saves the day.
Tuesday 24 October 2023
Episode 141
The family is overjoyed when they hear that Macide will be okay. Tarik realises that he has been betrayed and Vildan fears for her life.
Wednesday 25 October 2023
Episode 142
Kerem and Sureyya head to the hospital. Vildan tries to escape with Elif but they're too slow. Julide's landlady unexpectedly shows up at her door.
Thursday 26 October 2023
Episode 143
Meryam has some unfortunate news for Julide. Vildan has the upper hand – what will Tarik decide?
Friday 27 October 2023
Episode 144
Parla is not happy about Sureyya and Kerem spending so much time together. Safak wants to try and help Julide's situation.
---
Monday 30 October 2023
Episode 145
Safak helps Julide search for a new home. Sureyya plans something special for Kerem. Will all go as planned? Rana is back for vengeance.
Tuesday 31 October 2023
Episode 146
Sureyya finds out that Kerem is going on a date and Parla celebrates her victory. Humeyra agrees to have dinner with Rana to meet her partner, will Tarik be able to find an excuse not to go?
Advertisements