In dentistry, oral hygiene and health, as well as the diagnosis, prevention of, and treatment of illnesses of the teeth (and, in some cases, the mouth as a whole) are the primary concerns. Dental diagnostics, preventative work, remedial therapy, surgical operations, and administration are all regarded to be part of the dental profession.
Dentists that specialize in aesthetic procedures like teeth whitening or straightening are available. Because of this, dentistry is an important aspect of the South African healthcare system as well as a well-respected profession with a solid reputation and one that can lead to a successful career.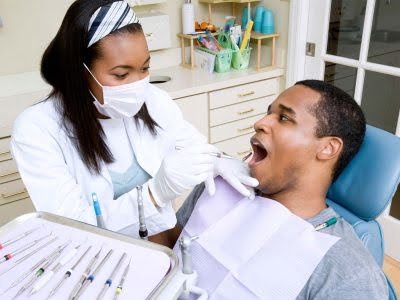 South Africa has a shortage of dentists. There are approximately 4,100 licensed dentists in the United States, resulting in a dentist-to-population ratio of 0.085. Because of this, graduates are advised to seek a profession in dentistry, where they would have a stable and long-lasting job opportunity.
Is a profession in dentistry something I'm interested in?
Being a dentist necessitates a wide range of abilities and knowledge. There are long hours and a lot of focus required. A dentist must deal with stressful events on a regular basis, such as back-to-back visits, large caseloads of patients, or those who are afraid of the dental chair!
Of course, becoming a dentist necessitates a great degree of dental knowledge and education. It's essential that you're educated and that you have a strong interest in dental care and the wellness of your patients. With these skills, you'll also need to be able to think clearly, have solid judgment, and be aware of various oral disorders and how they might be diagnosed.
In order to complete the hands-on component of your profession properly, you will require remarkable attentiveness and dexterity. It's also critical to have a solid sense of direction and sharp vision.
To be successful, you need to be able to build trust with your patients, which requires a calm and collected demeanor. Having a good grasp of statistics and financials is essential for a dentist, as billing is an essential component of their profession. A thorough knowledge of all aspects of running a business is required if you ever plan on opening your own practice.
To become a dentist, what do you need to do?
What are the prerequisites for a degree in dentistry?
Even though dentistry is a highly sought-after career, it is difficult to enter into and requires a lot of preparation and study from an early age to succeed.
Subjects in high school.
At least a Level 5 matriculation year in mathematics, English, biology, and physical science is required to prepare for a job as a dental hygienist. National Benchmark Testing is also required by many universities (NBT).
Qualifications at the undergraduate level.
As a high school graduate, there are a number of college degrees to pursue, including a Bachelor of Medicine, Bachelor of Surgery (MB ChB). These include Bachelor of Dental Sciences (BDS), Bachelor of Dental Surgery (BChD), and Bachelor of Oral Health. The majority of medical training programs are based on the British model, which is five years lengthy and provides a lot of hands-on experience. Discover which schools offer dental-related degrees by visiting this page.
In South Africa, how long does it take to become a dentist?
University semester modules will determine how long it takes to graduate and become a dentist in South Africa. It will take 5 to 6 years to become a dentist if you pass all of your courses and finish your degree on schedule.
South Africa's best schools for dental training
The following South African institutions and colleges offer dental training:
Sefako Makgatho is a dental therapist with a bachelor's degree in dental therapy.
Master of Dental Science (MDS) degree (You will also find out what are the main Dentistry requirements at Wits)
Dentistry Programs at the University of Pretoria
Dentistry Programs at the University of Western Cape
Sefako Makgatho Health Scienes University University of the Western Cape, Tygerberg, Cape Town – Faculty of Health and Wellness Sciences Durban University of Technology – Department of Dental Sciences
View a Variety of Other Medical Programs Online
How much does it cost in South Africa to become a dentist?
Becoming a dentist in South Africa might be expensive, depending on where you go to school. However, you should budget anything between R40 000 and R100 000 every year.