Advertisements
South African Airways also known as SAA is the national carrier of South Africa. SAA has its headquarters at O.R. Tambo International Airport in Kempton Park, Ekurhuleni, Gauteng.
South African Airways is one of the most used carriers in the country to fly to other parts of SA and outside the country. Through this post, we will be taking a look at details about SAA flights from Johannesburg to Cape Town. Book cheap SAA flights from Johannesburg to Cape Town today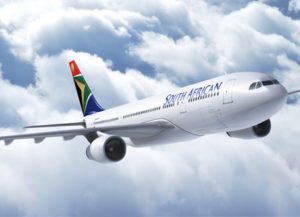 Advertisements
Facts about Johannesburg You Should Know 
Johannesburg is popularly called Joburg. Don't get lost when a South African says Joburg, it is Johannesburg they are referring to.
Johannesburg is the biggest city in South Africa.
It is the capital city of the Gauteng Province in SA.
Some points of interest in Joburg include Mandela House Museum, Gold Reef City, Apartheid Museum.
The city has been rebuilt four times.
It is the home to the largest man-made forest.
It houses the tallest building in Africa which is the Hillbrow Tower.
Chris Hani-Baragwanath Hospital is the biggest hospital in the world and it is located in Johannesburg.
There is a town in California called Johannesburg. It was named after Joburg here in South Africa in order to honor the gold miners who worked in the town (South Africa).
Facts about Cape Town You Should Know
Cape Town is a port city in the Western Cape Province with 3,500,000 people living in the city.
It is the oldest city and urban area in South Africa.
It is also called the Mother City.
The Parliament of South Africa is located in Cape Town.
Cape Town was a host city to the 2010 FIFA World Cup.
In 2014, Cape Town was named the best place to visit in the world by the New York Times.
In Cape Town, Afrikaans is the most spoken language.
The Cape Floral Kingdom is the home to over 7,000 plants that are found nowhere else in the world except Cape Town
South African Airways Flights from Johannesburg to Cape Town Details and Information
Hub Airport for SAA: O.R. Tambo International
Travel Documents Required: South African Passport or ID
Flight Time: 2 hours & 10 minutes
Flight Route: From  to Cape Town International Airport
Flight Distance: 1271 kilometers
SAA Alliance: Star Alliance
SAA Inflight Magazine: Sawubona
Departure Airport: O.R. Tambo International Airport
Arrival Airport: Cape Town International Airport
Book a flight from Johannesburg to Cape Town with Travelstart here
Advertisements