Advertisements
What is Cape Town's most popular high school? Because there are so many high schools in Cape Town, this inquiry is widespread and obligatory for guardians.
Which is the best? Finding the perfect school for Guardians is quite difficult. The Top 10 Best High Schools in Cape Town are discussed in this article. Every year, parents in Cape Town struggle to find the finest school for their children.
In this post, we will look at some of the best high schools in Cape Town and offer you with crucial and useful information. With over ninety schools in Cape Town, finding the right fit can be tough. Every parent wishes for the best for their children. They want kids to receive educational possibilities that will help them succeed in adulthood.
Many parents are looking for the best secondary school for their children. There are numerous schools in Cape Town, yet none are adequate. It can be challenging to select the best secondary school for one's child.
With over ninety possibilities in Cape Town alone, determining which schools are ideal for your child can be difficult. Some variables to consider when selecting the ideal school are the social climate, academic rigor, location demographics, and affordability.
Advertisements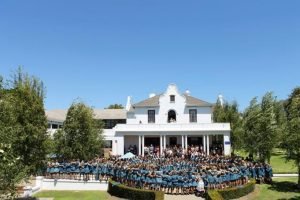 1. American international school of Cape Town (AISCT)
Cape Town has historically been a key hub for the manufacturing and real estate industries. The greatest schools in Cape Town are American international schools. The school was established in 1997. And now, there are 500 students enrolled in American international schools in Cape Town. The student-to-teacher ratio is 1:6. Around the world, 50 different nationalities are represented.
The education system is private and co-educational. The Institution is completely non-profit. These schools always adhere to the American educational system. Professional teachers from all around the world are instructing their students. The teachers are using the most effective teaching style for their students.
The American International School of Cape Town is split into four sections:
Early Childhood Development Centre.
Grizzly Cubs to Kindergarten 1 Elementary School Kindergarten 2
Grade 5; Middle school Grades 6-8
High School Grades 9-12
The school also offers French and Spanish language instruction to children beginning in Grade 1. Despite being an American institution, AISCT is fully supported and accredited by the Western Association of Schools and Colleges (WASC) in the United States.
2. Westford High School (Capetown)
What is the total number of high schools in the Western Cape? The western cape has a large number of high schools. Westford High School (Capetown) is a well-known city in South Africa's Western Cape Province. Westford High School students will benefit from high-quality education and world-class school facilities provided by the institution.
Westerford High School has nearly 1000 students and two operational campuses. The first is the Rondebosch campus, which houses the main school buildings. This comprises the library and all academic subject classrooms. The Secondary Campus, on the other hand, is largely used for sports facilities and classes such as woodworking and metalworking. Include one sentence to summarize the article in the paragraph.
A tiny administration and maintenance staff greets students as they approach Westerford High School. Westerford High School, a school with over a thousand students, has two operational campuses: Rondebosch and The Secondary Campus.
3. Gardens Commercial High School
Gardens Commercial High School, sometimes known as Gardens High, is a Cape Town-based co-educational high school. The school was established in 1961. Gardens High caters to pupils between the ages of 12 and 18.
The school provides a range of disciplines from Home Economics to Computer Studies and History to Physical Education. The institution has a history of producing some of South Africa's most notable personalities in many disciplines, including arts, science, and athletics. Gardens High is the excellent environment for students to develop their interests in business, economics, accounting, and computer studies.
The Cape town high school curriculum includes courses in these subjects to help with job preparation for college or a profession. The Academy of Accounting equips students with the knowledge and abilities they need to excel in today's challenging accounting industry.
4. Claremont High School
South Africa has some of the greatest high schools, One of them is Claremont High School. Claremont High School, located in Cape Town, is a co-educational, open, and creative Western Cape Education Department (WCED) high school.
Since its inception in 2011, the school has worked to create an atmosphere in which every student may develop academically, creatively, and emotionally by offering opportunities for them to learn how to think critically and creatively.
The school also offers a variety of extracurricular activities that allow students to explore their interests and talents by tailoring programs to each person. The school works hard to offer an academically rigorous and engaging environment in which every student has a chance to succeed.
Advertisements
5. Cape Town French School
The Cape Town French School is a private international school in Cape Town. Cape Town French School was founded in 1987 by a group of French citizens living in Cape Town to give a French curriculum to the students. The Cape Town French School has been delivering a French education to Cape Town residents for many years.
Every year, an increasing number of students enroll at the school to take advantage of the services provided. It was formed by a group of French citizens who wished to give their children the opportunity to study in their own language in a conventional and demanding setting.
Despite its growth into an international community that welcomes individuals from all over the world, the school has retained many of the original ideals that have made it a popular location for parents to send their children.
The school now serves three age groups, from pre-kindergarten to Grade 10, with the majority of pupils being the offspring of French citizens residing in Africa, many of whom are third or fourth generation.
Due to the city's growing population, the French School in Cape Town is seeing an increase in enrollment. Over 329 kids in preschool and primary school are housed on the Sea Point campus.
6. Bishops Diocesan College
Bishops Diocesan College is a Cape Town-based independent day and boarding school. The school is divided into three sections: the Pre-Preparatory, or Kindergarten (KG), the Preparatory, and the Boarding.
The school is divided into three sections: the Pre-Preparatory, or Kindergarten (for the youngest age group), the Preparatory School (for grades one through seven), and Gordon Primary School (preschool to grade 8).
Bishops Diocesan College is a fee-paying private school. As a result, parents must pay their children's school tuition on a term or annual basis. The typical yearly tuition rate is $10,000, which does not include any additional materials or books that the student may require during the school year.
7. Harold Cressy High School
Every year, when the annual rankings of the best secondary schools in Cape Town are issued, Harold Cressy High School is one of the names that appears. They have been ranked in the top ten for the past decade, thanks to a combination of academic success and extracurricular activity. When looking for a high school for their child, some parents fail to recognize that it is not only about academics.
The school thrived when it was established, having an excellent reputation for academic and athletic prowess. Above all, this Institution has always been a safe haven for students to express themselves without fear of being criticized or shunned. Cressy has established itself as one of the premier high schools in Cape Town since its inception in 1981.
A recent poll of parents and families in the region indicated that Cressy is among the top five schools recommended by these groups. Cressy High School is considered as one of the greatest schools in Cape Town by parents, families, and the community.
This allegation has been backed up by more than half of the Cressy students. It is also one of just a few secondary schools in Cape Town that has more than half of its students from abroad. Because of the school's small class numbers, teachers can provide each student individualized attention, which may explain why nine out of ten students graduate with university entrance qualifications.
8. Wynberg Boys High School
Wynberg Boys' High School is one of Cape Town's most prominent and oldest all-boys secondary schools. It was founded in 1841. It is now educating and training students from Cape Town and throughout South Africa. WBHS is a forward-thinking, modern institution with a long and illustrious history.
It lays a strong emphasis on academic quality and provides a world-class teaching environment complete with laboratories, libraries, study rooms, and computer labs. The school also boasts a robust athletic program that includes rugby, cricket, and water polo.
9. Fairmont High School
Fairmont High School, also known as Fairmont, is a co-educational English medium school in Cape Town's Northern Suburbs. Fairmont, a school of about 1,450 students, aspires for academic success for all of its students while maintaining a strong academic atmosphere to foster and develop learners to reach their best potential.
Fairmont has long been a school that draws hundreds of students from the city's suburbs and beyond, dating back to its founding in 1977. Fairmont High School, on the other hand, has remained one of the best high schools in Cape Town's Northern Suburbs, if not the country, in recent years.
As a fee-paying school, Fairmont charges R31 600 per student from Grade 8 to Grade 12, payable over ten months, or R3160 per month.
10. South African College High School
South African College High School, abbreviated as SACS, is an all-boys high school in Cape Town. This institution, which was founded in 1829, takes pride in being South Africa's oldest standing school.
Aside from their rich heritage, SACS offers students a world-class education as well as a prominent future employment. Apart from being a prominent boys' school, it was also the first to adopt a free and compulsory six-year educational system. It has a great reputation for academics and rugby, owing to its status as one of South Africa's best rugby schools.
Only about 30% of the children at the school come from low-income families, and 90% of the student population is Caucasian. This is demonstrated by the school's demographic makeup, which includes more than half of the students who are Dutch, British, or German. Hostels and all associated expenses.
Advertisements