Advertisements
Binnelanders is a popular South African television drama series that is set in and around a private hospital called Binneland Kliniek, located in Pretoria. The series revolves around the personal and professional lives of the hospital's staff, patients, and their families. It combines elements of drama, romance, mystery, and medical storylines to keep viewers engaged.
Premiere episodes of Binnelanders air on kykNET Mondays to Fridays at 19h30. The omnibus airs on kykNET on Saturdays from 09h30.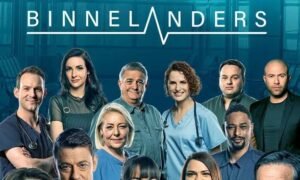 Advertisements
Tuesday 1 August 2023
Episode 42/4341
Jeremy realises what Annelize is planning for Jazzy, and Rian gives Louis some sound advice. Liam wants to meet Karen's parents, Nicolette uncovers Milan's past, and Tracy makes her own deal.
Wednesday 2 August 2023
Episode 43/4342
Jazzy and Aiden's time with Annelize is coming to an end, and Tertius promises Tracy that he will have a word with her competitors. Delia welcomes a new reconstructive surgeon.
Thursday 3 August 2023
Episode 44/4343
A request from Delia is refused, and Chiron launches its marketing campaign. Milan is upset after a chance meeting, and Nicolette fears the worst. Annelize has reached the end of her tether, and she gives Conrad an ultimatum.
Friday 4 August 2023
Episode 45/4344
Annelize has to say goodbye to someone, and she comes to a shocking conclusion. Delia gets rubbed up the wrong way, and Conrad is concerned about Binneland's ad campaign. Tertius and Louis disagree with Rian.
Monday 7 August 2023
Episode 46/4345
Conrad and Steve try their best to change someone's mind, and Dawid feels guilty about Liam. Tertius tries to make peace.
Tuesday 8 August 2023
Episode 47/4346
While Nicolette is comforted and Tracy is close to tears. Bonnie is curious about a wedding, and Dawid does not seem to be on Delia's side. Rian and Louis get into a fight, and the truth shocks Liam.
Wednesday 9 August 2023
Episode 48/4347
It is Steve's turn to lock horns with someone, and Louis decides to do the right thing. Tracy feels she can breathe again, and Liam takes out his frustrations on Nicolette.
Thursday 10 August 2023
Episode 49/4348
Steve comes across an article on the internet, sees red, and confronts the nursing staff. Nicolette does her best to avoid Conrad, and Liam has to make amends. A new patient gets Naomi's knickers in a knot.
Friday 11 August 2023
Episode 50/4349  
Liam is worried about Dawid and invites him to dinner. Steve's patient goes public, and Naomi is embarrassed by her behavior.
Monday 14 August 2023
Episode 51/4350
Dawid is shattered by an old secret that he only now knows of, Uys gets a very big yet pleasant surprise, and Steve and Binneland's predicament causes havoc on all levels.
Tuesday 15 August 2023
Episode 52/4351
Chiron's press conference adds salt to Steve's wounds, and Liam tries to convince his dad to tell the truth. Uys wants to show someone his favourite spot in the hospital.
Wednesday 16 August 2023
Episode 53/4352
Delia thinks an unhappy patient is lying, and Birdy interferes with Karen's plans. Febé is given advice, and someone accuses Conrad of bribery. Delia is warned.
Thursday 17 August 2023
Episode 54/4353
Naomi notices something about Danny, and Birdy regrets what she did the previous night. Steve gets asked to step back.
Friday 18 August 2023
Episode 55/4354
Things are heating up between two adults, and Karen tries to mediate between Liam and his mom. Steve is under increasing pressure, and the new duty roster causes great unhappiness. Liam and Naomi get a new housemate.
Monday 21 August 2023
Episode 56/4355
Liam makes a discovery which has him furious, Binneland's sworn bachelor finally makes a big decision, and Dawid's loyalty wavers. Delia is dead set on behaving ethically – despite the cost.
Tuesday 22 August 2023
Episode 57/4356
Dawid tries to persuade someone to play peacemaker again, and Danny shares his fears about the future with Febé. Delia makes a decision that causes a lot of conflict.
Wednesday 23 August 2023
Episode 58/4357
Tertius offers someone a job, and Nicolette takes Birdy on. A doctor is attacked in the media, and Birdy is on a dangerous guilt trip. Delia tells Steve the truth.
Thursday 24 August 2023
Episode 59/4358 
Birdy is still reeling from Liam's confession, and Danny spends the day with the casualty team. Delia decides enough is enough.
Friday 25 August 2023
Episode 60/4359
Danny gets the wrong end of the stick, and Uys is surprised when someone defends him. Birdy leaves for Canada, and Delia starts to feel the impact of her actions. A doctor disappears.
Monday 28 August 2023
Episode 61/4360
Uys and Febé get into an argument, and Louis and Naomi are worried about Delia. Someone thinks Danny needs a girlfriend, and Conrad thinks Steve's letter is an insult. Tertius opens his door to a huge shock.
Tuesday 29 August 2023
Episode 62/4361
It is a day full of surprises and revelations for Tracy, Tertius and someone from the past, and Binneland offers someone a job. Everyone advises Uys to stop trying to play match-maker.
Wednesday 30 August 2023
Episode 63/4362
Uys battles with Danny who is always around, and Jacques has information about someone. Steve confronts Dawid in front of Delia, and gets a big shock.
Thursday 31 August 2023
Episode 64/4363
Conrad has news for Rian and Steve, and a conversation leads to further complications in a relationship. Uys has plans for Spring Day.
Advertisements