Bunny chow is a street food of Durban which has become popular across South Africa. The delicacies that are used in bunny chow include curry lamb, chicken or beef but in some instances, it can also be vegetarian in nature. Through this post, you will learn how to make bunny chow.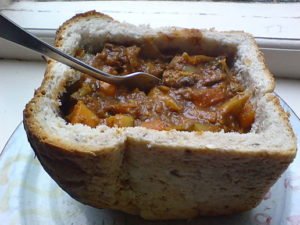 Bunny Chow Ingredients           
2 tsp olive oil
1 large onion, chopped
2 garlic cloves, finely chopped
1 tsp finely grated fresh ginger
1 tsp cumin seeds
1 Tbsp finely chopped coriander stems
¼ cup curry powder
10 fresh curry leaves
500g chicken thigh fillets, cut into 1cm pieces
1 x 400g can diced tomatoes
400ml water
2 large potatoes, peeled, cut into 1cm pieces
Mini white bread rolls, to serve
1 bunch fresh coriander, to serve
Steps in Preparing Bunny Chow
1. Heat the oil in a heavy-based frying pan over medium heat. Cook the onion, garlic, ginger and cumin seeds, stirring often. Continue doing so for 4 minutes or until soft and aromatic.
2. Add the coriander stems and cook for 1 minute. Add curry powder and curry leaves. Continue stirring, for a further minute or until aromatic.
3. Add the chicken and cook, stirring, for 2 minutes or until browned slightly. Next stir in the tomatoes and water.
4. Reduce heat to medium-low. Next, add the potatoes and simmer for 30 minutes or until tender. Season with some salt.
5. Finally, scoop out a hollow in the bread rolls and spoon in the curry.