Days of Our Lives focuses on the daily suspenseful adventures faced by the people of Salem from the love stories, family troubles to flowering courtships.
Premiere episodes of Days of Our Lives air on e.tv from Mondays to Fridays at 16h45.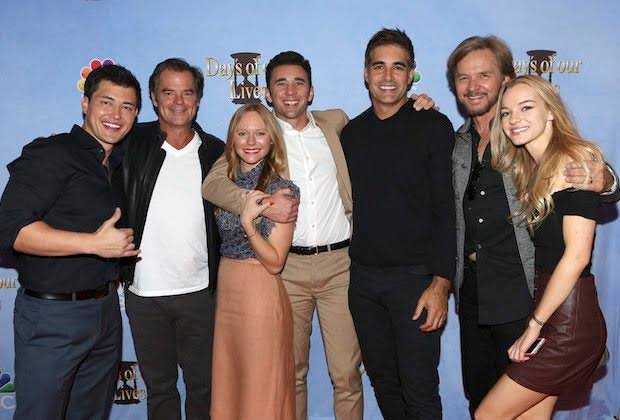 Wednesday 1 April 2020
Episode 13291 (405)
Ciara tries to deny Claire's announcement that Rafe cheated on Hope with Sami. Rafe admits it's true. Julie publicly explodes at Gabi. Jennifer blames Sami for Rafe and Hope's troubles. Eric defends his sister and he and Jennifer argue.
Thursday 2 April 2020
Episode 13292 (406)
Eli admits to Gabi he cheated on her with Lani. JJ is alarmed when Lani experiences severe abdominal pain. Steve confides in Kayla about his fears/concerns about losing his eyesight. Brady continues to plot to get Eve drunk and trick her into marriage.
Friday 3 April 2020
Episode 13293 (407)
Abigail wants to wear something new today and Chad suggests one of the new samples she got from Gabi yesterday. Abigail's a little thrown that she doesn't remember. Kate blames Stefan for Andre's murder. Chad and Abigail come in on their confrontation.
Kate arrives at the police station to answer Eli's questions about Andre's murder. Rafe tries to talk to Hope, but she blows him off. Claire and Ciara get into it again about what happened at Hope and Rafe's wedding. Tripp talks to Ciara about how destructive the desire for revenge can be.
---
Monday 6 April 2020
Episode 13294 (408)
Lani gets Eli's voicemail about coming clean to Gabi about their one-night stand as JJ bonds with Will over their hopes for fatherhood. Gabi finds the urn lid and coat planted in her bag and hides it from Arianna and then Will. She reaches out to Chad and Eli for help.
aggie tells Victor she won't come back to him unless Victor tells Eve the truth about Brady. Meanwhile, Brady continues to work Eve and finds himself falling for her despite himself.
Tuesday 7 April 2020
Episode 13295 (409)
Stefan comes face-to-face with a second alter of Abigail's. When Chad returns home, Abigail returns to normal, but is confused? Lani arrests Gabi. While Justin deals with Melinda Trask, Gabi tells Chad someone linked to Stefan must have planted the evidence on her. Eli arrives and tries to reassure Gabi.
With help from Justin, Brady gets a marriage license. Meanwhile, Eve is filled with joy and anticipation that she's marrying Brady today. Paul comes by to witness the wedding and crosses with Sonny. Eli questions JJ about Lani's medical emergency with the baby.
Wednesday 8 April 2020
Episode 13296 (410)
Brady's nuptials to Eve grind to a halt as Eve rips into Brady in front of Justin, Sonny, and Paul due to his deception. Maggie and Victor attempt a reconciliation. John picks up Arianna from Will for a sleepover and they discuss how John wishes he didn't endanger or hurt anyone during his mission.
Steve deals with his deterioration as Kayla promises to fight and shares a touching moment. Sonny and Paul drift apart. While Justin comforts Sonny over Paul, Will is visited by Paul, who tells him what happened with Eve and Brady. Later, Sonny finds Will and Paul together.
Thursday 9 April 2020
Episode 13297 (411)
Maggie returns home with Victor. She informs Brady that she gave Victor an ultimatum to tell Eve the truth. Meanwhile, Eve vents to Jennifer. Eric takes Claire's pictures for the Bella magazine contest. Meanwhile, Ciara and Tripp grow closer and finally kiss. Later, Ciara tells Claire she's entering the contest.
Friday 10 April 2020
Episode 13298 (412)
Abigail has a dream about Andre. Meanwhile, Stefan tells Vivian about Abigail's latest alter Dr. Laura. Chad walks in on them and accuses Stefan of planting evidence on Gabi. Abigail meets with Kayla, concerned about her headaches, exhaustion, and memory lapses.
Meanwhile, Chad searches Stefan's office and finds Andre's missing cell phone. At the police station, Gabi lays into Lani about her one-night stand with Eli. Later, Gabi fills in Eli about the encounter. Earlier, Eli runs into Kayla and his overt concern for Lani's unborn baby clues Kayla in that he's the father.
---
Monday 13 April 2020
Episode 13299 (413)
Stefan coaxes Dr. Laura to release Gabby and when she does, Gabby, despite Stefan's trying to make amends, makes a bold decision. Jennifer arrives and tells Kayla that she had no idea Abigail was having tests done… At the same time, Chad has found Andre's phone in Stefan's drawer.
JJ calls Valerie on her negativity towards him and Lani as Julie trash talks Gabi, and Eli defends his girlfriend. Later, Valerie shows up and wonders if Eli has given any more thought to giving up his child.
Tuesday 14 April 2020
Episode 13300 (414)
Lani and Chad find Stefan alone. Stefan's annoyed to learn Chad went into his locked drawer, but assures Lani that security found Andre's phone and handed it over to him. After Lani leaves to have the phone analyzed, Chad and Stefan spar.
ater, both Gabby and Chad are surprised when Stefan announces he's going on a business trip. Claire tells Ciara may the best woman win the contest. Brady despairs over losing Eve, but tells Maggie he's going to take her advice and fight for Eve.
Wednesday 15 April 2020
Episode 13301 (415)
Chad is adamant that Abigail won't go away with Stefan, but Stefan urges Gabby to take this opportunity to get away from Abigail's life and live a little. Marlena listens as Kayla vents her anger toward John while Steve gets his old friend to accept his forgiveness.
Thursday 16 April 2020
Episode 13302 (416)
Hope is with Shawn in Hong Kong when Rafe calls. Shawn encourages her to talk to him. Kate learns Lucas is making plans for Chloe's return, and their long-awaited first date. Sonny bumps into Paul, who's waiting for his date with Will. Will shows up, and after a few words, Sonny leaves.
Friday 17 April 2020
Episode 13303 (417)
Gabby informs Vivian that she's traveling to Hong Kong with Stefan. Vivian tries to talk Stefan out of going. Kate confronts Stefan about Andre's murder. Gabby gets word from Kayla about her test results. Later, Chad says an emotional goodbye to Gabby.
Vivian gives Sonny fair warning that DiMera is coming after Titan. Also, Chad talks to Sonny about his plan to follow Stefan and Abigail to Hong Kong. They also discuss Sonny's divorce from Will. Eli surprises Gabi by letting her facetime with Ari. They mentally prepare for her trial tomorrow.
---
Monday 20 April 2020
Episode 13304 (418)
Stefan and Gabby arrive in Hong Kong, narrowly missing Hope and Belle. While up in the hotel room, Stefan and Gabby bond. Chad arrives and he tells them about tailing Stefan and Abigail. Gabi's trial begins. Melinda and Justin make opening statements, then Eli and Rafe take the stand.
Tuesday 21 April 2020
Episode 13305 (419)
Gabby makes a quick getaway before Hope discovers her. Hope grills Stefan. Later, Chad goes looking for Abigail and comes upon Gabby from behind. The courtroom is stunned by the revelation that Lani and Eli slept together. Hope talks with Shawn about signing the annulment papers.
Wednesday 22 April 2020
Episode 13306 (420)
Chad is about to turn Gabby around outside Stefan's door when he's stopped by the hotel security chief. Gabby tells Stefano she has real feelings and wants him. But will Abigail stand in their way? Earlier, Chad is informed his bag was searched and drugs were found. He knows he's been framed.
Hope calls Belle while Chad asks Shawn to try to catch up with the mystery woman. Eli admits the baby is his. Gabi runs off, but he follows her. Meanwhile, JJ is completely torn apart to realize the baby Lani's carrying was never his. Rafe runs into Doug and Julie, reveals Hope is considering divorce.
Thursday 23 April 2020
Episode 13307 (421)
As Will and Paul go on their second date, Sonny shares with Maggie his own plans to move on, totally unaware that the person he is texting is Vivian. Vivian meets with Leo, who she has hired to seduce Sonny and is nearly caught by Kate.
Friday 24 April 2020
Episode 13308 (422)
Chloe receives a bouquet of flowers and she thinks they're from Lucas, but later, it's revealed who actually did send them… Eve is happy to see that Chloe's back from Vienna and Chloe tells Eve that she's seeing Lucas again. Eve lays out her woes with Brady to Chloe.
Kate, troubled off of overhearing Vivian's cryptic phone call, wonders what she's up to, but she's waylaid when Lucas arrives to ask Kate a favor. Later, Kate calls Paul over and wants him to find out dirt on Vivian. Brady and Sonny nearly come to blows over Eve and Titan, but Adrienne breaks it up.
---
Monday 27 April 2020
Episode 13309 (423)
Steve fully loses his eyesight. Marlena is searching desperately for an experimental treatment. Marlena and John vow their support for Steve. Steve privately asks John to buy him out of Black Patch. Meanwhile, Marlena comforts Kayla.
Eve tries to buy Bella Magazine so that she won't have to work with Brady on the New Face of Bella contest. Chloe and Lucas are caught off guard when Miguel reveals he sent Chloe the flowers on behalf of his boss.The New Face of Bella contest launches today with Claire and Ciara both voting for themselves.
Tuesday 28 April 2020
Episode 13310 (424)
Stefan tries to persuade Laura to let Gabby out. Chad tells Gabi about Stefan's framing him for drugs, and the mystery woman in Hong Kong. In the courtroom, Chad and Stefan almost come to blows. Laura appears to be on Gabi's side when she testifies.
Melinda recalls Abigail to the witness stand, and Laura testifies once more. Lani tells Abe Eli's her baby's father. Lani ends up revealing she was forced to tell Eli by Valerie, who later joins them. Meanwhile, JJ tells Jennifer about the baby. Jennifer worries he might be a danger to himself.
Wednesday 29 April 2020
Episode 13311 (425)
Lani blasts Valerie for her role in revealing the true paternity of her child, and Abe is angry at Valerie. Meanwhile, Jennifer pays JJ's bail. As anxious Stefan bears witness, Gabi strenuously objects to Laura's lie on the stand about Gabi confessing to Andre's murder.
Thursday 30 April 2020
Episode 13312 (426)
Laura stands by her story about Gabi, but the other Gabby has plans of her own. Meanwhile, Chad and Stefan go toe-to-toe while Abigail begs Marlena for help. Lani's world unravels and Eli wants to be a part of it for her… and the baby. Meanwhile, Valerie goes to Marlena for advice, while Abe talks to John.