Advertisements
Days of Our Lives focuses on the daily suspenseful adventures faced by the people of Salem from the love stories, family troubles to flowering courtships.
Premiere episodes of Days of Our Lives air on e.tv from Mondays to Fridays at 16h45.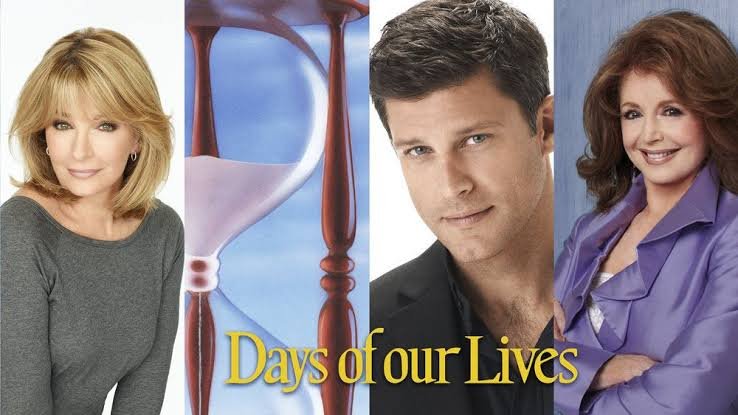 Monday 3 May 2021
Episode 13313 (427)
Fearing she's losing her mind, a desperate Abigail turns to Marlena for help. Who was the woman Chad saw entering Stefan's room in Hong Kong? Per Kate's request, Paul spies on Vivian. Stefan catches Vivian with Leo. Paul and Will celebrate Will's new job as a reporter for The Spectator.
Advertisements
Tuesday 4 May 2021
Episode 13314 (428)
As Kayla relays some bad news about Lani's baby, Eli renews his commitment as the child's father while Abe, and surprisingly Lani, both reach out to Valerie. After he receives help from Abe about coping with his blindness, Steve also reads Stefan the riot act about Abigail.
Wednesday 5 May 2021
Episode 13315 (429)
Chad, once again, confronts "Abigail" about her accusations about Gabi. Rafe arrives and he's about to question the accusations until he learns the verdict is in regarding Gabi. Later, Justin arrives and Gabi is hopeful that Rafe might be able to convince Abigail to reverse her statement
Justin and Adrienne meet Sonny's sleepover guest, Leo. Afterwards, Leo meets up with Vivian, who is thrilled Leo finally seduced Sonny. At the same time, Adrienne tells Sonny to be careful. Jennifer and Eric wake up together and share a romantic morning.
Thursday 6 May 2021
Episode 13316 (430)
Gabi is found guilty of Andre's murder. Justin vows to appeal, but Melinda persuades the judge. Gabby battles to get past Dr. Laura to be with Stefan. Later, Marlena confronts Abigail. Vivian comes to Victor and Maggie, wanting to make amends after trying to seduce Victor.
Friday 7 May 2021
Episode 13317 (431)
Marlena learns about the existence of the Gabby alter. She tears into Stefan. Gabby lashes out. Hope returns home and comforts Rafe after Gabi's sentencing. Eve fights her sexual tension with Brady as the preliminary Bella contest results are posted. Brady proposes a wager to Eve regarding Claire and Ciara.
Meanwhile, Claire fights with Ciara about the results and accuses her of cheating. Later, Tripp overhears Claire asking Theo to help her. At the same time, Ciara accuses Eve of being Team Claire. Lucas tries to dissuade Chloe from considering Miguel's offer.
---
Monday 10 May 2021
Episode 13318 (432)
Stefan and Gabby have to hide unconscious Marlena when Kate comes home. Chad consoles Gabi, who has been placed back in prison. After a run-in with Eve, Brady confides in John about how he's trying to win her back. Meanwhile, Eve tells Chloe about her bet with Brady.
Earlier, Lucas tells Chloe he thinks he knows who Miguel's mystery boss is. He goes to confront Kate. Off her conversation with Eve, Chloe tells Lucas she's seriously thinking of accepting the offer. Rafe is rocked when Hope gives him annulment papers.
Tuesday 11 May 2021
Episode 13319 (433)
Kate'upset Paul still hasn't uncovered any useful info on Vivian. Meanwhile, Vivian insists Leo stay on their project to bring down Sonny. Adrienne suggests Will do his own story as his first piece for the Spectator. Rafe refuses to sign Hope's annulment papers. Meanwhile, Tripp comforts Claire.
Wednesday 12 May 2021
Episode 13320 (434)
John searches for Marlena. He asks Kate if she's seen her. Meanwhile, Marlena tries to convince Stefan to release her as Chad confronts Gabby over her lies. Chad's profession of love awakens Abigail inside her conscious mind, but Gabby is able to keep her locked away.
Thursday 13 May 2021
Episode 13321 (435)
Rafe tells Chad that maybe the reason Abigail lied about Gabi's confession is because she's losing her mind. Chad reviews the case with Rafe. Trapped in her own troubled mind, Abigail encounters Andre.
Marlena tries to convince Stefan that he'll never get away with holding her captive because John will find her. Meanwhile, John questions Gabby about the appointment she was supposed to have with Marlena. Jennifer tries to convince Hope to give Rafe another chance. Later, Rafe asks Hope to help him.
Friday 14 May 2021
Episode 13322 (436)
The results of the Bella contest are in and the winner is revealed… but the results are still out on Brady and Evess relationship. Tripp tries to make amends to Ciara for not voting for her. Chloe confronts Kate about her career opportunity in Mexico.
Leo continues to work Sonny, knowing he has to get him back into bed while Paul tells Will about seeing Leo with Vivian. Kate makes a slip to Vivian about Victor and Maggie and she's suspicious. Also, Will moves forward with his plan to interview someone about his death.
---
Monday 17 May 2021
Episode 13323 (437)
Brady pleads his case to Eve. Will she finally give him another chance? Lucas grills Vivian about whether Kate may have had a role in Chloe's job offer. Afterwards, Lucas tells Maggie he encouraged Chloe to take the job in Mexico. Meanwhile, Chloe tells Miguel she's staying in Salem because of Lucas…
Advertisements
Claire admits to Tripp that she asked Theo to rig the contest in her favor. Meanwhile, Ciara crosses with Wyatt. Paul admits he's been following Leo and knows of his connection to Vivian. Leo covers but later reports to Vivian. Paul texts Kate that he has new info on Vivian.
Tuesday 18 May 2021
Episode 13324 (438)
Gabby and Stefan make plans to leave Salem as Chad, Hope, and Rafe are determined to find the Hong Kong mystery woman. Meanwhile, Vivian overhears that her son is abandoning her and tries to convince him to stay. Stefan makes a bold move while Kate comes face-to-face with the woman in the wig…
Eli visits an angry Gabi in prison to assure her that he is still committed to proving her innocence as Lani runs into JJ and opens up to him about her high-risk pregnancy.
Wednesday 19 May 2021
Episode 13325 (439)
Kate is stunned when she comes face-to-face with Gabby. After dealing with Kate, Stefan and Gabby are determined to leave Salem right away. Later, Chad finds Abigail and Stefan together. Meanwhile, Marlena and Vivian update Kate on the Abigail situation.
Earlier, Chad visits Gabi in prison and gives her an update on Abigail and also Rafe's investigation. Rafe and Hope's plan pays off as Shawn is able to get the head of security at the Hong Kong hotel to hand over the security video to discover the mystery woman's identity.
Thursday 20 May 2021
Episode 13326 (440)
Chad finds Abigail (Gabby) and Stefan in bed. Gabby's defensive. Chad goes off on Stefan. Hope and Rafe reel from the revelation that the Hong Kong mystery woman is Abigail. Kate disbelieves Vivian's assertion that Abigail killed Andre. Marlena speculates it's possible.
Gabi is attacked in prison. Will stops by the Kiriakis mansion to see Adrienne, talks to Sonny instead about his first article for the Spectator. Leo arrives, and Will holds off on telling Sonny about Paul's suspicions. Leo warns Sonny that Vivian approached him.
Friday 21 May 2021
Episode 13327 (441)
Hope calls 911 as Rafe holds Chad back from attacking Stefan. Chad thinks Stefan did something to make Abigail believe she was Gabi. Gabby crosses paths with Steve. She then makes her way to the hospital to see Stefan. Meanwhile, Steve learns from Kayla that Abigail is missing and reveals that he just ran into her.
After bringing Stefan to the hospital for treatment, JJ is horrified to learn that Abigail is missing. Later, he and Rafe are both horrified to find out that Gabi was assaulted at the prison. Ciara tells Wyatt she forgives him for the lies that led her to leave Salem. Tripp is displeased.
---
Monday 24 May 2021
Episode 13328 (442)
Ciara and Tripp crack the code on Wyatt's phone and trap an unwitting Claire. Brady takes Eve out to Doug's Place while Lucas shares a date with Chloe. Maggie bolsters both men to keep fighting for what their heart wants.
Concerned about Brady's commitment to win back Eve, Victor calls Shane to check on Theresa. Maggie almost overhears the call. Eli treats Lani's placenta previa as if it was a big case, clueless to Lani's emotions about her condition. Eli seeks help and advice from Julie.
Tuesday 25 May 2021
Episode 13329 (443)
Chloe, Lucas, Brady and Eve all share a toast, unaware that Miguel spiked the club soda. Later, Chloe is shocked to find herself alone in the club with Miguel. Brady pulls out all the stops to win back Eve's love. However, Eve hears from Ciara that the New Face of Bella contest was rigged for Claire to win.
Ciara and Tripp confront Claire and Wyatt about their underhanded behavior in rigging the contest. Jennifer returns from an assignment out of town to see Eric. Roman and Anna join them in the pub and make an announcement.
Wednesday 26 May 2021
Episode 13330 (444)
Gabby, despite Stefan's urging, won't leave his side and is caught by Steve. Earlier, Kayla and Steve are worried for Abigail. Chad is trying to make bail, but so far Justin hasn't had any luck. Hope tries to calm Chad down. Eric and Jennifer arrive and hear the news about Abigail and Chad.
Hope goes over to hospital. Meanwhile, Eric realizes his mom is missing. Brady's been drugged by Miguel and Lucas helps him to the hospital. Kayla examines him. Meanwhile, at Doug's Place, Miguel isn't giving up on Chloe and intends to kidnap her.
Thursday 27 May 2021
Episode 13331 (445)
Hope brings Gabby into the station, where Gabby lashes out at Chad and Jennifer. John arrives and demands to know where Marlena is. Alone, Gabby and Laura have a conversation. Meanwhile, Marlena, Kate, and Vivian get drunk in the bunker.
Friday 28 May 2021
Episode 13332 (446)
Gabby finds herself in a precarious position with the authorities and Dr. Laura. Later, Gabby gets to speak to Stefan. Stefan comes under fire from Jennifer, then Eric shows up. They talk to Kayla about Abigail. Kayla mentions Marlena could help, but Eric notes that she's missing.
Kayla urges Steve to be open and honest with her. Marlena, Kate and Vivian are at their wits end, and afraid they're going to die from lack of oxygen. Meanwhile, John, Hope, and Paul learn where the women are.
---
Monday 31 May 2021
Episode 13333 (447)
After making a plea deal, Gabby calls Stefan in the hospital about where they go from there. Abigail tries to break through, but is confronted by Laura. John, Paul and Hope manage to revive Marlena, Kate and Vivian after "Abigail" nearly asphyxiated them in the tunnel under the DiMera mansion.
Vivian rushes off to be Stefan and begs him to give up on Gabby. Will visits Gabi in the prison infirmary after she was beaten up. Meanwhile, Paul and Kate realize that Leo may be the same person who Kate saw Vivian pay off.
Advertisements