Advertisements
In the midst of a rivalry between two gangs, Sena becomes a casualty of the war when the unknown Mafia boss decides to teach the Kocovalis a lesson by taking the most precious thing in Yamac's life- his wife.
Premiere episodes of Die Put air on eExtra from Mondays to Fridays at 21h30.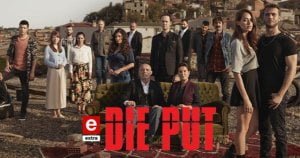 Tuesday 1 August 2023
Episode 62 (277)
Vartolu and Yamac go on a journey to end Yamac's life. Cagatay is suspicious of Yamac's death.
Advertisements
Wednesday 2 August 2023
Episode 63 (278)
Yamac has to choose: die or become someone else… Cagatay is determined to find Yamac to bring a swift and quiet end to conflict with the Pit.
Thursday 3 August 2023
Episode 64 (279)
Yamac finally has his reckoning with Yucel. Meanwhile Vartolu does everything in his power to obey his brother's deathwish.
Friday 4 August 2023
Episode 65 (280)
There's a bounty placed on Yamac's head, and Vartolu is the one who needs to keep it all together.
Monday 7 August 2023
Episode 66 (281)
Once again, Yamac ends up with Efsun and asks her for help, while Azer and Karaca get to know each other better.
Tuesday 8 August 2023
Episode 67 (282)
While Efsun and Yamac are having a moment, the Pit is dragged through the mud by Cagatay and his plans.
Wednesday 9 August 2023
Episode 68 (283)
Cumali is furious at Yamac, and gives him a piece of his mind. Cagatay is confident his plan will work to take over the Pit. Emmi is still in hospital and undergoes heart surgery.
Thursday 10 August 2023
Episode 69 (284)
Yamac goes back to the Pit, but not for the best of reasons, while the people in the Pit suffer during mass job losses.
Friday 11 August 2023
Episode 70 (285)
Yamac has a big decision to make, after finding out that he's going to be a father. Meanwhile desperation drives the men of the Pit to do something they never thought they would.
Monday 14 August 2023
Episode 71 (286)
Yamac feels incapable of helping his troubled brothers from the Pit. Karaca tells Azer she misses him. Efsun urgently needs to leave Cagatay's house.
Advertisements
Tuesday 15 August 2023
Episode 72 (287)
Fadik asks Sultan to bless Azer and Karaca's relationship. Vartolu finally faces Saadet. Cumali is at his wits' end.
Wednesday 16 August 2023
Episode 73 (288)
Efsun decides to contact Cagatay but regrets doing so. Yamac gives Karaca an ultimatum. Damla is unsure about telling Cumali about her pregnancy.
Thursday 17 August 2023
Episode 74 (289)
Yamac gives in, and kisses Cagatay's hand, while Selim and Cumali have their own struggles and need to deal with Cagatay's wrath.
Friday 18 August 2023
Episode 75 (290)
Yamac receives his first task from Cagatay, whilst Cagatay continues to threaten and blackmail Selim and Cumali. Damla has a difficult time being pregnant and in prison.
Monday 21 August 2023
Episode 76 (291)
Yamac is given a job by Cagatay, and needs to improvise while Fatih keeps an eye. Vartolu is set on finding out who brought drugs into the Pit.
Tuesday 22 August 2023
Episode 77 (292)
Yamac's job goes south, while Cumali get to see his wife, but the circumstances are horrific.
Wednesday 23 August 2023
Episode 78 (293)
Yamac gets interrogated by the police, but there's more to the story, while Efsun tries to help Yamac get an inside man with Cagatay.
Thursday 24 August 2023
Episode 79 (294)
Cumali cannot keep his emotions in tact, but Selim has a plan to save him from himself. While Vartolu is hunting down Timsah.
Friday 25 August 2023
Episode 80 (295)
While Cumali has his own plans to end Cagatay, Yamac needs to intervene to make sure his plan works.
Monday 28 August 2023
Episode 81 (296)
Yamac and Vartolu put their plan into action. Mahsun follows Cumali. Cagatay becomes suspicious of Murtaza.
Tuesday 29 August 2023
Episode 82 (297)
Cumali and Selim are furious about Yamac's plan to exclude them. Emir shares important information with the Kocovali brothers. Yamac is suspicious of Efsun's connection with Cagatay.
Wednesday 30 August 2023
Episode 83 (298)
Season 3 finale!
Yamac takes Aykut for a stroll through the Pit and decides to rally the boys around a game of football, whilst Emir finds his place in this new world. Arik steps up to take over from Cagatay.
Advertisements