Advertisements
Diepe Waters follows the story of two sisters, Karla and Meghan, who are both competitive swimmers. The sisters are forced to confront their secrets and hidden desires when they return to their hometown after their mother's death.
Premiere episodes of Diepe Waters air on kykNET from Mondays to Thursdays at 18h30.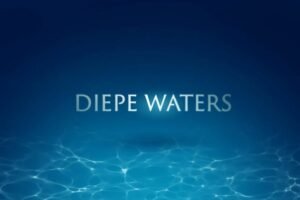 Advertisements
Tuesday 1 August 2023
Episode 174
Johan's heart pumps custard, but things aren't as easy as he thinks. Gys gets upset because Rossouw doesn't go to action, while Klasie makes a plan…
Wednesday 2 August 2023
Episode 175
Rossouw sees a moment that changes his attitude. Jacques and Johan have a meaningful conversation. What is going on between Charity and Nina?
Thursday 3 August 2023
Episode 176
A box full of memories causes a relationship to catch fire. Henry is livid over what Tshepo tells him and Johan tries to defend Charity to Gys.
Monday 7 August 2023
Episode 177
Daan causes tension between Karla and Arno. Henry is on the war path regarding Lettie's conversation. Charity sleeps over at Nina's – and tells her about her life.
Tuesday 8 August 2023
Episode 178
Tshepo notices something strange about Charity. Pam finds something suspicious in Jacques' flat. Lettie is upset over Henry and Kurt. Charity fights for her survival.
Wednesday 9 August 2023
Episode 179
Nina's frustration with Tshepo and the shortage of support grows by the day. Daan and Karla share a moment of closeness. Henry seeks help from Jacques.
Thursday 10 August 2023
Episode 180
Is Karla starting to win Daan over? Henry and Kurt are eager to have it out with one another. Rose confronts Laura about the so-called faked report.
Monday 14 August 2023
Episode 181
Nina is a nervous wreck when the American scout finally shows up. Rose's doubts upset Wim. Is Karla the answer to a family's problems?
Tuesday 15 August 2023
Episode 182
Wim and Rose are very concerned about Nina. Daan is shocked when he makes a discovery in Arno's room. Jacques asks for Rossouw's help with Pam.
Wednesday 16 August 2023
Episode 183
Henry stuns Lettie, while Karla's return gives Sanet the wrong idea. Johan's visit has conditions and Meghan draws a line in the sand with Pam.
Thursday 17 August 2023
Episode 184
Lettie tries to save what can be saved, while Sanet and Karla have a falling out over Arno. The truth about Charity's life is questioned by Johan.
Monday 21 August 2023
Episode 185
Johan places Karla at a difficult crossroads. Wim and Rose butt heads about Nina's future. A misunderstanding tears Lettie and Henry further apart.
Tuesday 22 August 2023
Episode 186
Arno shares news with Karla that could change their future. Lettie tries to win Henry over. Nina's concerns grow by the day. Johan does something for Charity.
Wednesday 23 August 2023
Episode 187
Rose takes her anger out on Anja. Karla pleads with Sanet to better understand her needs, while Johan becomes even more suspicious of Charity.
Thursday 24 August 2023
Episode 188
The kids find out that Sanet had a visitor the previous evening, Jacques is worried about Pam. Charity finds a clue as to who her secret benefactor is.
Monday 28 August 2023
Episode 189
Johan is worried about Charity. Anja and Rose connect. Tommy gives Arno attitude for being with Karla. Karla gives Nina shocking news.
Tuesday 29 August 2023
Episode 190
Nina sees a tender moment between Wim and Sanet. Anja and Johan search for Charity together, while Rossouw makes a new plan with the HPC land.
Wednesday 30 August 2023
Episode 191
A difficult road lies ahead for Rose and Wim. Charity shares a glimpse of her past with Anja. Gys is worried about Meghan's mental health.
Thursday 31 August 2023
Episode 192
Rose tells Wim how she really feels. Sanet gets an unexpected call. Rossouw and Anja realize Charity has deep trauma. Jacques consoles Meghan.
Advertisements