Advertisements
Jy is My Seun is a telenovela that follows the life of a young woman who is confronted by challenging situations and ends up giving his son up for adoption in hopes that he will be given a better life.
Premiere episodes of Jy is My Seun air on kykNET & Kie from Monday to Thursday at 20h00.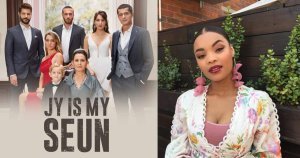 Thursday 1 June 2023
Episode 44
Asiye discovers that Ali Kemal set Hasan's workshop on fire. She also hears that Ali Kemal and Murat want her to be declared mentally unstable.
Monday 5 June 2023
Episode 45
Advertisements
Tension becomes unbearable for Asiye's sons when they receive her suicide letters. Akca loses heart after the psychologist's visit to Efe.
Tuesday 6 June 2023
Episode 46
Sule plays her trump card with Ali Kemal, but doesn't get the reaction she wanted. With an unexpected guest, the tension runs high in Hasan's house.
Wednesday 7 June 2023
Episode 47
Hasan finds his father's address and goes there to find people using the premises to smuggle alcohol. A struggle incurs and one of the guys is accidentally shot in the leg.
Thursday 8 June 2023
Episode 48
Akca finds herself in trouble, but Ali Kemal offers to help her. No-one understands Akca's behavior after she makes a deal with Ali Kemal.
Monday 12 June 2023
Episode 49
To Hasan's anger Ali Kemal forces Akca to live with them. Murat threatens to shoot Hasan. Asiye is adamant to go to Hasan, despite Ali Kemal and Sule pleading her not to do it.
Tuesday 13 June 2023
Episode 50
Hasan discovers his father was very rich but that he sold everything and disappeared. Asiye investigates and comes to a shocking conclusion.
Advertisements
Wednesday 14 June 2023
Episode 51
Ackca takes a stand against Ali Kemal while Efe eavesdrops on them. An unwanted guest comes to stir up the family's affairs.
Thursday 15 June 2023
Episode 52
Ali Kemal and Murat's father, Riza, is summoning them to the study trying his best to sway them in his favour. Neither of the brothers are very impressed with him.
Monday 19 June 2023
Episode 53
Asiye's husband Riza threatens Akca believing she committed murder and warns Ramazan that an open grave is waiting.
Tuesday 20 June 2023
Episode 54
Riza comes bearing gifts and gives Sule a necklace that was given to Asiye by Ali. Akca starts saying goodbye to her loved ones as she prepares to turn herself in to the police.
Wednesday 21 June 2023
Episode 55
Before Akca can turn herself in, Ali Kemal drops a bombshell. He staged everything and a murder wasn't commited. It was his way of ensuring that Efe wouldn't go to Akca.
Thursday 22 June 2023
Episode 56
Hasan obtains footage showing who locked Efe in the cold room. Riza joins the party where he is taught a lesson.
Monday 26 June 2023
Episode 57
Emine and Zeynep battle to unlock a briefcase and they're ecstatic to discover it's filled with cash. The court case to decide on custody of Efe is to begin and Asiye supports Hasan's bid.
Tuesday 27 June 2023
Episode 58
Hasan and Akca's court hearing is coming up, which will determine the future of Efe. Will the judge grant them custody over the boy, or will he stay with the Karasu family?
Wednesday 28 June 2023
Episode 59
Hasan discovers an old letter threatening his father with murder. His fears that his father may have been killed are confirmed when he arrives at the murder scene.
Thursday 29 June 2023
Episode 60
Efe and Hasan spend some time together and differences between them emerge. Ali Kemal asks Akca that they bury the hatchet and stick together for Efe's sake.
Advertisements