Everyone needs a life that everything is possible, the luxury and fast life but they sit at home lazily waiting for an opportunity to knock when they have the potentials at their fingertip.
If you haven't been making money and you're a South African don't blame anybody for this. If you are South African and you've been thinking of how to make money fast in 2021, below are 10 tips that would be very helpful.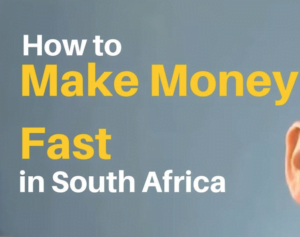 1. Look for problems technology can solve
Ours is not a very developed society so there are pretty several challenges and problems that can be solved with the creative use of technology. In the past decade, technology has provided the youngest group of billionaires in the world many of them in their twenties.
If you have a keen eye for spotting problems and challenges you can create valuable solutions to these challenges. You don't need to have the hardcore programming skills to deliver a tech startup. You can either come up with the ideas and team up with a more talented developer or if you can, hire a couple of developers.
2. Eateries and restaurant business
If you can operate a food and drinks centre in South Africa, then it can be a good money maker for you because South Africans will always eat, even when the economy is bad. A restaurant is a good business that is always profitable as long as it is located in a populated area. In cities like Capetown, there are many restaurants springing up almost every year and the numbers have not actually gone down.
3. Wedding planning business
This basically involves planning for people's wedding while they themselves would just show up on their D-day. Wedding planners are basically meant to take the workload of planning a wedding off the shoulders of the intending couple and as a wedding planner, you need to have an office or at least have your phone number and contact publicly listed so that people can contact you. You may also be required to hire a hall, do the setup and provident food caterers.
4. Own a house
There are not many South Africans who own their own houses but for those who do, they only end up getting richer because real estate is one sure thing in South Africa that hardly ever loses value except it gets to over 50 years or more depending on how good the structure is.
5. Start a mini-importation business
There are a lot of free e-books on how to import cheap goods from countries like China, Vietnam, Australia and so on and sell them in the South African market. It's good to select products that are a result of the market survey so ROI can be very high.
6. Start a lounge or relaxation centre
Owning a relaxation centre in highbrow cities like Cape Town and Johannesburg can really be a good income generator as people, especially working class peeps in these cities look out for lounges to relax either after the day's work or during the weekend. It brings more income if it's doubled as a viewing centre.
7. Start a travel/tourism agency
Everyone travels every day. Starting a travel/tourism agency would definitely bring some income to an entrepreneur who can take time to vast him or herself in the travel business sector. It's very important to create a website, rent an office and hire at least two travel agents.
8. Start a bookmaking business
Ignore what anyone might want to try to tell you about the moral justification of bookmakers. Bookmaking and sports trading business is one of the most lucrative businesses in South Africa. It is also one of the businesses that require the highest capital to set up. If you have the cash, you should look into sports bookmaking.
9. Start a school
This is one sure way to make money in South Africa. You don't need to have millions of rand to start a school but you need to meet the basic requirements of the educational regulatory board. A school is one of the businesses you can start small and look to expand over the years.
10. Start a transport business
If you know how transportation business works in South Africa, starting a transportation business in South Africa is a sure way to make money if you have enough cash to start up. Also, you need to reach agreement drivers and terminal managers. Transport business is really lucrative in South Africa.