Advertisements
My Desire follows a famous rockstar, Rudraksh Khurana, and a gynaecologist, Dr. Preesha Srinivasan. The pair fall in love after raising Preesha's nephew Saransh after her sister died during childbirth. Life, however, has a lot in store for the three of them. 
Premiere episodes of My Desire air on Starlife from Monday to Sunday at 20h00.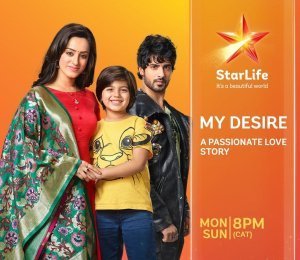 Sunday 1 October 2023
Episode 910
Mansi and Raghav are shocked to see Samrat and Nayantara at the reunion party; Malti grows worried about Ishani and Mohit.
Advertisements
---
Monday 2 October 2023
Episode 911
Nayantara is uncomfortable with Samrat's demand for a photoshoot and later attempts to reconcile Samrat and Prem.
Tuesday 3 October 2023
Episode 912
Nayantara tries to bring Samrat and Prem closer, while Revati tries to destroy evidence against her by attacking Malti.
Wednesday 4 October 2023
Episode 913
Samrat discovers Revati's plot to harm Mohit, Ishani, and Malti. Revati evades the police and encounters Aliya.
Thursday 5 October 2023
Episode 914
Chintu and Prem's plan puts Samrat and Nayantara in danger, leading Mohit and Ishani to seek a way to save them.
Friday 6 October 2023
Episode 915
Samrat saves Nayantara's life, sparking conflict with Aliya who feels Nayantara deserved to die. Nayantara and Samrat share an awkward moment afterward.
Saturday 7 October 2023
Episode 916
Samrat stands up for Nayantara when she is humiliated during the Pooja, showing his delight at her compassion.
Sunday 8 October 2023
Episode 917
Raghav pressures Samrat to perform at his sangeet, and Nayantara tries to reconcile Samrat and Prem.
---
Monday 9 October 2023
Episode 918
Nayantara enjoys seeing Samrat and Prem together, but Mansi causes an allergic reaction by putting peanuts in Prem's ice cream.
Tuesday 10 October 2023
Episode 919
Nayantara confronts Raghav for pressuring her to drink and discovers Samrat's increasing affection for Prem at the Sangeet ceremony.
Wednesday 11 October 2023
Episode 920
Samrat fakes a throat problem to avoid performing at Mansi and Raghav's Sangeet. He is shocked to discover Nayantara with Raghav.
Thursday 12 October 2023
Episode 921
Samrat mistakenly believes Nayantara slept with Raghav and becomes jealous, but they are both shocked to discover the truth.
Friday 13 October 2023
Episode 922
Raghav feigns innocence and blames Ishani, leading to a fight, but Raghav surprises with an unexpected action.
Saturday 14 October 2023
Episode 923
Nayantara learns Raghav betrayed her – Ishani drank her drink. Alia aggravates Mansi's anger when she finds her drunk in the streets.
Advertisements
Sunday 15 October 2023
Episode 924
Alia manipulates Mansi into seeking revenge, while Malati accuses Ishani of damaging their reputation.
---
Monday 16 October 2023
Episode 925
Nayantara defends Mansi and asks Samrat to let her stay; Mansi and Aliya scheme against Nayantara and Samrat.
Tuesday 17 October 2023
Episode 926
Samrat successfully exposes Raghav's evil deeds, while Mansi attempts to manipulate Nayantara against Samrat.
Wednesday 18 October 2023
Episode 927
Samrat's plan is foiled by a manipulative witness, leaving him shocked. However, Mansi offers to help him expose Raghav with a new plan.
Thursday 19 October 2023
Episode 928
Samrat's group arrests Raghav while Mansi plots to ruin Samrat's surprise birthday party for Nayantara.
Friday 20 October 2023
Episode 929
Nayantara gets angry at Mansi for trying to sabotage her birthday party. Samrat apologises and pledges to support Nayantara.
Saturday 21 October 2023
Episode 930
Nayantara confronts Mansi about her true intentions, fuelled by doubts and a need to uncover the truth.
Sunday 22 October 2023
Episode 931
Nayantara plans to expose Mansi while entering Samrat's room. However, before she can do so, Aliya pushes her into a water tank.
---
Monday 23 October 2023
Episode 932
Samrat finds Nayantara trapped in the water tank and she accuses Mansi of pushing her in.
Tuesday 24 October 2023
Episode 933
Samrat wants to romantically celebrate Holi with Nayantara, but Mansi tampers with Nayantara's drink.
Wednesday 25 October 2023
Episode 934
Samrat discovers Aliya and Mansi plotted against Nayantara; the IT department raids his house.
Thursday 26 October 2023
Episode 935
Samrat is devastated as his house is sealed by income tax officers, but Malti supports him and they vow to fight the situation together.
Friday 27 October 2023
Episode 936
Mohit asks Samrat about his feelings for Nayantara; Samrat exposes his plan to everyone when Mansi's bad intentions are revealed.
Saturday 28 October 2023
Episode 937
Samrat warns Aliya about hurting Nayantara and Mohit helps him recognise his feelings; the truth about Aliya and Mansi is revealed.
Sunday 29 October 2023
Episode 938
Mansi frames Nayantara for causing her fall and falsely claims a miscarriage, leading to Nayantara's arrest.
---
Monday 30 October 2023
NOTE: Timeless Love airs for an hour tonight; therefore there is no episode of My Desire tonight. New episodes resume tomorrow.
---
Tuesday 31 October 2023
Episode 939
Mansi gives Samrat an ultimatum to marry her after his divorce to free Nayantara, and Samrat lies to Nayantara about loving Mansi.
Advertisements