Advertisements
Om Elke Draai is a modern love story series between Demir and Selin, who become housemates after each bought half of the same house.
Premiere episodes of Om Elke Draai air on eExtra from Mondays to Fridays at 19h30.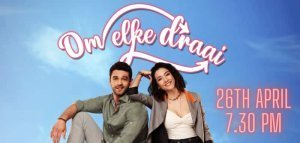 Monday 1 May 2023
Episode 4
The first plan to get Demir to leave Artemim fails. Burak and Ferruh realise the mess they are in, and Selin faces one of her fears with Demir's help.
Advertisements
Tuesday 2 May 2023
Episode 5
Selin and Demir go to Leyla and Firuze for answers, but the sisters find creative ways to avoid the topic. Ayda and Merve brainstorm the next level of Operation Cheetah.
Wednesday 3 May 2023
Episode 6
All of Artemim's employees are invited to a client's party, and something happens there that brings Selin and Demir closer together. How will this affect their dynamic at home?
Thursday 4 May 2023
Episode 7
Selin and Demir are at odds with moving things around the house. Leyla and Firuze drop off goods in hopes of getting them together. Will bring them closer together?
Friday 5 May 2023
Episode 8
Selin and Demir find themselves in deep trouble with the law, as well as their client. Will some quick thinking save them from losing everything?
Monday 8 May 2023
Episode 9
While everyone is worried about the mess Selin made, Demir has a plan which could see him mix business with pleasure. But an impatient Burak takes matters into his hands.
Tuesday 9 May 2023
Episode 10
Selin, Merve and Ayda try to save Artemim but cause more trouble. Demir tries to get into Yildirim's good books with a new ally. Meanwhile, Firuze and Leyla play matchmaker.
Wednesday 10 May 2023
Episode 11
Selin's anxious about what awaits her at home. Leyla and Firuze's plans for a romantic night for Selin and Demir unfold. Burak turns to desperate measures to save himself.
Thursday 11 May 2023
Episode 12
Demir give Burak an ultimatum after his risky actions. Will Burak choose to stay at the company? Selin grapples with having her ideas thwarted on the new project.
Friday 12 May 2023
Episode 13
Selin and her friends meet at Happy Pie to continue their monster customer operation, but will Demir catch whiff of their plans? Alara surprises Demir in the worst way.
Advertisements
Monday 15 May 2023
Episode 14
Selin receives unexpected visitors that throw a wrench in her and Demir's living arrangement. Will Firuze and Leyla be able to come to their rescue?
Tuesday 16 May 2023
Episode 15
The gang gets ready to meet the mysterious "difficult client" necessary for Operation Cheetah. Later, an unexpected gift from Vedat causes some tension at Artemim.
Wednesday 17 May 2023
Episode 16
Dinner with Selin's parents doesn't go as smoothly as Selin and Demir expected. Merve, Bora and Ayda are overcome by hunger when they have to work overtime.
Thursday 18 May 2023
Episode 17
It seems that love is on the horizon for Ayda. Meanwhile, Selin and Demir do everything they can to prevent Selin's parents from finding out they live together.
Friday 19 May 2023
Episode 18
The meeting between Demir, Selin and Yildirm goes well. Meanwhile, the rest of the team get ready to train Esen for Operation Cheetah and Semih pops by the office.
Monday 22 May 2023
Episode 19
As Selin gets tangled in a web of lies, Demir's father is persistent to come to town. Can Demir and Selin stop him before the truth is exposed?
Tuesday 23 May 2023
Episode 20
Selin tells Vedat the truth about who she is and there seems to be a hiccup in Ferruh and Burak's plans with Esen when Demir notices some inconsistencies.
Wednesday 24 May 2023
Episode 21
The preparations for Selin's surprise birthday are underway, but could a white lie she told ruin the celebration? Meanwhile, Burak uses the opportunity to get some answers.
Thursday 25 May 2023
Episode 22
Selin and Demir grow even closer, but at the surprise party an unexpected guest finds out the truth about their living arrangement. Could this be the end of their ruse?
Friday 26 May 2023
Episode 23
As Selin says goodbye to her parents, Demir is there for emotional support. Meanwhile, the company is facing new challenges, and will Burak and Ferruh be caught out?
Monday 29 May 2023
Episode 24
Alara tries to get closer to Demir and sees Selin as a threat. Both Ayda and Merve's love lives are thriving, while Selin and Demir grow closer every day.
Tuesday 30 May 2023
Episode 25
Demir comes to a realisation about Vedat's true feelings, and this leads him to accept a proposal from Alara, who is making the Artemim employees' lives miserable.
Wednesday 31 May 2023
Episode 26
While Leyla and Firuze celebrate their match making abilities. It's a rollercoaster day for Selin and Demir and Alara and Burak are there to pick up the pieces.
Advertisements