Advertisements
Om Elke Draai is a modern love story series between Demir and Selin, who become housemates after each bought half of the same house.
Premiere episodes of Om Elke Draai air on eExtra from Mondays to Fridays at 19h30.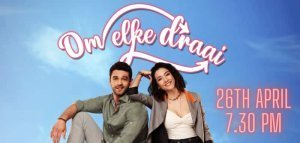 Thursday 1 June 2023
Episode 27
Demir is in turmoil thinking about the Vedat situation, and Selin confesses she knew Vedat before. Selin expresses she wants to build her own house.
Advertisements
Friday 2 June 2023
Episode 28
Alara finds new ways to infuriate Selin. Demir and Vedat come to an understanding. While Ferruh and Burak might have finally found a solution to all their problems.
Monday 5 June 2023
Episode 29
Selin is devastated when Demir leaves her to go to Paris. Maybe a party is just what she needs to take her mind off things?
Tuesday 6 June 2023
Episode 30
Alara plans a trip for the Artemim team but Selin and Demir aren't excited about the idea. Merve and Bora continue to try to keep their marriage a secret.
Wednesday 7 June 2023
Episode 31
At the retreat jealousy quickly surfaces, while both Demir and Selin tiptoe around the rising attraction they feel towards each other. Azmiye and Firuze join forces in playing matchmaker.
Thursday 8 June 2023
Episode 32
With no working cell phone and a questionable sense of direction, the unexpected adventure has Demir and Selin getting lost in more than just the forest.
Friday 9 June 2023
Episode 33
The love ban causes a bit of a stir amongst the employees who await Demir's verdict. Will he fire Bora and Merve for getting married in secret?
Monday 12 June 2023
Episode 34
Demir has a tough decision to make and Selin is not making it easy on him. As their love blossoms, Demir is caught between a rock and a hard place.
Tuesday 13 June 2023
Episode 35
Selin tells everyone that Demir is going to remove the relationship ban. But after some disturbing news from Alara, will Demir go through with removing it?
Wednesday 14 June 2023
Episode 36
When Alara's trap produces a domino effect, who will come out of it intact? Burak hears shocking news which endangers his life and Ayda pouts over Ibo's introduction.
Advertisements
Thursday 15 June 2023
Episode 37
In the aftermath of Demir keeping the relationship ban in place at the office, will relationship counselling solve the rift that has formed between Demir and Selin?
Friday 16 June 2023
Episode 38
Demir makes a decision resulting in consequences for one of Artemim's projects, while Selin tells her best friends she's in love. Will this be the only confession she makes?
Monday 19 June 2023
Episode 39
As Artemim undergoes a major transformation, Selin chooses between love and her career. Meanwhile, the girls try and brainstorm ways to get Demir to forgive Selin.
Tuesday 20 June 2023
Episode 40
Firuze, Leyla, Ayda, Merve and Azimye's plan unfolds to bring Demir and Selin closer. Meanwhile, Ibo and Ayda face a dilemma in their relationship. Burak adjusts to his new role.
Wednesday 21 June 2023
Episode 41
After Demir opens up to Selin about his past, he starts giving her the cold shoulder. The girls at the office try setting things up to bring them closer together.
Thursday 22 June 2023
Episode 42
Sparks fly for Demir and Selin, as everyone's plans finally work out for once. However, one person is less than happy about their blossoming relationship.
Friday 23 June 2023
Episode 43
Azmiye panics as Demir investigates Selin's secret admirer. Burak digs deeper into Demir's past and discovers a dark secret. Ibo develops doubts about his relationship with Ayda.
Monday 26 June 2023
Episode 44
As Selin and Demir's relationship progresses, it seems like they might be in for a nasty surprise from Burak. One of Demir's clients tries to make a move on Selin.
Tuesday 27 June 2023
Episode 45
Demir gets a blast from the past in the form of an unexpected new work colleague. Artemim's employees are in a state at the arrival of their new financial director.
Wednesday 28 June 2023
Episode 46
Demir continues to struggle with the fact that Eylul is back. Merve plans on visiting her husband and in-laws, but she can't show up empty-handed.
Thursday 29 June 2023
Episode 47
Eylul's presence at Artemim pulls Demir along on a bad trip down memory lane. Will Selin's love be enough to help him heal his wounds?
Friday 30 June 2023
Episode 48
Demir struggles to cope as his past haunts him. Burak is getting closer with Eylul. Will Burak's plan of driving Demir away through Eylul's presence work?

Advertisements