Advertisements
Hart van Goud is an Afrikaans novella which focuses on Nehir, who uses her beauty to trick men into falling in love with her. Zehir is her accomplice. She pretends to be her mother, helps conceal her tracks, and ensures her victims are non-suspicious. 
Premiere episodes of Hart van Goud air on eExtra from Mondays to Fridays at 20h30.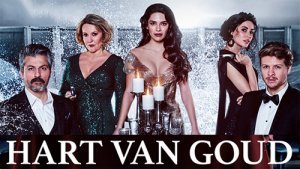 Thursday 1 June 2023
Episode 44
Lives are in turmoil as a result of Halil's death, and while Nazim and Nehir fight to be together, there are people in the background trying to tear them apart.
Advertisements
Friday 2 June 2023
Episode 45
The blackmailer's identity is revealed, causing a stir in everyone's lives. We jump forward 5 years, and there's a shocking latest addition to the family.
Monday 5 June 2023
Episode 46
Tarik and Hakan have a promising business meeting coming up, but are in for a very rude wakeup call when they realise who is behind it.
Tuesday 6 June 2023
Episode 47
Nehir overhears a conversation that leads to a heart breaking confrontation. The rest of the family prepare for Mert's birthday party and Zahra gets an unexpected visitor.
Wednesday 7 June 2023
Episode 48
Nazim and Bahar announce their engagement at Mert's birthday party, but will everyone else be excited for the couple? Meyrem's sudden visit leaves Zahra unsettled.
Thursday 8 June 2023
Episode 49
Nazim makes his intentions towards Bahar clear during family dinner, while Nehir tries to manage the repercussions of their reunion. Meryem's appearance poses a looming threat for Tarik.
Friday 9 June 2023
Episode 50
Bahar and Nazim are preparing to get married, but a big argument with her family could lead to the end of her relationship and Hakan's.
Monday 12 June 2023
Episode 51
A misunderstanding causes Nehir to see the dark side of Hakan. Bahar realises that honesty might not be the best policy. And Fulya is threatened by Zahra's presence.
Tuesday 13 June 2023
Episode 52
Nehir risks everything to try and apologise for her past mistakes. While Ibrahim makes an investment that could cause him even more trouble or change his life.
Wednesday 14 June 2023
Episode 53
Advertisements
Hakan sets a trap for Nazim, but winds up getting someone he cares about caught in the crossfire. Fulya is hot on Tarik and Zahra's trail.
Thursday 15 June 2023
Episode 54
Nazim figures out that Hakan sabotaged his car, causing Bahar's accident. However, as Nazim and Bahar grow closer, how will Hakan deal with the consequences of his outbursts?
Friday 16 June 2023
Episode 55
Tarik's desperate to get his money back, while Meryem has something up her sleeve. As Nehir drowns her sorrows, how will she react to Nazim's grand romantic gesture for Bahar?
Monday 19 June 2023
Episode 56
With the appearance of a certain ring, Nazim and Bahar's engagement party turns into a complete fiasco with dire consequences. Hakan makes some dangerous decisions.
Tuesday 20 June 2023
Episode 57
Nehir blissfully escapes Hakan's clutches, but he's determined to get her back by any means necessary. Will wedding bells still ring for Nazim and Bahar?
Wednesday 21 June 2023
Episode 58
It's a wedding and a funeral for Bahar, Nazim and Nehir. Zahra's happiness is short lived when Tarik dumps her. And Hakan's past is brought to light.
Thursday 22 June 2023
Episode 59
One month after Hakan's death, Nehir seems like a completely transformed woman. Her plan to get back at Bahar is well underway and seems to be working.
Friday 23 June 2023
Episode 60
Zerrin and Nehir try to cause trouble between Nazim and Bahar. Nehir has big news that will disturb the couple even more. Is their relationship strong enough to survive?
Monday 26 June 2023
Episode 61
Nehir's plan continues to cause havoc. Mert might get hurt in the process. Zahra, making a plan of her own, sets an ultimatum for Tarik to fulfill his promises.
Tuesday 27 June 2023
Episode 62
The family try to comfort Mert now that he knows his father's dead. Bahar becomes suspicious when she finds an old ultrasound of Mert.
Wednesday 28 June 2023
Episode 63
Bahar's questions about Mert's parentage forces Nehir to make some rash decisions, while Tarik is beginning to feel the pressure of maintaining his relationship with Zahra.
Thursday 29 June 2023
Episode 64
The DNA results are in and cause a rift in everyone's lives, and marriages. Tarik's behaviour causes Zahra to go back to her old roots.
Friday 30 June 2023
Episode 65
Bahar's jealousy towards Nehir and Nazim's relationship gets the best of her as she tries to sabotage it, will she succeed? Meanwhile, Zahra's desperate to win Tarik's heart.
Advertisements