Advertisements
Rhythm City is a South African soap drama that focuses on the challenges of youth with ambition in the big city. It has been running since 9 July 2007.
Rhythm City airs weekdays on e.tv at 19:00.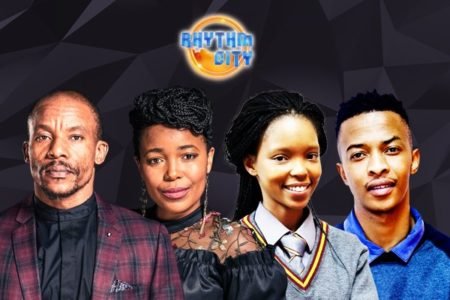 Friday 1 January 2021
Episode 3520
Pule realises that he may have bitten off a little bit more than he can chew when he sees just how dangerous 2-Ironz can get. Meanwhile, Mose plays Kop like a masterful chessman and Kop is left with no choice but to ask Mose to continue his stay with the family despite Kop's misgivings.
Advertisements
Sabelo has his first massage customer arrive in the township and everything takes off on the wrong foot, which leaves him wondering if any of it is worth it.
---
Monday 4 January 2021
Episode 3521
Mzi makes overtures of friendship to Pule, and they decide to go to a party together. But when Mzi implies that something is happening between Pearl and Pule, the tensions are re-established. Mose is confident that he has won Blossom's trust, and starts to put phase 3 of the plan into operation.
Sindiswa becomes suspicious of Sabelo when she finds an item of woman's clothing under the sofa. Sabelo works furiously to allay her fears and cover his tracks.
Tuesday 5 January 2021
Episode 3522
Pearl takes great pleasure in rubbing the fact that she and Pule kissed into Mzi's face. Mzi confronts his brother with the truth and battle lines are once again drawn.
Mose continues to make a fool of Blossom and Kop, manipulating them into believing that he wants nothing more than to be a contributing member of the family. Meanwhile, Sabelo finds himself cornered when Sindi comes home unexpectedly and catches him with a half-dressed massage client.
Wednesday 6 January 2021
Episode 3523
Pearl stirs the pot between 2-Ironz and Bongani. She tells Bongani that 2-Ironz is going to drop a diss track at his launch tonight. At the event, Bongani gate-crashes and lets rip with a diss track of his own. Meanwhile, things heat up between Pearl and Pule.
Blossom swallows Mose's story about looking for a job. She feels so bad that she gives him some money. Mose uses the money for lunch and booze with Mkhushulwa. He makes some comments that don't sit right with MK. Mose tells the Khuses that he has a job lined up and Blossom is delighted.
Sindiswa is having none of Sabelo's excuses about his massage biznes and Katerina tells Sabelo that unless he can sort out his home situation the job is on the line.
Thursday 7 January 2021
Episode 3524
Pule tries to do damage control after the blow-up of 2-Ironz's launch, but Pearl wants to keep stoking the fire. Pule manages to strike a tentative truce between the rival rappers, but it doesn't last long. Bongani and 2-Ironz get up in each others' faces at Kilowatt, and Bongani knocks 2-Ironz down.
Mose takes advantage of Blossom's love and generosity when he pretends to be deeply disappointed at not getting a job. He spins her a sad tale of how he has always had this unattainable dream of becoming a farmer…
Sindiswa wrestles with her conflicting emotions as she decides what to do about Sabelo and his bizarre new job in the spa industry.
Friday 8 January 2021
Episode 3525
Suffocate butts heads with Pearl over the 2-Ironz/Bongani situation. Pule wants to fix it, but Pearl is dismissive. 2-Irons is ready to move on Bongani, but Pule convinces him otherwise…for now. Blossom, after a heart to heart with Kop, falls right into Mose's hands when she offers him the land to farm.
Sabelo manages to convince Jamaica that his idea of offering massages in the salon is a good business idea. But they run into a roadblock with Fats, who can't get over his beef with Sabelo.
---
Monday 11 January 2021
Episode 3526
Pearl ruffles feathers as she pumps up 2-Ironz to go after his rival. Suffocate tells Pule to get Pearl under control. Pearl sets a trap for the rappers, Pule warns her against it, but the trap goes wrong.
Mose accepts Blossom's offer to farm the land. Jafta disapproves of Blossom's decision and plants a seed of doubt and as a result Blossom tells Kop she wants to do an Imbeleko for Mose.
Fats refuses for Jamaica to let Sabelo join the salon. Jamaica gives Fats an ultimatum which leads to Sabelo being hired. Fats discovers Jamaica went against his wishes and Jamaica suspects there's more to the story than what Fats and Sabelo are revealing.
Tuesday 12 January 2021
Episode 3527
Pule and Pearl scramble to do damage control in the wake of the shooting, but Suffocate is enraged, and threatens to hold Pearl personally responsible.
Mkhushulwa is upset when he hears that Blossom wants Mose to be introduced to the family's Ancestors. He warns Mose to make a plan – this cannot happen. Mose makes a bold move to try to gain control of the land, before the ceremony can take place.
Puleng tries to get Fats to relent on holding a grudge against Sabelo, but Fats is as stubborn as a mule. Meanwhile, one of Sabelo's foreign clients is delighted to have a selfie with Blossom.
Wednesday 13 January 2021
Episode 3528
Pearl sits at Bongani's bedside while Mzi offers support. Suffo tells Pule he needs the shooting handled carefully. Robert grills Pearl and Pule about the shooting, smelling a rat. Later, Bongani wakes up and swears vengeance on 2-Ironz.
Kop cautions Blossom about signing her land into Mose's name. When Blossom tells Mose about her plan to give him the land, he flat out refuses to accept it, continuing his manipulation of her. However, he does finally accept her offer but is taken aback by the condition she puts on it- he must meet the Ancestors.
An American client of Sabelo's pushes Kea's buttons and she doesn't respond well.
Thursday 14 January 2021
Episode 3529
Pearl lays down the law with Bongani, instructing him to cover up for 2-Ironz. And when Bongani pushes back, Pearl shows how tough she has become. She later does the same with 2-Ironz and Pule. There is a new sheriff in town.
Blossom is very excited that Mose is going to be introduced to the Ancestors, and Kop is trying hard to conceal his misgivings. Meanwhile, Mkhushulwa is starting to battle with his guilty conscience.
Ramatheka's undiplomatic ways causes problems for the club, and put Fats in a difficult
position.
Friday 15 January 2021
Episode 3530
Pule tells Mzi that there's nothing going on between him and Pearl. Pearl reveals to Khulekani that she's keeping Pule on her side until the day they make a strike on Suffo. Bongani and 2Irons quell rumours of the latter having had something to do with the former ending up in hospital.
Advertisements
Pastor Makoro wants Suffo's endorsement for some property deal in DK. Mkhushulwa wants to pull out of the deal but Mose refuses. Blossom tells Kop she's 100% sure about giving her land to Mose. The Sangoma picks up a strange vibe at the Khuse house.
Mkhushulwa wants to come clean to Blossom but doesn't when he sees her excitement about the ceremony. Katarina orders Sabelo not to deny their clients the 'authentic African experience'. Puleng encourages Fats to go ask Sabelo for help with the KW supplier.
---
Monday 18 January 2021
Episode 3531
Suffocate meets again with Pastor Makoro to find out more about his proposed business in Diepkloof. Pule uses the meeting as an opportunity to show Pearl that he is a guy with connections, but it's clear he's made a fatal mistake when the chemistry between Makoro and Pearl is only too evident.
Mkhushulwa is driven to drink as the ceremony to introduce Mose to the Mchunu ancestors draws near. The family begins without him but at the crucial moment of acceptance from the Ancestors, Mkhushulwa arrives.
Sabelo is experiencing a decline in massage customers and refuses to help Fats with his problems at Kilowatt.
Tuesday 19 January 2021
Episode 3532
A connection is developing between Pearl and Pastor Makoro, and Pule isn't happy about it at all. Mose is troubled when Blossom gets a lawyer involved in the land transfer and Blossom asks Mzi for his honest assessment of Mose.
Sindiswa tells Sabelo he should make things right with Fats, but Sabelo has bigger problems when his massage clients disappear and Katarina cuts ties with him.
Wednesday 20 January 2021
Episode 3533
Puleng asks Suffocate to arrange a meeting with Pastor Makoro so that Cuba may have a chance to meet him properly. Suffo invites the pastor to dinner at the Nldovu home to celebrate their alliance in a worthy project. Pule remains troubled about Makoro while Pearl can't think about anything else.
Mose worries that Blossom's warmth towards him is waning. She catches him looking through papers in her drawers. Mkhushulwa thinks the Ancestors are punishing them when Mose tells him about Blossom's disposition of late. Mkhushulwa tries to find out if Blossom suspects their plot.
Sabelo returns to work at Kilowatt after resolving Fats' troubles with the liquor supplier. Sabelo and Fats finally reconcile.
Thursday 21 January 2021
Episode 3534
Pearl takes a leap of faith when she agrees to go out with a man of God, despite her long history with sin. Khulekani witnesses their strong connection and decides he wants in on the action.
Mkhushulwa decides to do the right thing and save his sister from the fraudster claiming to be her son. But he is too late. Blossom is intent on keeping her promise and signs over the land to Mose. Meanwhile, Cuba receives information that could change her life forever!
Friday 22 January 2021
Episode 3535
The Ndlovu family is excited that Pastor Makoro will be coming around for dinner. Everyone except Pule. But they're all surprised when Makoro arrives with Pearl as his date. Pule embarrasses her by outing her relationship with Mzi. But, Makoro doesn't let that get in the way of his pursuit of her.
Mose runs away in the early hours, confirming Blossom's suspicions that he was a con man. Mkhushulwa has to pretend to be outraged. Kop encourages Blossom to remember that she's never alone in anything.
Cuba is excited about the upcoming tender and breaks the news to Jafta. He's instantly jealous. Cuba quickly shuts Simon down when he assumes the tender will lead to something more between them.
---
Monday 25 January 2021
Episode 3536
Everyone is appalled at Pule's bad behaviour from the dinner with Pastor Makoro and Pearl. He spends the day apologising. Pastor Mkoro lets Pearl know he has very serious plans for their relationship.
Everyone tries to lift Blossom out of her sadness over Mose's deception. Mose confronts Mkhushulwa when he realises the agreement he signed means nothing. He then shocks Kop and Blossom when he tells them that Mkhushulwa was behind the whole thing.
Cuba tells Simon that she wants more money for the tender.
Tuesday 26 January 2021
Episode 3537
Pearl declines Pastor Makoro's proposal but Sindiswa's opinion makes her question her decision. Pule's behaviour helps Pearl to make a decision. She surprises Pastor Makoro when she shows up at his press conference. They go public about their relationship.
Mkhushulwa is summoned for a family meeting. He's interrogated and tries to justify his actions but Blossom refuses to forgive him. Blossom throws away Mose's locket as she tries comes to terms with her loss.
Cuba shuts down Jafta's offer to help her with her tender, but after her meeting with the tender director goes wrong, she begs Jafta to help her. Capitalizing on Cuba's desperation, Jafta manages to wrangle himself a fifty-fifty partnership.
Wednesday 27 January 2021
Episode 3538
Pule and Mzi try to make sense of Pearl and Pastor Makoro's big announcement. Pearl finds herself at the centre of the media's attention, but Pastor Makoro assures her he'll be by her side every step of the way. Pearl tells Sindiswa she's moved on from Mzi, and wants her relationship with Makoro to work.
Mapula lies to Blossom and Kop that she hasn't heard back about the bursaries she applied for, then admits to Kea that she's been turned down for most of them. And then, she gets a bursary – but it's only a partial one, and won't cover everything. Kea worries Mapula will turn to Gift again.
Jafta insists that Cuba sign a contract stating they're 50-50 partners. But when he asks for a company credit card, Cuba refuses. Mampho urges Jafta to make it work.
Thursday 28 January 2021
Episode 3539
Pearl struggles to find her feet in her new role as a pastor's girlfriend. She and Makoro connect on an even deeper level and sexual tensions rise despite his celibacy. Pastor Makoro and Deaconess Sonto have a secret.
Mapula asks Sabelo if he can help her with study fees but he's in no position to. She learns that student loans are also not the best option and she considers turning to Gift. The Khuses make a generous offer to help her.
Jafta and Cuba get cracking on their construction project. They start hiring staff, but Cuba's eyeing the men for totally different reasons. Jafta entrusts Cuba with organising the supplies and equipment.
Friday 29 January 2021
Episode 3540
Ziyanda instructs Sindiswa to get the inside scoop on Pearl's relationship with Makoro. Sindiswa is conflicted but encourages Pearl to take her relationship with him to the next level and make the first move. But it doesn't go as Pearl had hoped.
Mapula is torn about accepting the offer of tuition fees from Kop and Blossom and seeks different sources of advice. Though Jafta's surprised that Kop and Blossom have decided to sell the land for Mapula's tuition, he's too excited about his new construction project to really care.
https://youtu.be/Dn06aya8tww
Advertisements