Cape Town is the ultimate destination for connoisseurs of good wine, gastronomy, and joie de vivre. From the busy café culture of Kloof Street and Bree Street to the vibrant food markets, you'll discover a variety of goodies in between.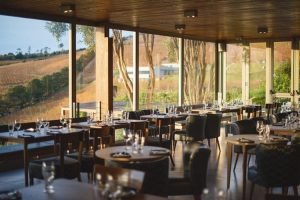 1. La Colombe
Chef James Gaag offers French-inspired cuisine using local ingredients and culinary mastery. La Colombe provides an award-winning fine dining experience with beautiful vineyard views.
In 2019, the Eat Out Mercedes-Benz Restaurant Awards named it "South Africa's Restaurant of the Year."
Silvermist Wine Estate, Constantia
021 794 2390
2. Kloof Street House
An eccentric and quirky restaurant housed inside a gorgeously decorated Victorian mansion with a vibrant courtyard and fairy-lit garden.
Kloof Street House boasts a comfortable yet classy environment and serves a brasserie-style menu that puts a fashionable spin on South Africa's favorite comfort meals. Their live jazz Sundays are not to be missed.
30 Kloof Street, Gardens
021 423 4413
3. Chef's Warehouse
Liam Tomlin's famed restaurants on Bree Street, in Beau Constantia, and in Tintswalo serve superb modern tapas-style cuisine.
You will receive the same personal attention and world-class cuisine whether you dine at Chef's Warehouse & Canteen, a relaxing city-centre café on Bree, overlooking the Cape wine valleys at Beau Constantia, or with the Atlantic ocean under your table at Tintswalo.
Bree Street, Cape Town
021 422 0128
Beau Constantia Wine Estate
021 794 8632
Chapmans Peak Dr, Hout Bay
021 541 0165
4. The Granary Café at The Silo Hotel
A modern brasserie-style restaurant promoting fresh and local foods. Dining at The Granary Café is a one-of-a-kind experience, with dazzling pillowed-glass windows designed by Thomas Heatherwick creating a romantic setting with unbroken views of the Mother City accompanying every dish.
The Silo Hotel, V&A Waterfront
021 670 0511
5. Greenhouse
Fine dining at the Cellars-Hohenort Hotel, with an emphasis on fresh hyper-local ingredients and imaginative plating. The dishes are wonderfully presented, and the wine list concentrates on the Constantia Valley.
The restaurant is an open room with garden views during the day and a more sleek and refined formal dining experience at night.
Cellars-Hohenort Hotel, Constantia
021 795 6226
6. Thali
Liam Tomlin's unique style takes on a genuine Indian subject. A tapas-style cuisine is offered in three stages, beginning with gentler flavors and concluding with spicier curries. Enjoy this delicious Indian cuisine inside or on a dazzling patio.
3 Park Road, Gardens
021 286 2110
7. Foxcroft
Delicious contemporary cuisine, attractively presented with great attention to detail. Foxcroft is a beautiful, modern restaurant located in a local strip mall among the Constantia vineyards. It combines minimalist décor and powerful flavors in a stylishly urban setting. Be on the lookout for the cheese room.
Shop 8/9, High Constantia Centre, Constantia
021 202 3304
8. Belly of the Beast
Belly of the Beast is a nose-to-tail restaurant with no menu options or defined number of dishes. All you have to do is show up and trust Chefs Anouchka Horn and Neil Swart to satisfy you with their seasonal flare and culinary mastery. This 20-seat bistro offers small lunch and dinner encounters.
110 Harrington St, Cape Town
076 220 5458
9. Grub & Vine
Chef Matt Manning prepares excellent bistro-style cuisine in a casual, modern setting. The modest menu varies frequently, but you can expect a variety of meals in starter or main-size portions, as well as a superb range of wines.
103 Bree Street, Cape Town City Centre
087 153 5244
10. Ëlgr
The former Janse & Co location currently houses Chef Jesper Nilsson's concept, lgr, a modern, casual, and multi-cultural dining experience. With plentiful interior vegetation and an open kitchen, subtle forest aspects are represented in soothing sage green and charcoal tones. The outside courtyard's focal point is a recently constructed bar. lgr, which means'moose' in old Norse, is a tribute to Jesper's Swedish roots.
75 Kloof Street, Gardens
021 422 0384