Pretoria is well-known for its friendly people and beautiful Jacaranda trees, but its cuisine is less well-known and less well-appreciated. Pretoria's restaurants offer a wide range of cuisines, ranging from fine dining to fast-food joints. Ten of Pretoria's finest dining establishments are listed here.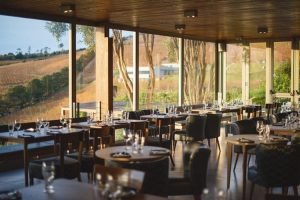 1. La Pentola
Restaurant, French, Italian, Mediterranean
An international cuisine that combines South African ingredients with French, Italian, and Mediterranean influences has been served at La Pentola since its inception back in 1995. Chef Shane Sauvage's inventiveness and culinary know-how are evident in the menu at this fusion restaurant.
Soups, salads, shellfish, and meat dishes such as beef, chicken, and duck are all served at La Pentola, which employs only the freshest ingredients from local farms. Additionally, La Pentola offers a wide variety of vegetarian options. Delicacies can be paired with in-house desserts and award-winning wines at this restaurant.
2. Crawdaddy's
Restaurant, Restaurant with Rooms, North American, South African, Steakhouse
Crawdaddy's comfort food is a benchmark for locals and tourists alike, thanks to its legendary steaks, seafood, chowders, and hearty curries. This popular eatery with its brightly painted walls offers a wide range of cuisines, all of which are distinguished by their large serving sizes and unique flavor combinations. Crawdaddy's, which opened in 1995, is a fashionable casual eating establishment that combines great value and good quality.
There are three Crawdaddy's locations throughout the city (Brooklyn, Menlyn and Centurion). It is highly advised that you make reservations for all of them, especially on weekends.
3. Geet Indian Restaurant
Restaurant, Restaurant with Rooms, Indian, Contemporary, Vegetarian
Pretoria's Brooklyn district is home to an award-winning Indian restaurant called Geet. As the first Indian woman to open and own a restaurant of this class in South Africa, chef and restaurateur Gita Jivan is the venue's owner. Menu items are inspired by Indian cuisine, which emphasizes the use of fresh, seasonal ingredients in dishes that are both traditional and innovative.
Fresh ingredients are combined with unusual spices to create mouthwatering dishes that live up to the restaurant's name, "geet," which means "melodic poem" in Hindi. With tremendous care and devotion, Geet Indian Restaurant has mastered Indian food from all around the country.
4. Hillside Tavern
Restaurant, Seafood, Steakhouse
Founded in 1989, Hillside Tavern has developed a reputation as one of South Africa's greatest grillhouses. The Hillside's characteristic dish, steak, is served in this renowned restaurant, which has become a regular meeting place for diners.
This award-winning steakhouse serves simple and comforting food in a cozy atmosphere with an impressive and well-selected wine list. It has a dingy interior with outdated decor, wood ceilings, and a few exposed panels.
5. Hemingway's Restaurant & Wine Cellar
Restaurant, Wine Seller, South African, French, European, Contemporary
The Leriba Hotel's Hemingway's Restaurant & Wine Cellar is a well-known a la carte restaurant. Chef Lindes de Jager creates a memorable dining experience by focusing on seasonal, locally sourced ingredients.
Intense flavors and classic combinations can be appreciated in an uncomplicated manner that is rooted in French culinary skills. Wines from all around South Africa are available at Hemingway's restaurant, which has an extensive wine list. In the meantime, the restaurant's exquisite, old-world decor lends a calm environment to this delectable culinary adventure.
6. Zest Bistro
Bistro, Restaurant, Vegetarian
Zest Bistro is known for its hearty bistro fare made with local, seasonal ingredients. Good, basic food is served at this family-run eatery, which has a rotating menu and a small wine selection.
Cosy and classy, Zest Bistro is the perfect place for romantic dinners. It's known for its welcoming atmosphere and delicious food. Zest Bistro in Menlo Park is known for its burnt lemon tart, which is a must-order dessert.
7. Restaurant Mosaic
Boutique Hotel Restaurant, Restaurant, Contemporary, Fusion
Restaurant Mosaic is a sophisticated fine dining place in South Africa for gourmets. Chantel Dartnall, Mosaic's award-winning chef, personally meets with guests to discuss the meal and answer any questions they may have.
The Orient Hotel, tucked away in the verdant Francolin Conservation Area's Crocodile River Valley, is where you'll find it. At Mosaic, the design is inspired by art nouveau, and the wine cellar features an outstanding collection of some of the world's best and most interesting wines. A la carte and tasting menus are available, featuring dishes inspired by nature and European cuisine, using the best seasonal fresh fruit.
8. Fumo
Restaurant, Italian, Mediterranean, European
In terms of Italian cuisine, Fumo is one of the city's best. Chef Claudio Uccello, who hails from Italy, has made it a personal mission to serve only the finest and most seasonal ingredients in his home country's traditional cuisine. Fumo's comprehensive menu includes homemade pastas, wood-fired pizzas, and refined main meals, as well as desserts and an extensive wine selection.
Fumo provides a modern, refined, yet laid-back setting for a memorable European-style dining adventure.
9. Kream
Restaurant, Continental, Sushi
At Kream, a well-known eatery in the Brooklyn Bridge Complex, diners can choose from a wide variety of European-inspired dishes. Biltong and venison fillet are among the most popular items on the à la carte menu.
This fine-dining establishment has a well-deserved reputation for excellent food, a classy ambiance, and friendly, attentive service. In addition to its wide wine list, it offers a collection of rare whiskeys and cognacs, as well as an astonishing array of desserts
10. De Kloof
Restaurant, European, Vegetarian, Contemporary
At De Kloof, we strive to create unforgettable dining experiences for our guests every time they visit. Organic and locally sourced ingredients, such as free-range meats, fresh fish, handcrafted ice cream, and freshly baked bread, are the foundation of the restaurant's menu.
De Kloof's seasonal menu varies every month to reflect the finest of what's in season, including local flavors and European techniques. The restaurant's wine list features world-class selections from around the world, including both well-known labels and lesser-known gems. Dining at De Kloof means savoring high-quality ingredients and imaginative preparations of current contemporary cuisine.