Even though there are a plethora of dining options in Durban, South Africa, not all of them can guarantee excellent customer service and delectable fare.
People who have actually been there can tell you exactly what they think of a place. So that you can be confident that your dinner is great no matter where you go, we have listed the 10 best restaurants in Durban, as well as some of the best chefs in the city.
Durban, South Africa's greatest restaurants are easy to come by when you know where to look.
Sometimes, reading reviews is the best approach to figure out where to eat in the city of Durban. This information can be utilized to get a sense of what's good and poor about Durban's cafés, coffee shops, and restaurants by reading online reviews.
It is because we want to help you that our Expert Writers have extensive experience in both restaurant reviews and travel advice; we conduct thorough research before making any recommendations to you. We now turn our attention to the top 10 restaurants in Durban, South Africa, which include: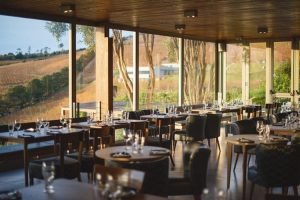 1. Surf Riders Cafe:
Surf Riders Cafe, located at the end of South Beach's oceanfront walkway, is the ideal place to cap off a morning stroll along the Golden Mile.
Breakfast Works (a sesame roll loaded with eggs, cheese, and chorizo gravy and baked in the pizza oven, then covered with hollandaise sauce) is one of the restaurant's most popular dishes, while the Mushroom Burger is an excellent choice for those with a sweet tooth. There are a few items on the menu specifically for dogs, which adds to the lively mood of the restaurant.
There is no better place to hang out than Surf Riders Cafe in Durban, and it also happens to be at the ideal location! They welcome pets and are pet-friendly.
The cuisine here is amazing. Every time a customer comes here, they have a good time. The dinner was delicious, the view was spectacular, and the service was excellent. A laid-back atmosphere and excellent service are the hallmarks of this establishment.
In Durban, South Africa in 4001 at 17 Erskine Terrace Addington Beach Telephone: +27 62 700 073
An established social media presence https://www.facebook.com/SurfRidersDBN/
4.4 out of 5 stars from 1590 reviews
2. The Grill Jichana Durban
Durban's beachfront is its heart and soul, and The Grill Jichana Durban is at its center. There is no way you can resist the allure of the warm Indian Ocean and the region's 300+ days of sunshine a year.
There aren't many finer beach vacation spots in South Africa than this. A few steps from Durban's greatest beaches, the Southern Sun Elangeni & Maharani is conveniently located near the city's top attractions and transportation hubs.
The Grill Jichana is one of the best beachfront restaurants in Durban.
It is possible to enjoy award-winning steaks, classic cocktails and craft beers, a café culture, and an amazing buffet at Southern Sun Elangeni & Maharani five separate venues. Throughout our hotel, guests can enjoy a wide range of cuisines and eating options. Different menus and dining experiences can be found at each establishment.
Durban's greatest beachside restaurants and bars are just a few of the restaurants and bars you'll find at our hotels.
Gourmet flame-grilled meats from local farmers are blended and spiced with African East Coast flavors at the Grill Jichana Durban.
They use the freshest ingredients to make dishes that are infused with aromatic spices like cassia, cardamom, turmeric, and other heady herbs. In Swahili slang, jichana (the Swahili word for "eating nice") refers to this combination of powerfully flavorful spices with the grilling of meat, fish, and poultry.
Snell Parade, North Beach, Durban 4001, South Africa. Telephone: +27313621300 Southern Sun Elangeni & Maharani
It's a well-known fact that social media has become an integral part of our daily lives.
Website https://www.tsogosun.com/ is available
Rating 4.6 out of 330 reviews
3. Butcher Boys Morningside
When you dine at this steakhouse for the past 23 years, you can expect a pleasant dining experience with excellent steaks and service.
A new Umhlanga location means they'll continue to serve only the best South African beef, sourced from local farms and grilled to perfection with their signature basting sauce.
Served with a carefully curated range of local South African wines and vintages, which are preserved in refrigerated wine cellars between 16 and 17 degrees Celsius, an intriguing meal is sure to please.
Address: 319 Problem Mkhize Rd in Morningside, Durban, South Africa, 4001
Since 1999, the company has been known for its motto: " Let us tantalize your taste buds… The party may now begin!
Kaithai's social media accounts include Facebook and Instagram, as well as its website, which can be found at http://kaithai.com/.
Rating 4.5 out of 1,252 reviews
4. 9th avenue waterside
9th Avenue Waterfront Onassis International owns Waterside, a brand of clothing. At the same time, they provide a variety of genuine and inventive dishes, as well as stunning sunsets and waterfront views. Durban's central business district
The menu at 9th Ave Waterside features inventive takes on classic bistro fare as well as contemporary twists.
Weddings at 9th Avenue Waterside can be held in opulence and style, with stunning views of the city. As the sun sets over the water, have a beverage or two in their chic and opulent upper cocktail bar.
As a guest at 9th Avenue Waterside, you can count on our enthusiastic and knowledgeable staff to make your meal an unforgettable one. Would it be possible for you to get to know them better?
Please be aware that there is a stringent no-smoking policy at this establishment. There is a smoking spot on the front open deck; but, by law, they are not permitted to allow smoking in the restaurant, bar area, or on any deck that is covered by a roof or canopy.
A deposit is required to reserve a space at a certain location. Within two weeks of the event, this payment is non-refundable and must be made one month in advance.
Maritime Pl, Harbour, 2 Maritime Pl, Durban 4001, South Africa, +27319404628
The social media page for 9thavewaterside may be found at https://m.facebook.com/9thavewaterside/
4.6 out of 901 reviews
5. Malis Indian Restaurant:
For those who like to eat a wide variety of dishes from India, this is the place for you.
Your taste buds will be delighted by the cuisine of Indian chefs. Comfy Indian Chairs and Sofas.
Menu options for those with dietary restrictions: vegan and gluten-free options. Lunch and supper
Free off-street parking is available; highchairs are available; wheelchairs are accessible; and reservations can be made. Alcohol is served at this establishment. a complete liquor store, Table Service, Accepts American Express, Mastercard, Visa, and Credit Cards
Telephone number: +27313128535 Address: 77 Smiso Nkwanyana Rd. Morningside, Durban, 4001
A well-established Facebook page and website have been set up: https://www.facebook.com/malisindian/
4.4 stars, based on 677 reviews
6. Dukkah Restaurant & Bar:
Located in the center of Durban, Dukkah is just a short drive from the King Shaka International Airport and Umhlanga Rocks, as well as the trendy and upmarket Florida Road neighborhood.
To celebrate the diverse people, cultures, and natural resources that make up the beautiful city of Durban, Dukkah has created a feast of flavors, colors, and textures.
One of Durban's most sought-after dining destinations, Dukkah Restaurant and Bar on Florida Road is a sophisticated and luxurious social hub that features an expensive cocktail bar and lounge.
With its location on the eastern coast of Africa as its inspiration, Dukkah serves up mouthwatering dishes that are inspired by the region's cuisine. Inspired by the Maasai Market and Stone Town, Zanzibar in the north, via the Spice Route to the gastronomic melting pot of Durban, the modern food was designed by chef extraordinaire and TV celebrity Peter Goffe-Wood.
Phone number: +27312713531 Address: 59 Florida Rd, Windermere, Durban, 4001, South Africa
In addition to Facebook and the website, Dukkah has a number of social media outlets, including Twitter and Instagram.
4.5/10
7. Havana Grill:
For meat and seafood connoisseurs, the HAVANA GRILL is a must-visit location.
The Havana Grill at SUNCOAST on Durban's Golden Mile overlooks the well-known Suncoast Beach and offers breathtaking vistas.
Havana Grill is only a ten-minute drive from the nearest major malls.
At Havana Grill, you may enjoy all of these things in one place: food, drink, cigars, and a great time. A minimum of 21 days of aging is required for the South African grain-fed super beef they use. South African wines are prominently included on the wide wine list, which they visit frequently to select from the best vintages.
The wines served at Havana Grill and Wine Bar have been carefully chosen from vineyards throughout the country. These wines have been carefully selected to compliment the menu and daily specials at their restaurant. As a result, each and every one of your guests will have a meal to remember.
We only use Cuban cigars and have excellent ventilation to ensure that no smoke gets into any of the non-smoking sections.
Havana Grill was founded in 2003 and has since become one of the most popular restaurants in the greater Durban area.
Telephone +27647571141 Address: Shop U2 at Suncoast Casino in North Beach on Battery Beach Road in Durban, South Africa
It was founded in 2003 and has been active on social media platforms such as Facebook and the company's own website, HavanaGrillDBN.
Rating: 4.3/10 Recommendations: 986
8. Roma Revolving Restaurant:
In February 1973, this renowned and exclusive Roma Revolving Restaurant opened its doors to the public for the first time. Bartholomeo Ribero, Comiso Turi, and Gino Leopardi were the driving forces behind the creation of the city of Rome.
The Reelin Group and the Leopardi brothers are now proud owners and managers of the property. They claim to be the only open revolving restaurant in the southern hemisphere and the third in the world. The Roma Revolving Restaurant is one of only two establishments in the world with a rotating window and floor!
With stunning views of Durban and the bay, this restaurant is located on the John Ross House's 32nd floor, where it can be found. Depending on the setting, it can rotate for anywhere from 60 to 90 minutes.
It is safe to say that they are a fully licensed Italian restaurant. Continental, seafood, and fresh game meals are among the delicacies served.
The Roma Revolving Restaurant is special for
Durban Central, Durban, 4001, South Africa, Phone: +27313376707, 32 John Ross House, Jonsson Ln
Founded in 1973, the restaurant has a Facebook page with more than 18,000 likes and a website at http://www.roma.co.za
4.3 out of 5 stars
9. Circus Circus Beach Café:
Since its opening in 1994, Circus Circus beach cafe has been a staple of Durban's dining scene, serving everything from salads to steaks to seafood to pasta to curries. Our baristas will be happy to make you a cortado, a flat white, a cappuccino, or whatever else you desire.
In a warm and welcoming ambiance, Circus Circus provides outstanding value for money while maintaining a high level of customer service.
Circus Circus Beach Cafe's SPECIALS OFFER:
QUALITY TUESDAY AT CIRCUS CIRCUS:
Every location of Circus Beach Cafe is taking part in the Quality Tuesday offer as usual. burgers and pasta are half-price for a limited time. The 'Mother of All Burgers,' the Beyond Burger, and children's meals are not included in this promotion.
Promotional offers cannot be combined with any other offers, discounts, or coupons.
No cash or credit can be redeemed for promotional incentives. Additional fees may be incurred for substitutions or meal modifications. Quality Tuesday is only available on Tuesdays, for a limited time and at participating locations.
BOERIE BREKKIE – GALLERIA
Monday through Saturday 8 am to 11 am; Sunday 9 am to 11 am for their Early Riser Special!
Free cappuccino or tea or Americano with two free range eggs, three rashers of bacon, premier wors/lamb sausage, cherry tomatoes, chips and bread. All this for just R79!
Restrictions apply: No sharing, no takeout, and you must eat at Galleria Circus Circus Cafe only.
Phone number: +27313377700 Address: 1, 1 Snell Parade in North Beach, Durban, South Africa
It was founded in 1994 and has been active on social media platforms such as Facebook and the company's own website, Circus Circumference.
4.3 out 5 stars with 2,859 reviews
10. Cargo Hold Restaurant:
The Phantom Ship's Cargo Hold Restaurant is a Culinary Adventure!
The Cargo Rack
Durban, South Africa's uShaka Marine World has the eatery. It belongs in Cool Restaurants, the World's Best. If you are looking for a truly unique dining experience, this is the place to go!
As of April 30th, 2004, Durban, South Africa's world-class uShaka Marine World was accessible to the public. As one of Durban's most popular attractions, uShaka has quickly established itself as one of the city's must-see destinations. Sea World, Wet 'n Wild, and uShaka Beach are all open during the day, and the Village Walk is open late into the night.
Cargo Hold Restaurant's Statement:
Dine with sharks at one of Durban's most breathtaking locations, with a classy and refined atmosphere. This breathtaking world-class venue, located at the stern of the Phantom Ship, preserves the elegance of yesteryear with its stunning views of the ocean and shark tank."
In Durban, the Cargo Hold Restaurant is one of the best locations to eat. You must dine with the sharks before you depart!
Phone number: +27313288037 Address 1 King Shaka Ave, Point, Durban, 4001, South Africa
uShakaFanPage/?ref=ts was created in 2004 on social media.
This is the website's cargo-hold link: https://ushakamarineworld.co.za/
Rating 4.2 out of 949 based on 949 reviews
Finally, here are the top ten restaurants in Durban, South Africa. Find out more about the restaurants you're interested in, including their names and why they're considered some of the best in Durban!
Durban, South Africa's gorgeous seaside city, is home to some of the country's best eateries. Whether you're looking for something romantic for you and your significant other or something completely new, we have it all. These Durban restaurants are among the best. Time to visit your favorite eatery and order your favorite dishes (or drinks!)