Advertisements
Binnelanders is a popular South African television drama series set in and around a private hospital called Binneland Kliniek in Pretoria. The series revolves around the personal and professional lives of the hospital's staff, patients, and their families. It combines elements of drama, romance, mystery, and medical storylines to keep viewers engaged.
Premiere episodes of Binnelanders air on kykNET Mondays to Fridays at 19h30. The omnibus airs on kykNET on Saturdays from 09h30.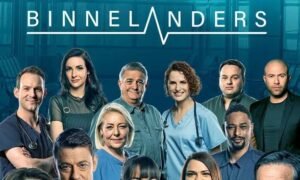 Advertisements
Wednesday 1 November 2023
Episode 108/4407
Conrad wants to be CEO of Binneland again, and Karen is very worried about Liam. An ER doctor wants to resign, Conrad receives bad news, and Dawid acts as if he cares about someone.
Thursday 2 November 2023
Episode 109/4408
Tracy makes a lifechanging decision, Delia shares a bit of history with Lukas, and he starts wondering if he is partnering with the right person. Febé starts seeing a colleague in a romantic way.
Friday 3 November 2023
Episode 110/4409
Karen's phone disappears, and she is upset when she finds out who Liam's hiking buddy is. Tertius starts to realise the pressure under which Annelize works, and Lukas asks Conrad about Dawid.
---
Monday 6 November 2023
Episode 111/4410
Karen is constantly worried about Liam, and a friend tries to support her. Lukas threatens Dawid, but Dawid proves to have the upper hand. An unexpected visitor arrives at the field hospital.
Tuesday 7 November 2023
Episode 112/4411
Annelize and another doctor are shocked when they recognise Eric King's business partner, and Annetjie confirms Bonnie's suspicions. Steve is blindsided by Conrad and Delia's decision.
Wednesday 8 November 2023
Episode 113/4412
Tertius wants to take Jeremy's advice, and Bonnie starts trusting Nicolette. Tracy is anxious to see Dr Butler.
Thursday 9 November 2023
Episode 114/4413
Karen takes Bonnie to task about spreading rumours, and Febé is jealous over a relationship. Tracy waits on tenterhooks for blood test results, and Conrad comforts her. To Delia's surprise, Dawid rejects her offer.
Friday 10 November 2023
Episode 115/4414
Tertius makes a life-threatening suggestion, a bored Naomi is starting to work on people's nerves, and Febé struggles to hide her feelings.
---
Monday 13 November 2023
Episode 116/4415  
Delia feels sad about Amalia, and Nicolette reprimands Naomi. Karen has good news, and Febé feels in the way. Two doctors make plans to escape.
Tuesday 14 November 2023
Episode 117/4416
Bonnie has had enough of Febé's sulking, and calls her on it. Naomi receives an upsetting phone call from Thalia's school. Annelize gets desperate.
Wednesday 15 November 2023
Episode 118/4417
Annelize is opposed to Jeremy's plan, and Delia tells Steve she wants another child. Febé, once again, tries to ask someone on a date.
Thursday 16 November 2023
Episode 119/4418
Uys is confused by the vibe between Karen and Febé, and Delia receives her test results from Dr Butler. Time has run out for Annelize and her team.
Friday 17 November 2023
Episode 120/4419
Steve and Delia try to solve their "problem", and Uys doesn't get an important message. A doctor's life is in danger, and while Naomi wants to continue with therapy, Louis is not so sure.
---
Monday 20 November 2023
Episode 121/4420
A happy couple's different opinions about the future cause conflict. Tertius comes to a shocking realisation about the health of one of his colleagues.
Tuesday 21 November 2023
Episode 122/4421
Conrad takes his frustrations out on Nicolette, and Uys sticks his nose in where it does not belong. Delia makes a strange request to Louis, and two people are placed in quarantine.
Wednesday 22 November 2023
Episode 123/4422
Karen is very excited about a birthday party, and Febé is more irritated than ever before. Steve is not impressed with Delia, and Jeremy does something irresponsible.
Thursday 23 November 2023
Episode 124/4423
Steve and Delia cannot agree on a decision Delia has made, Tertius and Tracy decide to keep a secret from someone, and Febé answers Karen's phone when Liam calls.
Friday 24 November 2023
Episode 125/4424 
Nicolette finally makes a diagnosis, and Karen and Febé have a huge blow out. Delia realises she has other options.
---
Monday 27 November 2023
Episode 126/4426
Ruan has to warn Vicky, and Uys spoils a surprise for Tracy. Naomi fears she could lose Louis, and Delia realises she will have to take the next step. Someone proposes!
Tuesday 28 November 2023
Episode 127/4427
Nicolette is not as happy as Karen about Liam, and Delia's desire to have another child awakens different emotions in different people.
Wednesday 29 November 2023
Episode 128/4428
Karen is over the moon, but she does not know that Liam is hiding something from her. Conrad gives Tracy a gift that unsettles her, and Jeremy receives a rather disconcerting message.
Thursday 30 November 2023
Episode 129/4429
Jeremy finds out where a threatening message came from, and Karen feels uncomfortable with Liam's strange behaviour. Dr Butler does not have good news for Naomi.
Advertisements