Advertisements
Diepe Waters follows the story of two sisters, Karla and Meghan, both competitive swimmers. The sisters are forced to confront their secrets and hidden desires when they return to their hometown after their mother's death.
Premiere episodes of Diepe Waters air on kykNET from Mondays to Thursdays at 18h30.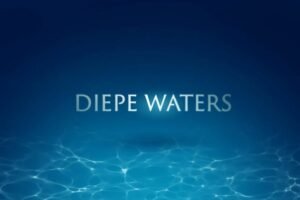 Wednesday 1 November 2023
Episode 019
Zelda finds what she was looking for – and Bybie finds something that she wasn't looking for. Charity's conversation with Johan about Minki leads to tension.
Advertisements
Thursday 2 November 2023
Episode 020
Sanet's new hobby leads to Rossouw taking action. Charity receives an exciting offer – and Bybie needs to decide what she is going to do next.
---
Monday 6 November 2023
Episode 021
Gys isn't ready for Jacques' news regarding a will, and Sanet flares up when Ben wants to talk to her. Johan and Charity have a huge falling out.
Tuesday 7 November 2023
Episode 022
Charity is unsure what she should do regarding Johan. Sanet gets desperate for attention on social media, and Zelda might have gone a bit too far this time.
Wednesday 8 November 2023
Episode 023
Sanet shocks Karla with one of her vlogs. Johan opens his heart and speaks his truth. Jacques and Pam realise that they do have something in common.
Thursday 9 November 2023
Episode 024
Happiness comes with a condition, and Rossouw words his frustration with Jacques to Pam and Gys. Sanet is going through deep waters regarding Karla's pain.
---
Monday 13 November 2023
Episode 025
Bybie's news creates complications for Zelda's plan. Karla struggles to find a way to forgive Sanet. An unexpected guest causes havoc at the swimming club.
Tuesday 14 November 2023
Episode 026
Advertisements
A stunning twist takes place during a robbery at the Swarts estate. Charity and Johan struggle to keep their feelings secret. Pam tries to comfort Jacques.
Wednesday 15 November 2023
Episode 027
It appears that there is a chance for Gys and Zelda to let their love flourish again. Jacques is in a dark space. Charity is given an ultimatum.
Thursday 16 November 2023
Episode 028
Zelda receives good news. Rossouw and Anja fight for Johan and Charity. Gys comes to his senses. Sanet is scared that Jacques will reveal their secret.
---
Monday 20 November 2023
Episode 029
Sanet offers her assistance to Mari. There is a discussion concerning a relationship being taken to the next level. Johan overhears something he shouldn't.
Tuesday 21 November 2023
Episode 030
Rossouw is forced to share the truth with Johan. Valencia makes a decision that unnerves Lettie. Anja realises there might be a problem in her relationship.
Wednesday 22 November 2023
Episode 031
Rossouw struggles to control Johan – and calls in help. Henry has a solution for housing and Jacques challenges Gys to expose the truth.
Thursday 23 November 2023
Episode 032
Jacques wrestles with a difficult decision. Questions are being asked about Sanet and Ben. Lettie realises again how overbearing her mother can be.
---
Monday 27 November 2023
Episode 033
Rossouw and Sanet learn what Jacques told Johan. Rossouw needs to tell Anja the whole truth. Mari's night out only has one focus…
Tuesday 28 November 2023
Episode 034
Johan is missing as his family members grapple with the fallout. Valencia's move causes tension. Charity navigates her sponsorship deal with Henno.
Wednesday 29 November 2023
Episode 035
Johan does not want to hear from Gys. Anja is livid with Rossouw over another family secret. Lettie is upset when Henry admits something big.
Thursday 30 November 2023
Episode 036
Sanet breaks under the emotional weight of the family turmoil. Johan tries to convince Charity to make a drastic decision about her future.
Advertisements