Advertisements
The Queen is a South African telenovela that premiered on Mzansi Magic on August 1 2016 and on canal plus in April 2020. It is produced by Ferguson Films, owned by acting veterans Connie Ferguson and her husband Shona Ferguson, who also play two of the main roles in the series.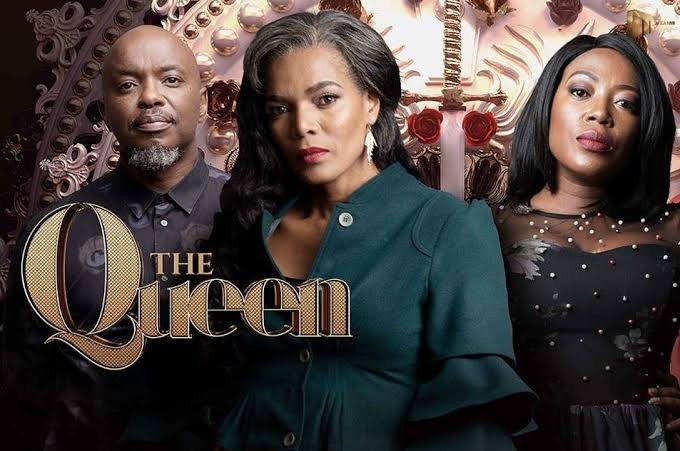 Monday 2 November 2020
Episode 71
Have you seen her?
Hector and Georgina are worried when one of their best disappears. Brutus and Noma struggle with how to progress their newfound truce.
Advertisements
Tuesday 3 November 2020
Episode 72
What the heart wants
Vuyiswa shuts out her trauma, taking on a new personality that startles the people around her. Brutus drops a bomb on the Khozas.
Wednesday 4 November 2020
Episode 73
Love is too demanding
Noma learns the hard way that you can't teach an old dog new tricks. Vuyiswa jeopardises her career.
Thursday 5 November 2020
Episode 74
Chagrin
Noma turns the tables on Brutus. Vuyiswa's behaviour continues to puzzle everyone around her.
Friday 6 November 2020
Episode 75
Rebellion
There are problems in paradise and it's starting to spill over to the rest of the Khoza house. Georgina pushes Vuyiswa too far.
---
Monday 9 November 2020
Episode 76
Nothing happened to me
Vuyiswa does any and everything to avoid facing the truth of what happened to her. Brutus struggles with being in a relationship.
Tuesday 10 November 2020
Episode 77
Loose tongues
Vuyiswa takes out her pain on everyone around her. Hector is determined to know who his daughter is dating.
Wednesday 11 November 2020
Episode 78
Kushubile
Georgina tries to convince Vuyiswa to lay a charge against her attacker. Jackal plots to make a romantic move on a new addition to Corner House.
Thursday 12 November 2020
Episode 79
Money conquers all
Advertisements
Hector clashes with Thando over a risky opportunity that he feels is too good to resist. Schumacher's mission to securing the good life is in full swing.
Friday 13 November 2020
Episode 80
Facing your demons
Thato hosts an event that forces Vuyiswa to come face to face with her demons. Schumacher gets closer and closer to his dreams of luring a new cash cow.
---
Monday 16 November 2020
Episode 81
No use for it
Vuyiswa makes a decision that shocks Georgina. Hector takes steps to protect his daughters.
Tuesday 17 November 2020
Episode 82
Gullible
Hector has to deal with an unusual case at the station. Schumacher comes with a bold plan to secure his future.
Wednesday 18 November 2020
Episode 83
Assumptions
Can Vuyiswa confront her own pain and fears to help the other rape victims? Schumacher makes a drastic decision in order to secure his future.
Thursday 19 November 2020
Episode 84
Cement yourself
Vuyiswa lashes out as she struggles to deal with her pain. Schumacher is terrified as he realises, he needs to win Hector over for his plan to work.
Friday 20 November 2020
Episode 85
Say I don't
Vuyiswa receives a call which leaves her unsettled. Schumacher's plan to secure his future is in full swing.
---
Monday 23 November 2020
Episode 86
Man of my dreams
Vuyiswa is forced to relive her trauma as she gets closer and closer to uncovering who her attacker is.  Schumacher's cockiness lands him in trouble.
Tuesday 24 November 2020
Episode 87
Procedure
Thando tries to scare Schumacher off. Vuyiswa gets closer to her quarry.
Wednesday 25 November 2020
Episode 88
The wrong guy
Mpho's desperation doesn't faze Thando. Vuyiswa's investigation suffers a setback.
Thursday 26 November 2020
Episode 89
Wounded pride
Vuyiswa comes up with a daring plan to catch her attacker. Schumacher fears for his safety and breaks up with his new love.
Friday 27 November 2020
Episode 90
Of mice and men
Vuyiswa's and Georgina's secret plans backfire. Thando's apology is not what it seems.
---
Monday 30 November 2020
Episode 91
Bolder & wiser
Vuyiswa and Georgina's jobs are on the line. Thando is not done with Schumacher yet but is he done with her?
https://youtu.be/2Xi9KuDr5Hc
Advertisements