Advertisements
Rhythm City is a South African soap drama that focuses on the challenges of youth with ambition in the big city. It has been running since 9 July 2007.
Rhythm City airs weekdays on e.tv at 19:00.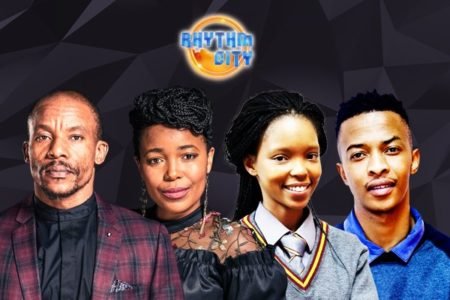 Thursday 1 October 2020
Episode 3454
The tidal wave of the festival's publicity is beginning to swamp Suffocate, but he reiterates his faith in Pearl, causing her a small twinge of guilt. Ziyanda pours out her heart to her gobela, Mkhulu Khanya, but the pressure becomes too much and she makes a controversial move.
Advertisements
Puleng tries to speak to Sindiswa, but it backfires and makes things much worse.
Friday 2 October 2020
Episode 3455
Old tensions resurface between Suffocate and Puleng as he pushes full steam ahead with the festival but Pearl pulls a rabbit out the hat when she deflects Khulekani and Mandlakhe's suspicion onto the hacker.
Mkhulu Khanya warns Ziyanda that the secret of her child and who his father is could tear her family apart. Puleng and Sabelo are petrified when Sindiswa meets up with Suffocate at Kilowatt.
---
Monday 5 October 2020
Episode 3456
Mzi is asking too many questions about the financing of the RedHub festival, prompting Pearl to speed up her plans. Ziyanda changes her mind about meeting her son. She agrees to link up with him but worries about how it will all play out. Sindiswa tortures Sabelo and Puleng slowly and deliciously.
Tuesday 6 October 2020
Episode 3457
Pearl is dogged by second thoughts about her plot against Suffocate. Meanwhile, Suffocate chooses to trust Pearl instead of having Mzi investigate her further. A hurt and vulnerable Ziyanda lashes out at Nandi and Khulekani prompting Ziyanda to move out of the Ngobese home.
Sindiswa struggles to find a place in her heart to forgive Sabelo.
Wednesday 7 October 2020
Episode 3458
Suffocate deepens his identification with the RedHub festival as the final stages of Pearl's master plan to sink him come together. Nandi refuses to extend an olive branch to her sister, resulting in Khulekani reaching out instead. Sabelo and Sindiswa are both distraught over the broken engagement.
Thursday 8 October 2020
Episode 3459
Pearl uses Thandi Dlamini to begin the attack on Suffocate and Suffo considers cancelling the concert. Khulekani and Nandi rekindle their love and Ziyanda is bitter to hear about this.
Ruth tells Ziyanda to be patient with Zak, played by Bohlokwa Mpiti (The Herd, Isithembiso,Grassroots).
Sindiswa confronts Puleng about being a homewrecker and uninvites her to the wedding.
Friday 9 October 2020
Episode 3460
Suffocate desperately tries to put out fires with the festival while; Khulekani ups the ante on Pearl to pull the trigger. Ziyanda begs Ruth to convince Zak to agree to meet with her but things do not go according to plan.
Sabelo takes Sindiswa's instructions to heart and completely ignores Puleng while the girls are all shocked to find out that Puleng has been axed as the matron of honour.
---
Monday 12 October 2020
Episode 3461
Maponya suspects that Pearl is the one who tipped them off and Puleng tries to warn Suffocate but she is too late to stop Pearl putting the final act of the plan into operation. Nandi is determined to put the past behind her and move on into the future and reaches out to Ziyanda.
Sindiswa pushes Sabelo to ask Suffocate for a loan for the wedding.
Tuesday 13 October 2020
Episode 3462
Diepkloof reels at the news of Suffo scamming the community and he realises too late that Pearl actually set him up. The law sweeps him up in a most humiliating way. Ziyanda gets a lovely surprise when Zak suggests they meet up to talk.
Meanwhile, Sindiswa forges ahead with preparations for her big Kasi wedding despite the fact that the fate of Kilowatt looms large over her's and Sabelo's heads.
Wednesday 14 October 2020
Episode 3463
Suffocate's darker secrets threaten to be exposed as he's interrogated by the police but it's his face-to-face encounter with Pearl that leaves him rattled to the core. Ziyanda makes a desperate decision when she is forced to choose between a second chance and her sister.
Sindiswa and Sabelo worry about what all the drama around Suffocate means for their wedding.
Thursday 15 October 2020
Episode 3464
Suffocate is released on bail but it's a brief reprieve before an unexpected visit is made to Kilowatt. Zak's presence raises eyebrows and piques interest at Nandi and Khulekani's vow renewal ceremony. Zinhle also takes notice of the new face.
Advertisements
While on the other side of town, the Kasi wedding of the decade is finally happening and MaChiliza realises a life-long dream as the community celebrates her daughter's exchanging vows.
Friday 16 October 2020
Episode 3465
Suffocate's assets are frozen and Kilowatt is closed and Diepkloof starts to feel the ripple effects of Pearl's plot. Khulekani, meanwhile, delights in watching his enemy's fall. Ziyanda has to persuade Zak not to take up Khulekani's offer of a meeting, while pouring water on Nandi's suspicions that he's her Ben10.
Khulekani tasks Mandlakhe to find out more about Zak. Puleng vehemently denies sleeping with Sabelo when Fats probes. Sabelo is, however, tongue tied when Fats later asks him the same question.
---
Monday 19 October 2020
Episode 3466
Maponya is sceptical that Pearl didn't know anything about Suffo's crimes and Mzi blasts her for her betrayal of him and his father. Zak asks Ziyanda about his father but she again avoids giving him an answer.
Khulekani bumps into Zak and asks probing questions about his past. Fats exiles Sabelo from the club for his betrayal.
Tuesday 20 October 2020
Episode 3467
Puleng picks up and motivates a very flattened Suffocate. Inspired by her, he makes a crazy deal with Advocate Moses Maponya. Zak and Zinhle make a connection when they run into each other at the Kota Hut.
Mandlakhe finds out some interesting background information about Zak, which sends Khulekani headlong toward the truth.
Wednesday 21 October 2020
Episode 3468
Suffocate, Mzi and Puleng try to brainstorm ways to get Suffocate out of the legal mess he's in and he comes up with a dark solution for his troubles. Khulekani wrestles with the knowledge that he's unearthed. Ziyanda breaks down.
Sabelo is not impressed when MaChiliza makes him work like a makoti in her house.
Thursday 22 October 2020
Episode 3469
Fats offers his help to Suffocate who despairs about the well-being of his employees and Mzi offers to get his hands dirty. Chicken and the 68s break all ties with Suffocate. Mkhulu Khanya warns Ziyanda that she has to make a choice and Ziyanda makes the decision to give up her life in Joburg to be with her son.
Kea is hopeful that Thapelo will soon ask her to the Matric dance.
Friday 23 October 2020
Episode 3470
Suffocate goes to Mzi for help getting out of his legal bind and they stake out a jeweller's and a bank. There's a distinct vibe between Zak and Zinhle. Khulekani asks Zak to come see him and he offers him a job. Kea is disappointed by Thapelo when he doesn't ask her to the matric dance.
---
Monday 26 October 2020
Episode 3471
Suffocate and Mzi continue with their stakeouts until the cops apprehend Mzi. Patrick comes to Mzi's aid but tells him he has to distance himself from his father. Ziyanda pleads with Khulekani to stay out of Zak's life but he won't back down prompting Ziyanda to also offer Zak an internship.
Kea is very suspicious when Bonny and Busi claim they've secured a hot dance date for her.
Tuesday 27 October 2020
Episode 3472
Mzi is finally prevailed upon to stand up in public and disavow his father. Khulekani rubs it in to Suffocate, and tells him that he was behind his downfall. Ziyanda unsuccessfully tries to persuade Zak not to take the job with Khulekani.
Nandi warns Khulekani that she's not prepared to accept any more scandals. Despite Mapula's attempts to put her straight, Kea finds herself pressured to have sex with Ofentse.
Wednesday 28 October 2020
Episode 3473
Maponya turns down Suffocate's request for an extension of the deadline so he decides it's time to kick his grand master plan into action. Puleng insists she is coming with him. Ziyanda tries to go to extreme lengths to solve her problem with Khulekani, but Robert won't bite.
Kea is riddled with self-doubt and second thoughts about the matric dance.
Thursday 29 October 2020
Episode 3474
Suffocate says his goodbyes to Puleng and Mzi, facing the uncertainty of his fate after the robbery. Khulekani gifts Nandi with the loan of one of the world's largest diamonds to feature at her jewellery brand launch. Ziyanda tries to figure out a way to get Zak out of Khulekani's life.
Nandi unwittingly drops a bomb when she tells Ziyanda about Zinhle and Zak going out. Banele starts tutoring Kea and she stands up for herself against Bonny and Busi's bullying.
Friday 30 October 2020
Episode 3475
Suffocate sets his sights on the Ngobeses' new jewellery venture despite Puleng's warnings.
Ziyanda pesters Khulekani until she finally manages to tell him about Zinhle and Zak going out together. He believes it's another of Ziyanda's tricks, until he sees the kids together and explodes.
Kea sounds out Mapula about Banele, and, when Mapula denies there's anything between them, it reignites the spark Kea feels for him.
https://youtu.be/FYWcu5DmZyo
Advertisements