Advertisements
Faltu is an Indian Hindi-language drama television series that revolves around an unwanted girl, Faltu, named Useless, after her parents' frustration at the birth of a fourth girl when they wanted a boy. Faltu is a free-spirited and independent girl who dreams of living alone. She goes against her parent's wishes and gets a job in the city. She meets Ayaan, a young man struggling to live up to his parents' expectations. Faltu and Ayaan fall in love, and together, they fight against the odds to live their own lives.
Premiere episodes of Faltu air on Star Life from Mondays to Sundays at 18h00.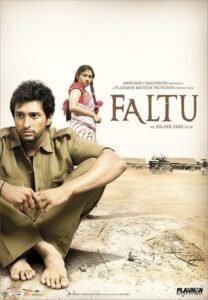 Wednesday 1 November 2023
Episode 87
Siddharth and Tanisha deceive Ayaan at the hospital about their involvement in Faltu's donation, and Charan tells Ayaan to leave.
Advertisements
Thursday 2 November 2023
Episode 88
Ayaan gets accused by Charan and later has an accident; Siddharth and Tanisha find out about the accident.
Friday 3 November 2023
Episode 89
Tanisha confesses to Janardhan, who blames her for Ayaan's accident; Faltu regains consciousness and finds out about Ayaan.
Saturday 4 November 2023
Episode 90
Janardhan blames Tanisha for Ayaan's condition, causing disappointment. Faltu has a nervous breakdown after hearing about Ayaan's accident.
Sunday 5 November 2023
Episode 91
Tanisha accidentally enters Ayaan's cabin, where Faltu is crying. Ayaan comforts Faltu by holding her hand.
---
Monday 6 November 2023
Episode 92
Tanisha discloses her involvement in Faltu's eye surgery, leading Faltu to pledge not to disrupt Tanisha and Ayaan's lives.
Tuesday 7 November 2023
Episode 93
Ayaan is welcomed home, and Siddharth tries to reveal Faltu and Tanisha's true feelings by asking them to spend time together.
Wednesday 8 November 2023
Episode 94
Faltu calls the mall receptionist to learn about Ayaan's health and then prepares to leave for Ittarpur as Charan has a heart attack.
Thursday 9 November 2023
Episode 95
Faltu faces financial trouble for Charan's operation while Ayaan is lost in thoughts about Faltu.
Friday 10 November 2023
Episode 96
Faltu is asked to leave by villagers but her response silences everyone; she declines a job offer from Tanisha.
Saturday 11 November 2023
Episode 97
Ayaan plays truth or dare and is asked to disclose his lover's name, putting him in an awkward situation.
Sunday 12 November 2023
Episode 98
Tanisha confesses and seeks Faltu's help, then tries to turn Ayaan against Faltu by revealing her return to Mumbai.
---
Monday 13 November 2023
Episode 99
Tanisha and Faltu deceive Ayaan by making him think that Faltu had been using him. Ayaan confronts Faltu, who eventually accepts a challenge from Ayaan.
Advertisements
Tuesday 14 November 2023
Episode 100
Janardhan is angry about Ayaan's decision to hire Faltu as the maid, but later Faltu comes back to the Mittal house.
Wednesday 15 November 2023
Episode 101
Janardhan gets angry after Faltu hits his car during a cricket game. Ayaan embarrasses Faltu when Tanisha invites her to have breakfast with the family.
Thursday 16 November 2023
Episode 102
Faltu impresses the doctor with her quick thinking, while Siddharth becomes angry when his plan backfires.
Friday 17 November 2023
Episode 103
Faltu helps the Mittals with Marwari food, but faces confrontation from Tanisha for wearing Sindoor.
Saturday 18 November 2023
Episode 104
Siddharth anonymously informs Ayaan about the temple incident during his wedding, but Tanisha remains unaware of Siddharth's involvement.
Sunday 19 November 2023
Episode 105
Faltu makes pasta for Ayaan on Valentine's Day but sees him with Tanisha, leading her to dream about him.
---
Monday 20 November 2023
Episode 106
Ayaan discovers he is married to Faltu, interrupting his romance with Tanisha. He confronts Faltu to demand an explanation.
Tuesday 21 November 2023
Episode 107
Faltu prepares for the Shivratri celebration but is doubted by Tanisha, who makes her break her fast for Ayaan.
Wednesday 22 November 2023
Episode 108
Faltu assists Tanisha and Ayaan in the aarti and receives blessings from the Mittals before going to the cricket academy.
Thursday 23 November 2023
Episode 109
Faltu starts training but disappoints her coach Vishal; Ayaan is surprised to meet Vishal.
Friday 24 November 2023
Episode 110
Faltu's teammates trick him into going to Vishal's room and then spread false rumours about him.
Saturday 25 November 2023
Episode 111
Ayaan identifies the caller's location, while Faltu gets caught up with drunken hostel girls.
Sunday 26 November 2023
Episode 112
Ayaan suspects something about Faltu's vermillion and questions Tanisha. Tanisha seeks Siddharth's help to find the anonymous caller.
---
Monday 27 November 2023
Episode 113
Ayaan and Charan question Faltu to find out the truth about her Sindoor; she fabricates a story and conceals the truth.
Tuesday 28 November 2023
Episode 114
Vishal advises Faltu to get a massage for her pain, but Kanika's disturbance disrupts the situation.
Wednesday 29 November 2023
Episode 115
Vishal's testimony against Faltu leads to Kanika's removal from the academy, while Siddharth anonymously sends Faltu's confession video to Ayaan.
Thursday 30 November 2023
Episode 116
Janardhan criticises Ayaan for neglecting Tanisha at the airport; Ayaan defends himself and reveals the truth about Faltu.
Advertisements