Football is a major sport in South Africa. In fact, it can be regarded as a language every South African speaks and understands very well.
This is why whenever you travel to any part of the country, it is quite a common thing for you to find the young and old playing the round leather ball on the streets.
Over the years, individuals and organizations have leveraged on this passion to create academies that groom kids into football stars and some of these talents have gone on to become popular on the global stage.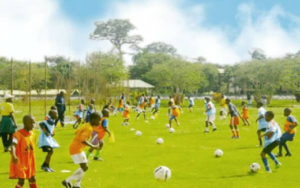 If you're looking to groom your child into a football star, and you're looking for an academy in your vicinity then you're on the right page.
In this post, we have put a list of these football academies available in South Africa and their addresses in order to help you in the process.
Football Academies in South Africa & Contact Details
1. African Brothers Academy | Gardens Commercial High School Fields, Breda Street Gardens, Cape Town
2. Football Academy Plus | 30 Bantry Rd, Bryanston, Sandton, 2191
3. Bidvest Wits Football Academy | 47 street 118A Eurika estate cape town Johannesburg, Gauteng
4. Diambars Football Academy South Africa | http://www.diambars.org
5. Total Football Academy Rsa | No 85 Acot Road Betrams Johannesburg 2194
6. Young Bafana Soccer Academy | 34 Malan Street 7130, Somerset West, Cape Town South Africa
7. LIVERPOOL FC International Academy South Africa
8. Prestige Football Development Academy | Florida, Johannesburg, 2000
9. Stars Of Africa Football Academy | 72 Indra St, Mayfair West, Johannesburg, 2092
10. Bryanston Warriors Football Club | 54 Hornbill Rd, Bryanston, Sandton, 2191
11. Supersport United Soccer Schools | 42 Witkoppen Rd, Craigavon AH, Sandton, 2068
12. Football Academy Plus Honeydew | 1510 Zeiss Road Honeydew Zeiss Rd, Laser Park, Honeydew, 2170
13. Samba Soccer Academy – Lyttleton | 209 Monument Ave, Lyttelton Manor, Centurion, 0157
14. Siyadlala Football Academy | shop no:5 Promenade center, Nelspruit,, Nelspruit, 1200, South Africa, -25.492216,31.004838, Nelspruit, 2001
15. Football Academy Plus Protea Park | 24 Stuurman St, Levallia, George, 6529
16. ONE10SPORT Football Academy | Water St, Claremont, Cape Town, 7708