The Fourth Raadsaal is a historic structure in Bloemfontein that houses the Free State Provincial Legislature, which is the country's legislature. It is on President Brand Street, directly across from the Supreme Court of Appeal.
It was decided in the early 1880s to construct a new presidency office and chamber council. Johannesburg-based Lennox Canning was chosen to design both structures.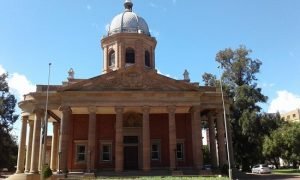 Although the new presidency office was completed in 1886, work on the chamber council did not begin until 1889, when another Johannesburg-based architect, TR Robertson, was awarded a tender of £27,183.10. On June 27, 1890, President Francis William Reitz laid the cornerstone.
When British soldiers invaded Bloemfontein in March 1900, the building was converted into a military hospital. The majority of the furnishings were purchased and are currently in individual residences. In 1907, the Orange River Colony was recognized as the legal government. A council and a legislative assembly made up the colony's two-chamber legislature.
The lower council continued to meet in the Raadsaal, but the upper house met in a separate facility on Aliwal Street. The Union of South Africa was founded in 1910, and the provincial council was housed in the Raadsaal. The Appeal Court used the chamber and accompanying rooms until 1929, when it moved into its own building.
Address: 10 President Brand St, Bloemfontein Central, Bloemfontein, 9301, South Africa
Hours: Closes 5PM