Advertisements
Imlie, a smart village belle, is forced to marry a journalist after they seek shelter in a hut during heavy rains. On reaching the city, she realises that her husband is engaged to be married.
Premiere episodes of Imlie air on Star Life Mondays to Sundays at 22h00.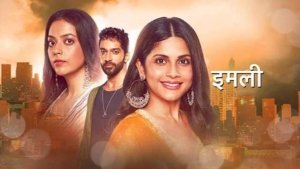 Monday 1 May 2023
Episode 498
Advertisements
Imlie sees someone wearing sandals in the house and follows them to find out that it is Jyoti. Aryan tries to gather evidence against Madhav.
Episode 499
Jyoti gets worried when her plan fails, and Madhav gains consciousness. Aryan seeks revenge and wants to teach Madhav a lesson.
Tuesday 2 May 2023
Episode 500
Imlie cleverly makes Sundar pretend to be Madhav to bait Jyoti into attacking him. Meanwhile, Jyoti mixes poison in Madhav's food.
Episode 501
Harry carries Jyoti to the hospital after she falls seriously ill from consuming poison. Later, Arpita pairs up with Sundar to fool Aryan and save Imlie's team.
Wednesday 3 May 2023
Episode 502
To hide the truth from Imlie, Jyoti gets restless to kill Madhav. Imlie learns that Jyoti is liable for Madhav's condition when the latter executes her plan.
Episode 503
Jyoti hits Imlie and puts her in the morgue cabin when Aryan comes in search of her. He assumes Imlie is in danger after he fails to find her.
Thursday 4 May 2023
Episode 504
Aryan rescues Imlie after he finds her in an ambulance on the way to the crematory. She reveals Jyoti's evil intention to him when he blames Madhav.
Episode 505
Imlie is shocked as she cannot validate her opinion against Jyoti. Aryan criticises her for the deceitful charges about Jyoti.
Friday 5 May 2023
Episode 506
While Aryan rushes to save Madhav and his mother, the police arrive and arrest him. Imlie makes a plan to find evidence by intoxicating Jyoti.
Episode 507
Imlie visits the police station and presents evidence to prove Aryan's innocence. Jyoti is furious to learn about Harry's evil move against Aryan.
Saturday 6 May 2023
Episode 508
To accomplish the mission of putting an end to Imlie, Jyoti plans to utilise Keri. Later, Harry finds Keri's truth and gets adamant about killing Imlie.
Episode 509
Aryan is infuriated when Imlie reveals Jyoti's plan to attack her. He questions Madhav about Jyoti's evil deeds, and the latter lies to him.
Sunday 7 May 2023
Episode 510
Aryan recognises Keri and gets closer to her when she wishes him on his birthday. Jyoti plans to kill Imlie at Aryan's birthday party.
Episode 511
While everyone is busy at Jyoti's birthday party, Imlie surprises Aryan by throwing a separate party for him. Later, Imlie has a bigger surprise for Jyoti.
Monday 8 May 2023
Episode 512
Imlie gets into trouble when Jyoti ruins her plan to expose the latter. To create a misunderstanding between Aryan and Imlie, Jyoti intentionally traps Keri.
Episode 513
Imlie feels utterly distressed as Aryan gets kidnapped by a bunch of goons at gunpoint. Imlie confronts Jyoti about the abduction.
Tuesday 9 May 2023
Episode 514
Aryan tries to escape from the goons but gets injected with sedatives. Jyoti feels helpless when the goons demand more money.
Episode 515
To save Aryan, Imlie pretends to be friendly with the goons and gets them drunk. Arpita and Sundar rush to rescue Imlie and Aryan.
Wednesday 10 May 2023
Episode 516
Seeing Imlie and Aryan unconscious, Jyoti tries to shoot the former, but Harry arrives on time with the police. Later, a guilty Aryan apologises to Imlie.
Episode 517
Narmada is surprised as Aryan and Imlie bring the baby with them. Gauri breaks down after the dean humiliates her for her simple attire.
Thursday 11 May 2023
Episode 518
Malini makes a vile plan to ruin Imlie's relationship with her family members. When Imlie becomes unconscious, Badi Maa hides her in the kitchen.
Episode 519
Narmada is unable to stop the fake NGO workers from taking the baby away from her. Imlie comes up with a clever plan to retrieve the baby.
Friday 12 May 2023
Episode 520
Imlie fights off the guards at the fake NGO and rescues all the babies they had stolen from their parents. Later, Malini delivers shocking news to Imlie.
Episode 521
Malini accuses Imlie and Aryan of stealing her baby. Imlie breaks down after Malini leaves with the baby, and Aryan consoles her.
Saturday 13 May 2023
Episode 522
When Malini neglects her child, Imlie and Aryan take her to the hospital. To escape the police, Imlie pretends to faint and Aryan plans a sting operation.
Episode 523
To prove Malini's incompetence, Imlie and Aryan try to record her negligence towards her daughter. However, they get caught, and Malini flips the game.
Sunday 14 May 2023
Episode 524
Imlie learns that Malini wants to give her daughter to the orphanage. She concludes that Malini doesn't want to raise the child and decides to fight for her.
Episode 525
Malini ignites a fire during the ritual to cause disruption and pushes Gudiya's stroller down the stairs. However, Aryan and Imlie risk their lives to save her.
Monday 15 May 2023
Episode 526
Aryan is shattered to learn that Imlie has suffered a miscarriage and mourns the loss of his unborn baby. Aryan and Imlie blame each other for what happened.
Episode 527
Devastated, Imlie and Aryan blame each other for losing their child. When an angry Aryan hurts himself, Imlie takes care of his injured hand.
Tuesday 16 May 2023
Episode 528
Advertisements
A distraught Imlie leaves the house when Aryan refuses to apologise to her. Malini celebrates the loss of Gudiya and Imlie's conflict with Aryan.
Episode 529
Imlie rescues the villagers and gets all the goons who had poisoned them arrested. Aryan gets into a fight and injures himself.
Wednesday 17 May 2023
Episode 530
Imlie saves Binni from the villagers who wanted her to marry a lewd man who had locked her in a room the whole night. Anu wants Malini to marry Aryan.
Episode 531
Malini publishes fraudulent news about the Pagdandiyas in the newspaper to defame them. When Imlie learns about it, she decides to stand for the Pagdandiyas.
Thursday 18 May 2023
Episode 532
Imlie reveals the truth behind the fake news published by Malini, which turns the people against Bhaskar Times. Aryan takes frantic action to defend his company.
Episode 533
Imlie learns that Chini has not made it to her school and concludes that she must have been kidnapped. Meanwhile, Aryan arrives in Pagdandia to take revenge upon Imlie.
Friday 19 May 2023
Episode 534
Aryan gets suspicious of Girish's behaviour and follows him to find that he has kidnapped Chini. While Aryan rescues Chini, Malini learns about Girish's failure.
Episode 535
As Imlie knocks on Aryan's door, he senses her presence close to him. However, Malini's untimely call stops him from meeting Imlie.
Saturday 20 May 2023
Episode 536
Aryan accompanies Chini to her house after he sees her roaming around by herself. Elsewhere, Anu tries to harm Narmada by poisoning her drink.
Episode 537
Aryan gets upset when Malini tells him to return home due to Narmada's failing health. However, Chini overhears this and suggests a remedy which turns out to be helpful.
Sunday 21 May 2023
Episode 538
Imlie pleads for her salary from her boss, and he tells her that she has to deal with Aryan for that. Elsewhere, Aryan takes a stand on Chini's behalf.
Episode 539
Aryan and Imlie are shocked to see each other when they come together to rescue Chini from danger. However, both choose to ignore their feelings.
Monday 22 May 2023
Episode 540
Aryan visits Imlie's house to meet Chini. Furious, he threatens Imlie when she takes a firm decision and refuses to sign the apology letter.
Episode 541
Aryan decides not to forgive Imlie and pledges to ruin her life. Elsewhere, Imlie faces humiliation when she tries to procure Chini's favourite food items.
Tuesday 23 May 2023
Episode 542
While Aryan saves Chini from some people rebuking her, Imlie gets into an argument with him. However, Malini's sudden arrival takes them both by surprise.
Episode 543
Aryan decides not to leave the village until Imlie publicly apologises to him. Meanwhile, Malini plans to frame Imlie for trying to harm the school kids.
Wednesday 24 May 2023
Episode 544
Chini's teacher gives her a humiliating topic, but Imlie helps Chini with a different perspective. Imlie is accused of giving the kids rotten sweets.
Episode 545
Aryan saves Chini's life by donating blood to her. When Imlie gets arrested for putting the lives of the children in danger, Aryan testifies in her favour.
Thursday 25 May 2023
Episode 546
Aryan eats a Ladoo in front of the police, thus proving that it is not poisoned and bails Imlie out of jail. Imlie beats up Girish, and he confesses to his crimes.
Episode 547
While Imlie is concerned about Chini's disappearance, Malini shows up and humiliates her. Chini sneaks into Aryan's car without his knowledge.
Friday 26 May 2023
Episode 548
Aryan calls Imlie after learning about Chini's disappearance and assures her that he will find the child. Later, he is startled when he sees Chini in his house.
Episode 549
Chini roams around in Aryan's house and he worries about her being discovered by someone. Later, Imlie loses her mind when she figures out Chini's whereabouts.
Saturday 27 May 2023
Episode 550
After arriving in Delhi, Imlie visits Aryan's house to bring back Chini to her village. Malini grows suspicious and finds Chini in front of Aryan's room.
Episode 551
Imlie finds Chini but gets caught while attempting to escape the mansion. Consequently, an emotional Narmada and Malini greet Imlie and refuse to let her go.
Sunday 28 May 2023
Episode 552
Aryan saves Imlie after someone throws flammable liquid inside the house. Imlie finds a note stating the reason for the attack and receives further threats.
Episode 553
When Malini realises that Imlie might stay back to save Bhaskar Times, she hands her a ticket and asks her to leave. Imlie tears it and refuses to leave.
Monday 29 May 2023
Episode 554
Imlie tries to convince Aryan to save and retake control of the Bhaskar Times. Imlie returns to the office and Malini devises a vindictive strategy against her.
Episode 555
While Malini plants a bomb in Imlie's mic, she is shocked to learn that Anu is at the same event. Later, when Anu gets into a quarrel, Imlie comes to her aid.
Tuesday 30 May 2023
Episode 556
Imlie overhears Malini and Anu talking about a bomb at the event. She learns that it is in Chini's mic and saves her life with Aryan's help.
Episode 557
Imlie finds an earring at the venue. Suspecting that it belongs to the bomber, she hands it over to the police. Meanwhile, Malini tries to get away from the scene.
Wednesday 31 May 2023
Episode 558
Imlie accuses Malini of owning the missing earpiece, but Anu arrives with an identical one. Later, Arpita urges Aryan to be cheerful.
Episode 559
After an argument with Imlie, Aryan refuses to participate in the Janmashtami celebrations. However, Chini's tears forces him to reconsider his decision.
Advertisements