Advertisements
Robert Jeremy Mansfield (born 15 August 1963) was a South African radio and television personality. He studied speech, journalism, and drama at Rhodes University.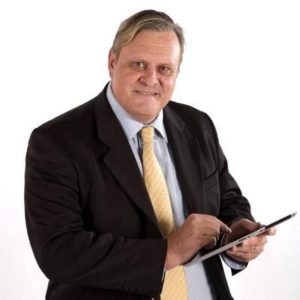 Jeremy Mansfield
He was born on the 15th of August 1963 in Grahamstown, South Africa. As of 2022, he was 59 years old and celebrated his birthday on August 15th of every year.
Jeremy Mansfield Wife
Mansfield got married to Jacqui Thompson, a former game ranger and author in the year 2003.
Jeremy Mansfield Daughter
He has a daughter that is named  Gabriella Mansfield.
Jeremy Mansfield Net Worth
He was believed to have had an estimated net worth of around $3,005,936
Death
Radio legend Jeremy Mansfield has died after battling stage four liver cancer. He was 59 years old. Mansfield's death was confirmed by his close friend and former colleague, Samantha Cowen, in a statement on Monday morning.
Books
He had written the following books;
Zhoozsh! Faking it
Zhoozsh! Cooking with Jeremy & Jacqui Mansfield
Jeremy Mansfield's Vrotter Jokes
Jeremy Mansfield's Vrot Jokes
Awards
1985: AA Vita Award as The Most Promising Young South African Actor
1996–2010: Best Radio Personality of the year (Best of Johannesburg Readers' Choice Awards)
1996–2010: Best Radio Show 14 years in a row
2004: The only radio personality to make the Top 100 South Africans list
Won Leisure Options' Most Popular Personality
2008: Three wins in the South African sector of the Gourmand Cookbook Awards: Book of the Year, Innovative and Media for 'Zhoozsh!'
2008: Zhoozsh! wins Bronze as Third Best Cookbook in the World at London ceremony on 13 April
2008: 'Zhoozsh!'[citation needed]wins Random House Struik Best Seller of the Year
2009: You magazine Radio Personality of the Year 2009
2011: Zhoozsh! Faking It wins South Africa's Easy Cook Book in the South African sector of the Gourmand Cookbook Awards
Jeremy Mansfield Twitter
Advertisements
Jeremy Mansfield News
Jeremy Mansfield returns to radio
Source: Citizen.co.za
Jeremy Mansfield is set to make his return to radio next week, stepping in as the host of Hot 91.9FM's breakfast show.
The former 94.7FM Rude Awakening DJ will join his old partner in crime, Sam Cowen, along with Simon Hill, John Walland, Karabo Yibe and award-winning producer, Will Scott.
The new show has been branded 'Mansfield in the Morning' and kicks off next Thursday on November 1st. In an announcement on the station's Facebook page, Hot91.9FM says that fans can expect Mansfield's unique sense of humour as well as the host delivering his irreverent opinions across a range of topics.
"I've always believed in the unifying power of laughter and creating shared value in the communities I serve. Here I get to do both," Mansfield said.
"Jeremy will bring back the fun element of morning radio, which will entertain and engage our audience. Together, we will work with him to grow Hot Cares and ensure sustainability across our many community initiatives," Hot 91.9FM Managing Director, Lloyd Madurai said.
Mansfield's arrival at the station comes just under a month after Hot 91.9FM fired breakfast show host Sasha Martinengo for calling EFF leader Julius Malema a "monkey" live on air. Martinengo subsequently defended his comments on Twitter and the Economic Freedom Fighters have opened a criminal case against him.
Advertisements