Kelly Khumalo is a South African singer, actress and dancer. She was born on 1st November 1984 in Spruitview, Gauteng, South Africa. She was named as the Best Newcomer of 2005 in the Afro Pop music circuit.
Kelly Khumalo
Birth name
Kelly Khumalo
Date of Birth
1st November 1984 (

age 35 years)

Husband
Unknown
Occupation
Singer, Actress and Dancer
Net Worth
Unknown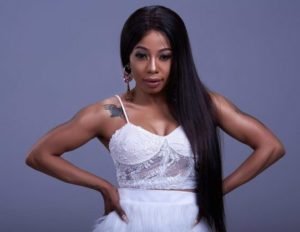 Kelly Khumalo Age
She was born on the 1st of November 1984 in Spruitview, Gauteng, South Africa. As of 2019, she is 35 years old.
Kelly Khumalo Children
She has two children, a son Christian whose father is rapper Molemo Maarohanye popularly known as Jub Jub. She was also romantically involved with Senzo Meyiwa who was a footballer before his death. By the time of his death Kelly was heavily pregnant and in March 2014 she gave birth to a girl who she named Thingo which means rainbow in IsiZulu.
Kelly Khumalo Boyfriend
The musician has a child with rapper Molemo 'Jub Jub' Maaronhanye and another with late Bafana Bafana goalkeeper Senzo Meyiwa. Despite dating a few men over the years singer Kelly Khumalo says that she has yet to experience true love.
"I don't think I've ever been in love or loved the way I wished to be. It's always been about who's around me and who's giving me attention. It's never really been about love or being in love with a particular person," Kelly said during an interview with Metro FM's DJ Fresh.
Kelly Khumalo Awards
2013: She won the Best Female Artist Award during the South African Music Awards (SAMA)
2017: Best Female album during the Metro FM Award.
Kelly Khumalo Book
Her biography ' The Kelly Khumalo Story' was released and launched in 2012. It was written by Melinda Ferguson- an author and journalist
Kelly Khumalo Contacts
Tel: +27 (0) 11 883 1447
Email: [email protected]/ [email protected]
Kelly Khumalo Albums
Itshitshi (2006)
Simply Kelly (2008)
The Past, The Present, The Future (2012)
Back to My Roots (2014)
My Truth (2016)
Kelly Khumalo Songs
Asine
Uthando
Sobabili
Somizi
I Live For Love
Uyinkosi Yamakhosi
Ngiyabuza
Qinisela
Ngofa Nawe
Niku Bambe
We Makhelwane
Isikhwele
Ngiyanfela
Themba
Ngi Ngazi
Iphupho Lami
My Testimony
Senzo
Baleka
Imbali
Ajaku
Together Apart
Sinner's Prayer
I Keep Fighting
Walk round Heaven
Umemulo
Dance Africa
I Really Love You
Uyangihlanyisa
Thuma Mina
You Can Fly
My Truth.
Kelly Khumalo Instagram
Kelly Khumalo Twitter
Kelly Khumalo Facebook