Advertisements
Legacy is a South African television series that tells the story of the Price family. The Price household is at war with itself following the announcement of the patriarch to step down, creating a power vacuum.
Legacy airs on M-Net from Mondays to Thursdays at 19h00.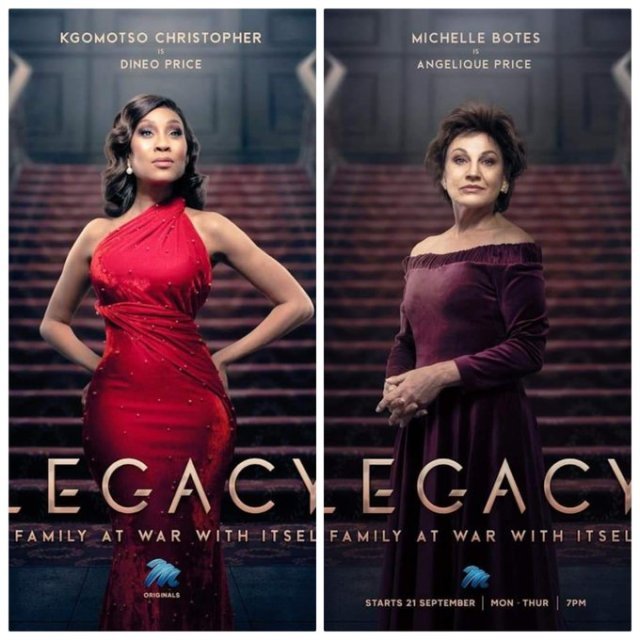 Monday 1 November 2021
Episode 25
False negative
Advertisements
Dineo and Felicity stay one step ahead of Marco's investigation. That is, until Marco catches a much-needed lead. Robbie and Elizabeth lament their negative DNA test results. But Gordon suspects foul play…
Tuesday 2 November 2021
Episode 26
Brothers and sisters
Angelique has a crisis of conscience and Elizabeth learns the truth. Lexi comes clean to Sims and it's fireworks all over again. Marco declares his feelings for Felicity, but she keeps her conscience contained.
Wednesday 3 November 2021
Episode 27
Morning in New York
Robbie gets exciting news, and Denise drops a devastating truth bomb on Angelique. The trail seems to have gone cold for Marco – or has it?
Thursday 4 November 2021
Episode 28
Positive ID
Felicity and Dineo must intercept a key witness before he unmasks them to Marco. As Angelique melts into obscurity, Robbie heads off to meet the family.
---
Monday 8 November 2021
Episode 29
A ticking time bomb
Dineo and Felicity are racing against the clock as they try to find a way to keep their secret hidden. Willem is conflicted about what to do with his recent discovery.
Tuesday 9 November 2021
Episode 30
Hope in dark places
Willem goes on a journey that is more complicated than he thought it would be. Marco gives Felicity some bitter-sweet news.
Wednesday 10 November 2021
Episode 31
Just desserts
Willem wonders whether he shouldn't rather keep the money to help the people closest to him – R500k can go a long way! Robbie is resistant to taking Angelique's offer- corporate life is not his dream. Marco won't give up until he finds the truth. What Felicity and Dineo need is a scapegoat.
Thursday 11 November 2021
Episode 32
Avenging angels
Felicity has a radical plan to tie up loose ends… But does Dineo have the stomach for it? Willem's search for the owner of the money puts him at odds with Sanele. Will Robbie be able to find his place at Legacy. Or will the corporate constraints prove too much for him.
Advertisements
---
Monday 15 November 2021
Episode 33
Know your enemy
Willem is at the mercy of a desperate Vlooi and Dusty. Robbie is given a Legacy-style makeover.
Tuesday 16 November 2021
Episode 34
Let bygones be bygones
Felicity manipulates Marco's investigation to cast suspicion away from her and Dineo but Dineo remains uncomfortable about Marco's close proximity and decides to take action of her own. Stefan rescues Willem but Willem is unhappy to learn that his captors have been arrested. Robbie reels in a big fish for Legacy.
Wednesday 17 November 2021
Episode 35
Moving on and out
Robbie relishes in his new found respect and fortune, but doesn't realise just what he's got himself into. Willem decides what he wants to do with the money he now has safely back.
Thursday 18 November 2021
Episode 36
This song is about you
Robbie must pull off a miracle if he's to win back the trust of the Japanese investor and prove himself to the Price family. As the Potgieters and Sanele come to terms with the cash that got away, life throws Charmaine and Willem another curve ball.
---
Monday 22 November 2021
Episode 37
Water under the bridge
Gordon's world is turned upside down when he is visited by a ghost from the past. The prodigal son of Legacy has returned: Msizi is back! Will Dineo forgive him?
Tuesday 23 November 2021
Episode 38
Love won and lost
Dineo finds she can no longer resist Msizi. Gordon faces the pain of a love he thought he'd left behind. Charmaine and Willem wade through the emotions of a promised child.
Wednesday 24 November 2021
Episode 39
Ghosts of our past
Lexi accidentally tells Sims something she shouldn't. Charmaine finds out news that could change her life and future plans forever. Gordon gets an unexpected visitor once more.
Thursday 25 November 2021
Episode 40
Love and other things
Gordon has a meeting with a special old friend. Charmaine proposes something that has Willem shaken to the core.
---
Monday 29 November 2021
Episode 41
Take a chance on love
Msizi's return has thrown the lives of those who care for him into disarray. Willem wants Charmaine to be happy but feels the pressure of going against his instincts. Gordon opens himself up to the possibility of love.
Tuesday 30 November 2021
Episode 42
A love like this
Dineo and Msizi are left stunned by Thandi's reaction to their love. Gordon is hellbent on getting the love he deserves. Willem finds himself torn between the two women he has loved.
Advertisements