Advertisements
Lerato Zah Moloi (born 13 January 1985) is a South African actress, television presenter, producer, director entrepreneur, and model.
She is popularly known for her roles as Refiloe on the SABC2 soapie Muvhango. She was also cast on Mzansi Magic soapie, The Throne as Kefilwe, the ambitious older Kwena sister.
She is the founder and executive director of Sedzai Communications.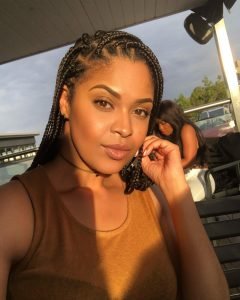 Lerato Zah Moloi Age
Lerato Moloi was born on 13 January 1985 in Limpopo, South Africa. She is 37 years old as of 2022 and celebrates his birthday on January 13th every year.
Lerato Zah Moloi Mother
Lerato's mother was Candy Moloi. Candy Moloi was an award-winning actress and businesswoman. She won the hearts of South African viewers with her role as Vho-Makhadzi in the popular SABC2 soapie, Muvhango.
She also played in several other major SA TV productions, including Thola, Shakespeare in Mzansi, and Death of a Queen.
Candy Moloi died in Pretoria on 28 July 2020 due to cancer. She was 67 years old.
Career
In March 2008 she guest-starred in an episode of the SABC1 drama series Mtunzini.com in the role of Virginia, the lovely young wife of a taxi boss, in the episode entitled "The Taxi Driver (Part 1)" – Season 2, Episode 10.
She also played the role of tabloid journalist Pushy in the second season of the SABC1 drama series Tshisa, from 2008-2009.
She used to be known as Lerato Moloi but added "Zah" to her name to avoid confusion with another actress and model also known as Lerato Moloi.
"Zah" represents the "za" in Lerato's two middle names: Nomzama/Sedzai. In 2014 she was credited as Lerato Haji for her role in the second season of the Mzansi Magic drama series Rockville.
In 2014 she starred as Lufuno Ndou, Dibuseng's best friend and an ex-model who knows the glamorous, glorious life as well as the cruel, harsh realities that destroy, in the SABC2 thriller series Thola.
Advertisements
She also appeared in the e.tv series The Close Up. In 2018 she had a starring role as Kefilwe, the ambitious older Kwena sister, in the Mzansi Magic telenovela The Throne.
TV Roles
Gaz'lam – Season 3 as Kareem's Wife
Home Affairs – Season 2 as Lucy
Izoso Connexion – Season 1 as Aviwe
Mtunzini.com – Season 2 as Virginia
Muvhango – Season 1 as Refiloe Mokoena
Rockville – Season 2 as Tumi
Room 9 – Season 1 as Sibongile
Skeem Saam – Season 2 as Nkhensani
The No. 1 Ladies' Detective Agency – Season 1 as Tabitha
The Throne – Season 1 as Princess Kefilwe Kwena
Thola – Season 1 & 2 as Lufuno N'dou
Tshisa – Season 2 as Pushy
Yizo Yizo – Season 3 as Vanessa
Lerato Zah Moloi Latest News
Lerato announced via her Facebook page that she had tested positive for COVID-19. She made this known on the 6th of July 2020. The actress said the experience was painful and urged everyone to stay safe.
On the 20th of July, it was revealed that Lerato was COVID-free. She explained that she was no more experiencing any COVID-19-related symptoms and that she was feeling great. She also said her recovery period took 21 days and not the 14 days.
Lerato Zah Moloi Net Worth
She has an estimated net worth of $200,000 which she has earned as an actress.
Instagram
https://www.instagram.com/p/B6u-pWjnALt/?igshid=jzelntn50qyh
https://www.instagram.com/p/B2l6l__HTKb/?igshid=1uixwmo0mdn04
Twitter
Advertisements