Advertisements
Lingashoni is a South African telenovela which revolves around a businessman who returns to reclaim his life 10 years after being declared dead. The series tells the tale of a poverty-stricken farm worker who returns to his former life as a high-flying businessman after a decade-long memory loss.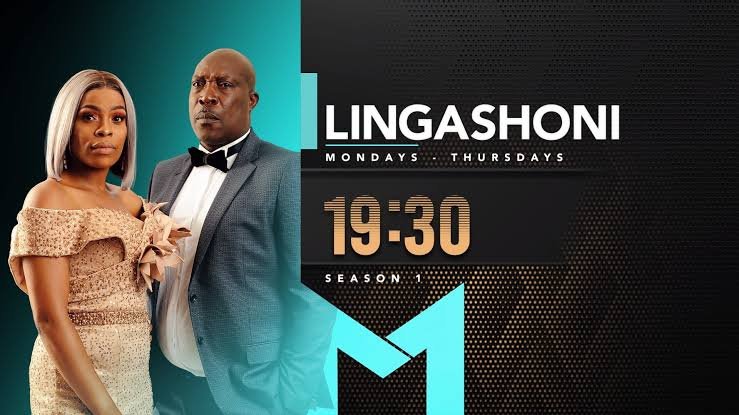 Monday 4 October 2021
Episode 113
Seipati is back at home, making Puleng simmer in her sins. Tebatso must choose between Prudence and the Mchunus and Sarah is the last hurdle in Mpumi's marriage.
Tuesday 5 October 2021
Episode 114
Advertisements
Puleng finds herself fighting a battle she did not envisage. Mpumi and Sarah mend fences. Prudence sails dangerously close to the wind.
Wednesday 6 October 2021
Episode 115
Puleng experiences a major fall from grace. Prudence takes a drastic step to get justice for her kidnapping. Is Donald keeping secrets from Mpumi?
Thursday 7 October 2021
Episode 116
Puleng is brought to tears when she realises Mandla may replace her permanently with Seipati. Phakade is given his first initiation. Donald and Mpumi take their long overdue honeymoon.
---
Monday 11 October 2021
Episode 11
The timer on Prudence's life is set. Seipati is determined to be the only Mrs Cele. Donald pushes for fatherhood.
Tuesday 12 October 2021
Episode 118
The slip of the tongue might cost Seipati dearly. Prudence receives a call that sends shivers down her spine. A baby starts to show cracks in the lives of newlyweds.
Wednesday 13 October 2021
Episode 119
Seipati cracks the whip, she gives Puleng another K.O. Phakade's initiation deadline looms, baby topic causes tension between Mpumi and Donald, but Mpumi has a surprise.
Thursday 14 October 2021
Episode 120
Puleng discovers a part of Seipati's blood chilling secret. Prudence throws herself in the line of fire. Love is in the air in the Nondumo house.
Advertisements
---
Monday 18 October 2021
Episode 121
Mantoa unwittingly hands Puleng the ammunition to attack Seipati. Tebatso finds out that Prudence is dead and NJ finds out Papi's secret.
Tuesday 19 October 2021
Episode 122
Puleng realises she's been sitting on a gold mine. Tebatso wants payback for Prudence. NJ plays matchmaker for an unsuspecting couple.
Wednesday 20 October 2021
Episode 123
Mandla learns a dangerous secret about his wife. The Mchunus start to panic about their latest crime. Thanks to NJ, Papi finds himself in a compromising situation with Letlotlo.
Thursday 21 October 2021
Episode 124
Seipati serves Puleng a TKO. New information about Prudence's death lands on Tebatso's lap. Papi keeps hitting a brick wall with Letlotlo.
---
Monday 25 October 2021
Episode 125
The ball is in Mandla's court as Seipati and Puleng play the aces up their sleeves. Tebatso's vengeance takes the final gear and Papi and NJ's surprise backfires spectacularly.
Tuesday 26 October 2021
Episode 126
Mandla's relationship with his wives takes a disturbing turn. Tebatso crosses a line he will never be able to uncross. Papi makes a brave move.
Wednesday 27 October 2021
Episode 127
Puleng and Seipati form a fragile truce. Tebatso and his gang attack the Mchunus. NJ keeps interrupting Papi and Letlotlo's romantic moments.
Wednesday 28 October 2021
Episode 128
Tebatso's troops pulls off a deadly move, it's desperado in blankets. Mandla deals Seipati and Puleng a deadly blow. Papi just can't catch a break.
Thursday 29 October 2021
Episode 129
Teaser unavailable.
Advertisements