Advertisements
Lord of the Skies is based on the life and work of Amado Carrillo Fuentes, the former leader of the Juarez Cartel. He was nicknamed due to his large fleet of planes which he used to transport drugs to Mexico, Columbia and the United States.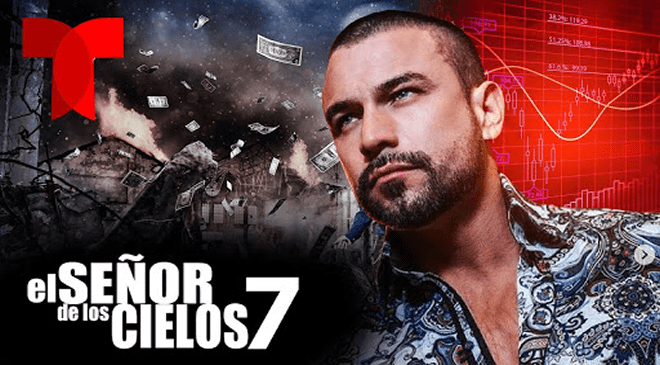 Sunday 1 November 2020 
Navarro is frustrated after failing to capture Amber Maldonado. Amado tortures Joaquin in front of Diana, while Rutila confronts Super Javi.
---
Monday 2 November 2020 
Advertisements
Diana calls Volpi and they arrange to meet. Meanwhile, Colon interrogates Dalila, accusing her of having connections to drug trafficking.
Tuesday 3 November 2020 
The Casillas Cartel attacks the restaurant where Diana is meeting Volpi, and a shootout breaks out. Olón continues to interrogate Delilah.
Wednesday 4 November 2020 
Pío Valdivia is eager to take over the business – but Ojeda won't make it easy. Meanwhile, Luzma offers to take charge of the family's finances.
Thursday 5 November 2020 
Amber disguises herself as Edith to mislead the DEA. Meanwhile, the Casillas Cartel plans their attack on El Cabo and Ojeda.
Friday 6 November 2020 
Joaquín swears to Violeta that he will make Pío pay for everything. Alejandra and Javier continue drinking, and she tries to seduce him.
Saturday 7 November 2020 
Chema knows that things don't look good for him and fears that he'll be extradited to the United States. Javier hears that Angela took an overdose.
Sunday 8 November 2020 
At a press conference, Navarro informs the nation of Chema's extradition to the US. Amado and Diana say goodbye before she goes to visit her sister.
---
Monday 9 November 2020 
Diana and Vitamina are met with a surprise confrontation from Alfaro and his men at the airport. Fidencio tells Valdés that Amber betrayed him.
Tuesday 10 November 2020 
Amado demands that Alfaro release Diana. Joaquín prepares for his plan to get away from Pio. Javi asks Leo to end his relationship with his daughter.
Wednesday 11 November 2020 
Joaquín manages to escape from Cabo's men. Alfaro releases Diana after Amado's threat. Meanwhile, Valdes and Super Javi meet at Dylan's bar.
Thursday 12 November 2020 
Cabo calls Evelina's phone and Amado answers. Diana organises another meeting with her sister. Uzcátegui arrives at Jaime's house to interview him.
Friday 13 November 2020 
Pío is destroyed by the death of his wife, while Joaquin fears that he will be killed and plans to flee the country as soon as possible.
Saturday 14 November 2020 
Advertisements
Pío kidnaps Joaquín and Violeta once again, while Valdés arrives at Edith's house and questions her about Ambar's robbery.
Sunday 15 November 2020 
Amado suggests to Navarro that the two of them form an alliance. Meanwhile, Delilah and Ojeda approach Alejandra at Dylan's bar.
---
Monday 16 November 2020 
Luzma investigates how she can recover her father's assets at the auction. Meanwhile, Navarro writes to Rita and sends her pictures of his son.
Tuesday 17 November 2020 
At the hospital, the doctor tells Super Javi and Angela what happened to Alejandra. Meanwhile, Delilah makes a confession to Corina.
Wednesday 18 November 2020 
Pompey hits the man who was with Alejandra at the bar, thinking that it was he who attacked her. Pío decides to send his son to Colombia with Eulalia.
Thursday 19 November 2020 
The Casillas Cartel sends a message to Ojeda through Delilah. Amado lets Delilah know that he is attracted to her.
Friday 20 November 2020 
Navarro tells Rita that he would like to make a life with her. Meanwhile, Luzma suggests purchasing a clinic for the purpose of laundering money.
Saturday 21 November 2020 
Diana can't control her jealousy, and argues with Amado about Delilah. Dylan continues to trick Greñas. Rita tells Amber that Fidencio threatened her.
Sunday 22 November 2020 
Ojeda meets with Ismael and Super Javi to negotiate. Jaime announces at a press conference that he plans to sue the President of the Republic.
---
Monday 23 November 2020 
Amado tells Ismael that it was a bad decision to sabotage the plan they had. Edith advises Rita to concentrate on Navarro and forget Maldonado.
Tuesday 24 November 2020 
The Casillas Cartel launches an attack on Pío when he arrives to collect drugs from Valdés. Meanwhile, Ismael is still upset with Amado.
Wednesday 25 November 2020 
Pío decides to surrender to the authorities to prevent the Cartel from killing him. Delilah tells Corina about the blood she found at Ojeda's house.
Thursday 26 November 2020 
Amber tells Edith and Rita that they must leave before Valdés comes looking for them, but they are too late. Delilah meets Amado behind Ojeda's back.
Friday 27 November 2020 
Pío shoots Luzma in the chest, and Istúriz tries to keep her alive until they can get her to a hospital. Meanwhile, Amado and Delilah share a kiss.
Saturday 28 November 2020 
The Casillas Cartel takes Luzma out of the hospital, despite her critical condition. Delilah acts offended when Ojeda tells her he does not trust her.
Sunday 29 November 2020 
Amado asks Castillo to join forces to fight Ojeda and the Colombians. Delilah tells Corina that Ojeda distrusts her, and that she fears for her life.
---
Monday 30 November 2020 
Delilah convinces Amado not to kill Ojeda – for now. Meanwhile, Alfaro meets with Pío's men while Paola spies on them.
Advertisements