Advertisements
Mandisa Mashego is a South African politician who served as the Gauteng leader of the Economic Freedom Fighters. She is the first female to ever serve in such an influential rank.
She is always fighting for the place of women and has singlehandedly built her name to become an emblem of EFF in South African politics. Mashego resigned as the Gauteng leader of the EFF in February 2020.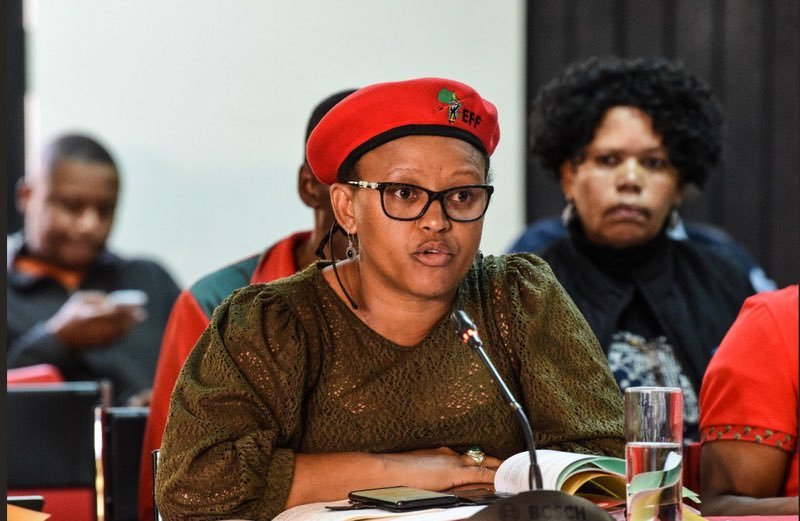 Mandisa Mashego Age
Mashego was born in King Williams Town within the Eastern Cape in the year 1973. She is 47 years old as of 2020.
Mandisa Mashego Early Life
Mashego grew up amidst the apartheid struggles spending most of her childhood in the village of Mayfern, Nelspruit, Mpumalanga. She also lived in Witbank, in Westville, Durban, and Polokwane, Limpopo.
Advertisements
Mandisa Mashego Parents
She was mother to a Xhosa mother and a white father. She recounts that her white father and black mother had difficulties mingling because it was a violation of apartheid policies at the time.
Her father was passionate about politics and governance but her mother was the complete opposite. She admits that her father played an influential role in her life.
Mandisa Mashego Education
She attended the Durban University of Technology where she obtained a dgree in Public Relations.
Advertisements
Mandisa Mashego Husband
Mashego is not yet married and tends to keep details about her love life private.
Mandisa Mashego Daughter
She is a single parent with a daughter. Her daughter was born in 1994 and is 26 years old as of 2020.
Mandisa Mashego Career
2018 – 2020: EFF Caucus Leader GP Legislature at Economic Freedom Fighters Gauteng
March 2014 – May 2014: Manager Pricing and Propositions at Vodacom Business, Midrand, Gauteng
March 2013 – 2014: Manager Strategic Marketing at Telkom Business, Centurion, Gauteng
2008 – 2010: Corporate Affairs Manager at Transnet National Ports Authority, Durban, KwaZulu-Natal
2006 – 2008: Group Communications Manager at Numsa Investment Company, Johannesburg, Gauteng
2005 – 2006: KPM Project Manager, CRM and Internal Communications, Johannesburg, Gauteng
2003 – 2005: Manager, PR, and Marketing at Kruger Mpumalanga International Airport, Nelspruit, Mpumalanga
2001 – 2003: Marketing and Communications Coordinator at Tourism Grading Council of South Africa, Johannesburg, Gauteng
2000 – 2001: Relationship Marketing Consultant at South African Airways, Johannesburg, Gauteng
1998 – 2001: PR Officer at Beeld, City Press, Rapport, Johannesburg, Gauteng
Mandisa Mashego Contact Details
Party: Economic Freedom Fighters (EFF)
Phone Number: 060 558 8307
Province: Gauteng
https://twitter.com/MandisaMashego
Advertisements