Shoki Sebotsane (born 10 August 1977) is a South African actress known for her role as Celia Kunutu, mother of Rachel Kunutu and Nimrod Kunutu in Skeem Saam.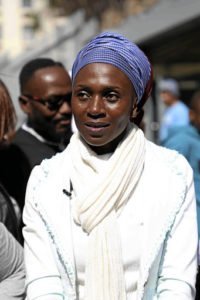 Shoki Sebotsane Age
She was born on the 10th of August 1977 in Tzaneen, Limpopo, South Africa. As of 2019, she is 42 years old.
Shoki Sebotsane Husband | Shoki Sebotsane Family
She is married to Sello Sebotsane and they both have two kids Oratile Kutlwano Sebotsane.
Her marriage to Sello Sebotsane has not been peaceful as she admitted in an exclusive interview with DRUM, she said that "I fought so hard to be idolized (by the public) I had to give us a false life just because I wanted the world to see us in a certain way".
Shoki Sebotsane Education
After her secondary school education at Prudens Secondary in Soweto in 1994, she went to Tampere University of Technology (Finland).
In 2000, she graduated from the University of Technology and then proceeded to the Tshwane University of Technology.
She graduated with a degree in Drama at TUT, Fashion Designer, specializing in corseted garments in 2002.
Shoki Sebotsane Career
In 2008 she was a cast member of mini-series Death of a Queen as Grace Lerothodi which aired in the SABC 2 as part of the channel's "Shakespeare in Mzansi"
In 2012 she had a starring role in an episode of the e.tv drama series eKasi: Our Stories. She also played the role of Tumi in the SABC2 soapie Muvhango
Other television series she has acted in include Kgatelopele, Moshwela Tharing, Old Grand Hotel, The Burning Issue, Generations, Body Kids, Muvhango, Skeem Saam and Soul City.
She also worked as a translator, language advisor, dubbing producer and casting director on the children's television series Takalani Sesame. In addition, she was a casting director for the e.tv soapie Rhythm City.
Shoki Sebotsane Nomination
Golden Horn Award for Best Actress in a Lead Role in a TV Drama
Shoki Sebotsane News
Source: Timeslive.co.za
Skeem Saam actress Shoki Sebotsane says her body is not for anyone to punch and gender-based violence must stop.
She was speaking outside the Johannesburg Magistrate's Court on Thursday shortly after the case against her former husband' Sello Sebotsane' was postponed to August 22.
Sello is facing charges of domestic violence and assault with intent to do grievous bodily harm. Shoki told her supporters she was relieved that her case had made it to court because many cases often disappeared. Various organizations gathered to sing and show solidarity with the actress.
Mboneni Yende of the Thembisile Lucia Yende foundation and neighbor to Shoki told TimesLIVE: "We feel that gender-based violence is out of control in this country and if we don't take a stand nothing is going to happen."
Yende said they wanted to ensure that the court also judged fairly. "Shoki will have to win the case' she has been complaining. She was sending SMSes and WhatsApp text to say 'assist me' my husband is attacking me''" he added.
The duo first made headlines in 2016 when Shoki accused Sello of physically abusing her during their 10-year marriage.
Also in the crowd was Catherine Mpungose from the ANC parliamentary constituency office in Springs. She said she was confident that justice would prevail for Shoki.
Shoki Sebotsane Profile
Full Name: Shoki Sebotsane
Date of Birth: 10th August 1977
Place of Birth: Tzaneen, Limpopo, South Africa
Occupation: Actress