Advertisements
Metro FM is a national radio station in South Africa owned by the South African Broadcasting Corporation. The radio station broadcasts on FM Stereo as well as the DStv Bouquet Channel 801.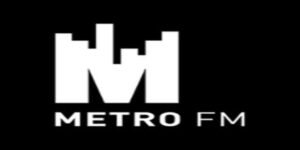 Metro FM is a mentor and guide for youthful urban adults that embrace a pragmatic and successful life to actively transform with their constantly changing environment.
Frame of reference point of difference
Metro FM is music focused progressive lifestyle brand. It epitomizes black success and leadership, with attitude. Its listeners are high achievers with a lot of style, confidence, potential and the enviable ability to feel at home in modern South Africa.
Advertisements
The brand tone and manner
Quality – Fun
Black – Global
Cosmopolitan – Confident
Full of Attitude – Exclusive
Stylish – Trendsetter
Progressive
Play list genres include
R&B
Hip Hop
Kwaito
House
Contemporary Jazz
Gospel
Service offerings
 Entertainment – music, features and competitions
 Information – news, weather, sport, financial, and traffic reports
  Community – fundraising, sponsorships, events
 Advertising platform
  Lifestyle – reflect the social, economic, developmental, fashion
Lastest Stats:
Over 4 Million Listeners and Counting
Over 1.2 Million Facebook Likes and Counting
Over 800 thousand Twitter Followers and Counting
Station Properties:
Metro FM Weekend – Shut Down
Up Close and Personal
Music Lounge
I AM Woman Experience
Birthday Celebration
Metro FM Music Awards.
Metro FM Heatwave
Love Movement (picnic)
Core Age Group:  25 – 34yrs
Advertisements
Secondary Age Group: 16-24 LSM 6+
Epicenter (yr): 30 yr old LSM 7+
METRO FM is headquartered at the South African Broadcasting Corporation (SABC) in Auckland Park, Johannesburg
Twitter
Advertisements