Advertisements
Nurses is a medical drama television series that follows the lives of a group of nurses working at the Angeles Memorial Hospital in Miami. The nurses face a variety of challenges, both professional and personal, as they work to save lives.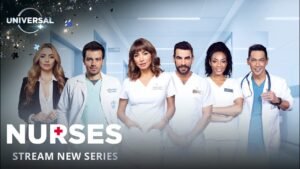 Tuesday 8 August 2023
Byron's decision to give up leaves Lina distraught. Manuela marries Diego, but shortly after their wedding he is targeted by hitmen.
Wednesday 9 August 2023
Advertisements
After operating on Diego, Felix goes to his office, where Kathy seduces him. Carlos refuses to sign the euthanasia authorisation until Lina agrees.
Thursday 10 August 2023
The time has come for euthanasia. Byron thanks Lina for everything, then finally passes away. Kathy convinces Carlos to sell his shares to Felix.
Friday 11 August 2023
Julio puts on makeup and prepares to present his last exam. Felix tells Alex and Juan Pablo they must compete for the emergency room position.
Saturday 12 August 2023
Sandra leads Reynaldo to reflect on his opinion of Julio. Everyone says goodbye and shares their plans. At the cemetery, Felix meets Helena.
Sunday 13 August 2023
Helena and Felix find Ofelia in the cemetery. Jaime and Soledad look for Álvaro to stop him from going to Vaupés and discovering the embezzlement.
Monday, 14 August 2023
Alex agrees to move into María Clara's apartment, but refuses to share it with Juan Pablo. Lucas and Beto plan to make videos to put on social media.
Tuesday 15 August 2023
Reynaldo asks for a job at the hospital. Felix tells Alex that Fabiola, the child welfare representative, has
arrived and ordered a CT scan for Lucas.
Wednesday 16 August 2023
Álvaro finds the financial reports suspicious, and calls Guerra. Lucas shows Fabiola the video he was making with Beto at the time of the accident.
Thursday 17 August 2023
Reynaldo agrees to work at the clinic but insists the patients are told they are pregnant. Beto explains that Lucas never tried to hurt him.
Friday 18 August 2023
The drama and intrigue in and around Santa Rosa University Hospital continues in the wake of Reynaldo's decision to work at the clinic.
Advertisements
(Previous teaser: Álvaro is concerned about the Vaupés project, and pays little attention to Fernando. Juan Pablo supplies Lucas with data from the hospital.)
Saturday 19 August 2023 
Modesto bribes Reynaldo to buy his silence. Lucas looks for his father and does not attend school, Alex calls him and he tells him he has a migraine.
Sunday 20 August 2023
Álvaro exposes the embezzlement and the accountant's disappearance. Félix proposes that Álvaro travel with the Swedes to Vaupés.
Monday 21 August 2023
Maryori has parasites and is treated with medication, while her daughter Marisol's condition deteriorates
and she is taken to the intensive care unit.
Tuesday 22 August 2023
Juan Pablo invites Oscar Córdoba to the housewarming party. Maryori learns that her daughter is in the
ICU, and the next day receives tragic news.
Wednesday 23 August 2023
Félix informs Álvaro that the money from the Vaupés project appears in an account under his name. Maryori escapes to look for her deceased daughter.
Thursday 24 August 2023
Reynaldo invites Dr Bocanegra for a coffee but forgets his phone. Returning for it, he finds Maryori delirious. Alvaro tries to contact the bank.
Friday 25 August 2023
Felipe becomes angry because he believes Alex and Latorre are too involved in Maryori's case. Later Alex
finally tells her son that he is adopted.
Saturday 26 August 2023
Felix has power of attorney to represent Father Mendoza, Helena asks that Álvaro be able to give his version of events, but Felix does not let him.
Sunday 27 August 2023
Alvaro returns to the apartment under house arrest. Sarita tells Álvaro that she wants to be adopted. Kathy and Alberto arrive at the emergency room.
Monday 28 August 2023
Alex tells her son she loves him and can help him find answers. Alberto admits that he injected himself with silicone to appear better endowed.
Tuesday 29 August 2023
Alberto is under the effect of anaesthesia and mistakes his wife for Kathy, implying that he has a mistress. Diego returns to the emergency room.
Wednesday 30 August 2023
Alberto's life is ruined by a video on social media claiming that he is impotent. The Vaupés project is
suspended, but Father Mendoza has a solution.
Thursday 31 August 2023
Lucas arrives at Arleth's fishmonger's store with the signed permit. Felix shows up at the restaurant and
invites Lucas to lunch to chat with him.
Advertisements