Advertisements
Nurses is a medical drama television series that follows the lives of a group of nurses working at the Angeles Memorial Hospital in Miami. The nurses face a variety of challenges, both professional and personal, as they work to save lives.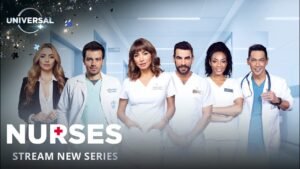 Sunday 1 October 2023
Lucas tells his mother he isn't leaving her, and has an emotional meeting with his aunt. Meanwhile, Luis Javier wants to restore the hospital's image.
---
Monday 2 October 2023
Advertisements
Vilma had a previous condition that deteriorated with the medication Dr. Helena gave her. Meanwhile, César insists on pursuing Alex.
Tuesday 3 October 2023
Helena talks to Efigenia, asks for forgiveness, and explains everything that happened. Efigenia decides to spare her a life-ruining lawsuit.
Wednesday 4 October 2023
Alex is upset with Juan Pablo because he has been treating her differently since he talked to his brother. Aníbal announces the hiring of Sofia.
Thursday 5 October 2023
Helena exposes Vilma's case before the hospital's ethics committee. She assumes responsibility and gets a three-day suspension.
Friday 6 October 2023
Several patients call to book appointments with Dr Sofia. Meanwhile, Alex summons Juan Pablo and César to her apartment to discuss the situation.
Saturday 7 October 2023
Reynaldo tells Helena about his romantic situation; she invites him to move in. Luis Javier notices that the Santa Rosa is on the rise.
Sunday 8 October 2023
Helena applies for the cardiology fellowship with Dr Sofia. Lucas tells his mother he wants to travel to Chocor with his aunt, but Alex refuses.
---
Monday 9 October 2023
Helena introduces herself to Dr Orozco, who highlights the negative points in her resumé. César tells Alex he will participate in the Paralympics.
Tuesday 10 October 2023
Alex understands that Lucas has always wanted to learn about his roots. Pained, she lets him go to Chocó and entrusts her son to Marleny.
Advertisements
Wednesday 11 October 2023
Luis Javier and Aníbal make salary cuts to improve matters at the hospital. Alex helps them to select the staff who will be affected.
Thursday 12 October 2023
Alex ends her friendship with César, but before leaving for the Paralympics, he visits Alex and proposes to her. Felipe has ventricular hypertrophy.
Friday 13 October 2023
Despite the pharmacological treatment, Felipe must have a catheterisation. Alex asks Alvaro for Sarita to visit Felipe to help reassure him.
Saturday 14 October 2023
Juan Pablo's loan for overseas study is approved, but he has second thoughts when Álvaro raises the possibility that Alex might choose him.
Sunday 15 October 2023
Johanna and Sofia work with formality, but it is clear that both want to be close. Ramon begins writing a letter to his son, then runs away from home.
---
Monday 16 October 2023
After a traffic accident, Adriana arrives at the emergency room with her husband Horacio. Helena looks for Dr Sofia and finds her with Johana.
Tuesday 17 October 2023
Álvaro tells Sarita that her grandfather died. Later, Sol apologises to Álvaro, feeling it is her fault. Meanwhile, Luis Javier makes a confession.
Wednesday 18 October 2023
Aníbal asks Alex's for help with the portfolio of services he intends to offer. Meanwhile, Senator Gallego wants to liquidate the hospital.
Thursday 19 October 2023
The disappearance of César is reported on the news. His medal was found in a place where drugs are sold. Helena informs Fernando that he has a tumour.
Friday 20 October 2023
Senator Gallego is furious. Aware that Aníbal and Javier were the ones who leaked the information, he decides to resort to similar tactics.
Saturday 21 October 2023
Senator Gallego confirms to the media that he is accountable. Later, Serrano and Peralta receive the news that the hospital will be closed.
Sunday 22 October 2023
Finale!
Lucero and Sarita go to say goodbye to Fernando before he is given euthanasia. Elsewhere, Alex sends the portfolio to the mayor's office.
Advertisements