In this post, we would be looking at the top 10 richest rappers in Africa. Do you have a favourite? Keep reading to see if he made the list and his net worth.
The African Music and Entertainment industry have demonstrated commendable consistency over the years in that it produces young and talented artists every year.
And these youngsters are often some of the most talented and hard-working singers, songwriters, and lyricists in the entertainment industry all over the world.
They are often referred to as rookies at the early phase of their careers. And years later, through hard work, good mentorship, and dedication they mature to become great singers.
A few years back, rappers whose names appeared on this list were rookies, too. Today, however, hard work and their talents have earned them a huge fortune as rappers.
Before the list, I believe that since you have read this far, you are probably interested in the knowledge of the richest rappers in Africa.
And if you've ever asked yourself or anyone such a question as, "what are the estimated net worth of these artistes?" Read further, your curiosity has brought you to the platform where your cup of knowledge will be filled till overflowing.
Richest Rappers in Africa
1. AKA – Net Worth: $11.5 million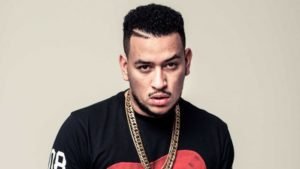 The South African rapper, whose real name is Kiernan Jarryd Forbes, is a record producer, and entrepreneur. AKA is also known as "the Supa Mega."
He gained prominence after the release of his single titled "Victory lap." He is a multi-award-winning singer who through music and entrepreneurship, has made a lot of money, enough to last him a lifetime.
2. Olamide – Net Worth: $10 million
Olamide Adedeji, infamously called Olamide by fans, is a Nigerian rapper who does his job well.
Little wonder a few years after the release of his hit singles, the erstwhile poor musician has made enough to earn himself the 2nd spot this list. Thumbs up to him. He performs his rap – songs mostly in the Yoruba language.
And having released about 7 albums, he is no doubt an experienced rapper in the music industry. Moreover, he's an ambassador for Hennessy & Glo, the CEO of digital TV channel VOTS, and also the CEO of YBNL Nation Record Label.
3. Sarkodie – Net Worth: $7 million
Ghanaian businessman and hip-hop artiste Sarkodie launched his career by releasing his debut album "Makye" which had hit singles "Push" and "Baby." Besides, the real name is Micheal Owusu Addo.
He has won several accolades for his immense contribution to the Ghanian music industry He earns additional cash through his ownership of a clothing line for men, women, and children. He is estimated to be worth about 7 million USD.
4. Die Antwoord – Net Worth: $5 million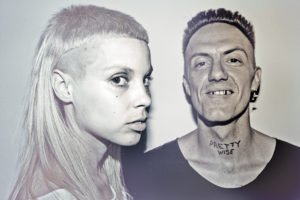 Die Antwoord is composed of 2 rappers, Ninja and Yolandi Visser. The successful Die Antwood is a South African hip-hop group formed in 2008 by the aforementioned wrappers.
Their image and music styles have some elements of a "zef" culture movement as shown by their music videos.
5. Cassper Nyovest – Net Worth: $3 million
Multiple award-winning rapper Refiloe Maele Phoolo, whose stage name is Cassper Nyovest, is next on the list. He started his musical career as a member of a band called "Childhood Gangsta" in 2004 before he finally became a solo artist.
He opened his solo career with a debut album "Tsholofelo". Being South African, it is no surprise he has collaborated with AKA on many occasions.
He is also known to have performed alongside many famous and talented musicians like himself. His estimated net worth of over 3 million USD was all he needed to make the list.
6. Phyno – Net Worth: $2 million
Chibuzor Nelson Azubuike, also known as Phyno is a talented rapper who has made a fortune out of his music career. He is well known for the speed with which he raps in songs.
Besides being a musician, he is also a brand ambassador of Nairabet and GLO. He is estimated to be over $2 million rich.
7. Banky W – Net Worth: $1.5 million
Olubankole Wellington, Banky W is a rapper and a movie actor. His position on this list is not credit to his musical career alone; Banky W is also a good businessman. Banky W is a co-founder of Empire Mates Entertainment.
He is the first official brand ambassador of Nigeria Samsung electronics and he is also a brand ambassador for multinational companies such as Uber and Ciroc ultra-premium vodka.
8. M. I Abaga – Net Worth: $1.5 million
Another Nigerian rapper on the list is M.I Abaga. He is a successful and wealthy African rapper. Besides earning a lot of money from his music singles and critically acclaimed albums, he is said to be the primary stakeholder of Chocolate City Records.
His earnings from music and as an entrepreneur made his net worth $1.5 million. He has won a good number of awards, too.
9. L-Tido – Net Worth: $280,000
Thato Manansala, whose stage name is L-Tido, is an African independent hip-hop recording artiste. His music career commenced in 2009 after releasing the mixtape "City of Gold" with many hit singles.
But the real breakthrough was due to his debut album 'All or Nothing' released in 2011.
He has been a recipient of many awards including the Best Newcomer in Africa award at the 2010 Channel O Music Video Awards.
L-Tido is privileged to have worked musicians such as Casper Nyovest, Banky W, Wizkid, Ice-prince, Sarkodie. L-Tido has made himself a wealth estimated to be about $280,000.
10. Nasty C – Net Worth: $250,000
And the last, but not the least talented is Nasty C, who, if compared with others, could be said to be in the early phase of his music career.
He is famous for his hit singles "Way to go," "Juice Back," "Hell Naw," "Bamm Bamm," "Don't do it," "Uno," and others. Moreover, he has won many awards and has numerous nominations.