Advertisements
Shepherd Bushiri (born 20 February 1983) is a Malawian preacher, motivational speaker, author, and businessman.
He is the founder of Enlightened Christian Gathering and also runs a global investment company, Shepherd Bushiri Investments, based in Sandton near Johannesburg.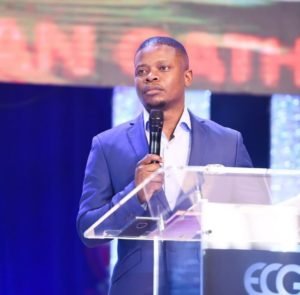 Shepherd Bushiri Age
The preacher was born on 20 February 1983 in Lilongwe, Malawi. He is 40 years old as of 2023 and celebrates his birthday on February 20th every year.
Shepherd Bushiri Early Life
Bushiri was born to Huxley and Christina Bushiri in Lilongwe, Malawi but grew up in Mzuzu. He is the fourth child in a family of six children.
His mother gave him the name "Shepherd" due to the circumstances surrounding his birth. It was her way of acknowledging that God was indeed her shepherd during the tough times of his birth.
Bushiri encountered God at the age of 10 and has since given his life to serving God. His church is one of the fastest-growing churches in Africa today. He also travels around the world holding crusades and preaching the word of God.
Shepherd Bushiri Education
Bushiri attended Moyale Secondary School for his high school education. He later joined Therapon University where he pursued higher education.
Shepherd Bushiri Wife and Children
Bushiri is married to Mary Bushiri who is also a preacher like her husband. The couple got married in July 2011 at Mzuzu stadium. They have two daughters, Israella and Raphaella Bushiri
Enlightened Christian Gathering
Prophet Bushiri founded the Enlightened Christian Gathering for which he is the head pastor. Enlightened Christian Gathering is a non-denominational and offers evangelical teachings.
The headquarters of the church is in Pretoria, South Africa. The church has branches across different African countries such as Malawi, South Sudan, and Ghana, as well as other continents.
His life as an evangelist has not been free from controversies. In the past, he was accused of making unsubstantiated claims that he could cure persons infected with HIV/AIDS.
Later the 'Prophet Bushiri walks on air' claim surfaced. While some people believed that he indeed floated in the air, others vehemently opposed the claim that he walked on air.
Advertisements
Shepherd Bushiri Investments Limited
Bushiri also owns an investment company named Shepherd Bushiri Investments (Pty) Ltd. The company is based in Sandton, South Africa. The international investment firm has interests in mining, oil, real estate, hospitality, and transportation.
The company has, over the years, become a success. In 2018, the prophet was inducted in the CEO Hall of Fame in Africa by African Leadership Magazine.
His company was also honoured with the business excellence award for its continued success. Following this achievement, the African Leadership Magazine featured Shepherd's business story in the February 2018 issue.
The story covered six pages. In 2018, the prophet also launched his 5-star hotel in South Africa. Today, the evangelist and businessman is listed among the top business managers in Africa.
Net Worth
He has an estimated net worth of $150 million which he has earned from his work as a businessman, author, motivational speaker, and evangelist. Bushiri is one of the richest pastors in Africa.
Shepherd Bushiri Cars
Bushiri has a Rolls Royce Black Badge that has an estimated worth of R10 million and a Bentley Bentayga Limited Edition that is worth about R6 million.
He also owns an Aston Martin One -77 that is worth R12 million and a Maserati Levante whose value is about R300,000. He purchased the Maserati Levante in December 2017 as a gift for his daughter, Israella, on her birthday.
He previously gifted his wife with a Mercedes Benz G Class on her birthday.
In addition to the fleet of cars, Major One also owns three private jets. He purchased the third Prophet Bushiri jet with an estimated value of $37 million in 2016.
He acquired the three jets in two years. In February 2019, he lost access to his aircraft after the Asset Forfeiture Unit claimed that the evangelist had forged loan documents to acquire the luxurious jet.
Instagram
https://www.instagram.com/p/B_4r1OID4x-/?utm_source=ig_web_copy_link
https://www.instagram.com/p/B_t67i-jwsK/?utm_source=ig_web_copy_link
Twitter
Advertisements